Dec 29, 2015 Restaurants

Is the compromise choice sometimes the best one?
Words by Alice Harbourne, photo by Ken Downie. This article was first published in the January 2015 issue of Metro.
Oyster & Chop
Market Square, Viaduct.
oysterandchop.co.nz
Hours: Seven days, 11.30am till late.
Dinner bill: starters $19-$23 (oysters $22-$28 half dozen); mains $28-$42; desserts $10-$15.
Opted for an Auckland staycation this festive season? And why wouldn't you? Silo Park, Mitre 10, the little tram in the Wynyard Quarter… they're all yours, for a while. The neighbours and their paddleboard-topped 4×4 are a dot on the horizon, their hydrangea bush left temptingly unguarded. Even the chirps of birds barely disrupt the pleasant quiet that's fallen over the city.
But the tourists are still here. The cruise ships arrive every day over summer and some of the passengers end up eating at the Viaduct. You can understand why. It's one of the only places in the city with a buzz at this time of year, its nautical aspect providing instant holiday charm.
I tried to remember this when reviewing Oyster & Chop, media mogul Julie Christie's waterfront restaurant that until October was known as The Foodstore. Both iterations seem to have been purpose-built for tourists and corporate lunches — they're sensible, safe and slightly devoid of personality.
Oyster & Chop is, however, more self-assured. Ex-Jervois Steak House chef Darren Lim is now running the kitchen, and brings with him JSH's choose-your-own-steak-and-sauce approach. Gone are the distracting omnipresent Foodstore television screens and the bright red doors; in their place, a simple black-and-cream aesthetic and a suggestion you should be looking at your dining companion instead of the box.
The menu reads like something by a winning Come Dine with Me contestant, with crowd-pleaser after crowd-pleaser: prawn cocktail, calamari, fish and chips, stuffed chicken breast, pork chop, steak, steak and more steak. Oh, and oysters, obviously, as fresh as they come; which on my two visits meant Mahurangi and creamy Clevedon.
When it came to ordering drinks, I attempted my best tourist impression and simply asked for a dry white wine. After a few thoughtful questions I was recommended the Wooing Tree Blondie 2015, a bright berry blanc de noir, from an impressively comprehensive wine list. Good choice. If all tourists get this gentle education, Oyster & Chop deserves a pat on the back from Auckland Tourism, or someone. If only it would champion local, independent breweries too — currently, Monteith's and Heineken dominate the beer list.
Based on my visits to JSH, I knew Lim could cook a mean steak, but to verify that, I tried the Wakanui scotch fillet with a red wine jus. My friend had the duck breast, which came served on an intensely rich risotto dotted with tiny specks of smoky lap cheong sausage. The meat, in both cases, was A+; teeth sank in easily and with the lightest bite tore away delicate, juicy mouthfuls.
I hoped the lobster mac'n'cheese and caprese salad would be greater than the sum of their parts, but lobster, while delicately textured, has such a rich flavour that combining it with cheesy, creamy pasta is a recipe for cruise-ship sickness.
As for the salad, with so few ingredients, this classic dish relies on high-quality produce, especially when it costs $21. So in early summer, why wasn't Oyster & Chop using a producer like The Curious Croppers for flavourful, colourful varieties, instead of ever-so-slightly floury "vine-ripened" toms? All was almost forgiven with a bite of the buffalo mozzarella, imported directly from Campania by Simon Gault's wholesale business, Sous Chef.
Also from overseas, I assume, is the Wagyu hanger steak; it's a signature Gault cut. In a dining culture characterised by the ubiquitous words "locally sourced", is it traitorous to suggest other countries do some food better? Should we expect to eat solely local produce? Is that the mark of a good restaurant? Or is that denying a world of "glocal" pleasure our cruise-ship compadres know so well?
A visit to Oyster & Chop is transporting — mostly in the sense that it reminded me of family holidays gone by, when we'd argue about where to eat and end up somewhere indistinct by the water. Those kinds of restaurants do serve a purpose: they're a happy compromise where timid and adventurous diners can eat together. And it's undeniably pleasant to eat by the water on a sunny day.
Take a client there for a business lunch and it could reflect well on you as a cautious decision-maker. But I wouldn't go there on staycation — this restaurant is for real holiday-makers, not us locals.
3 spoons.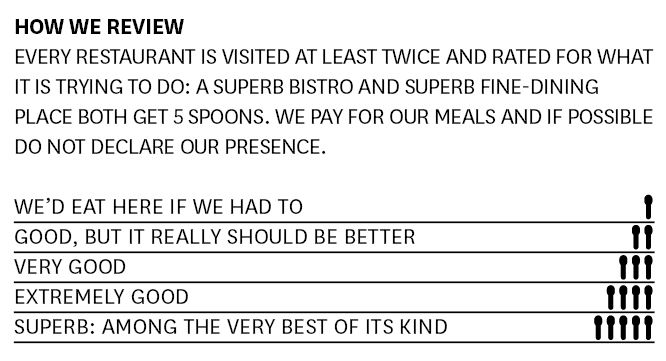 [booking_form]