Feb 9, 2016 Restaurants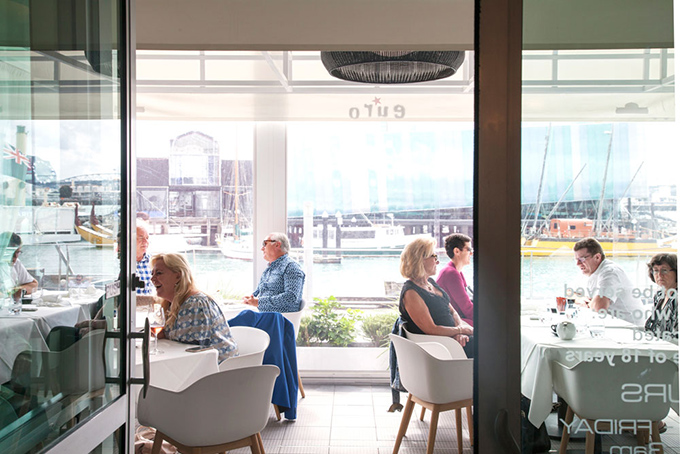 Euro
Shed 22, Princes Wharf, Viaduct.
Ph 309-9866. eurobar.co.nz
Hours: Seven days, noon till late.
Dinner bill: starters $16-$27; mains $21-$52; desserts $17-$18.
4 spoons
Words by Simon Wilson, photo by Ken Downie. This article was first published in the January 2015 issue of Metro.
Yes indeed, four spoons for Euro! You should book yourself a summer treat. I say this with a touch of sadness — after all, it means I will not get to read another recipe for my own testicles (which is how Euro responded the year we dropped it from our top 50 list). But despite what some people mutter into their merlot, Metro has never had a vendetta against Euro. Back in the day, we just didn't think it was good enough.
What's changed? Well, most obviously, it has a new executive chef. Gareth Stewart has moved over from Soul with aplomb, bringing his expertise with fish, adding some assured statements with the meat dishes and retaining the flair with entrées and desserts that has always been a strength of the place.
There's a market fish ceviche with carrot and ginger, chilli and lime: served in a pile in a bowl, it was one mesmerising mouthful after another. A green gazpacho, with perfectly presented pieces of pickled cucumber and the broth poured over at the table, that had the same transporting effect. A rhubarb-based dessert with every flavour note so fresh… There was a point in this meal when I started to wonder, would they mind if I stayed all night so I could keep sampling the menu?
Mind you, there is a lot of meat. The culture of the place has remained very male: it's the only restaurant I've been in for a long time where there were several tables with no women diners at all, and also the only restaurant where there was not at least one table with a group of women. For all the delights of entrées and desserts, the menu is built around boring old fillet steak, and that's what the customers order. You can get a much better cut of scotch fillet, but it comes as a 350g slab.
Euro is smaller now, with owners the Nourish Group having created a separate and more casual bistro at the city end. And the décor has been quietly made over. It's welcoming, although also slightly odd: the back wall is filled with John Reynolds word blocks, which make a nice pattern but can't be read unless you're sitting there or peering over the shoulders of the diners who are. Art reduced to decorative shapes: it comes to them all.
The service is impeccable: friendly, attentive, extremely knowledgeable, and idiosyncratic. The floorstaff at Euro tend to have personalities that define their work, rather than being subsumed by it, and I think that's a marvellous thing.
From the terrace there's always something diverting to watch on the water; inside, it's like a cocoon.
Euro is safe, yes, but very satisfying. I like it a lot.