May 7, 2015 Restaurants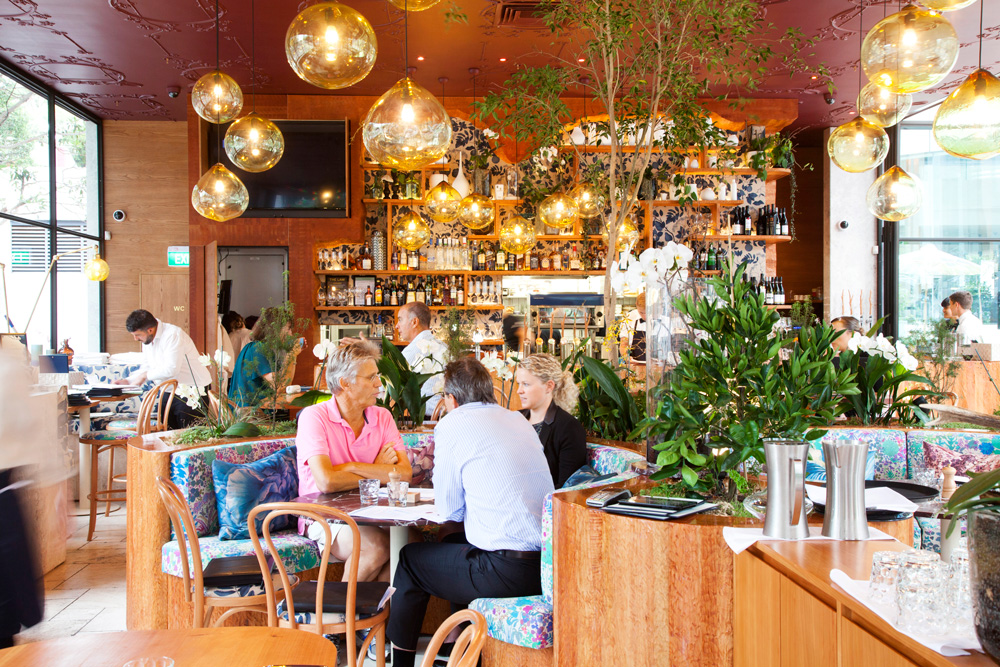 41 Shortland St, central city.
Ph 336-1857. pilkingtons.co.nz
Monday to Friday 8am-late; Saturday noon-late.
Small plates $4.50-$14.50; mid plates $16-$25; large plates $26-$39; sides $9.
By Jesse Mulligan. Photo by Ken Downie.
First published in the April 2015 issue of Metro.
Pilkingtons needs an apostrophe but it doesn't need much else. A brand new glassy restaurant on a prominent corner of Shortland St, it would look the part in any Australasian city, though its flashy conspicuity probably feels more like Sydney than Melbourne.
At happy hour, lawyers and their minions sprawl into the tiled courtyard, while early diners cosy up indoors in cushioned booths. That interior space is broken up by low-hanging bulbs and plenty of greenery, though you can still eyeball anybody else in the room if you fancy it.
The food is very hard to fault, with chef Alex Strobach, having run the precisely perfect kitchen at O'Connell Street Bistro, not likely to start overcooking the fish now. He borrows heavily from his old employers' menu (though he might say they've retained a lot of his) and my only question is whether the bistro stuff — sauces, risottos, slow-cooked meat — is a little rich and heavy for this airy environment.
The lightest dish — kingfish ceviche — was the only one that didn't work for me, the fish barely cured and with nothing sharp to balance the creamy sweet of puréed avocado and papaya. There are a few grapefruit segments, but the dish needs some decent citrus.
Besides that, you can't go wrong. I loved the smoked eel — big white segments of snake ringed with pink smoke and wrapped in salty pancetta with caramelised apple. Those little bits of cured pig pop up throughout the menu — Manchego and serrano, duck and chorizo, fish and jamÓn — as do splodges of bright-green herby pesto to help lift things up.
You get the idea: big, meaty dishes, savoury and flavoury, paired with something salty and something sweet and often finished with a rich, umami-packed sauce. Maybe there's room for more texture — the wild boar tortellini with broad beans, porcini and rocket pesto, for example, is all al dente but with no crunch, crackle or pop. A marinated mushroom dish with baby beets, hazelnuts and haloumi shows how much texture can add, and reminds you what an important dynamic it plays at Ortolana, nearby at Britomart and not dissimilar in concept.
And so to service, where there are some issues, which a little context might help. Auckland restaurateurs tell me they're having big problems finding front-of-house staff right now as warm employable bodies get immediately sucked into 100-seaters, eateries serving three meals a day and big bars with big margins paying over the odds for young workers.
The problem seems particularly conspicuous at Pilkingtons, where there are plenty of friendly kids on the floor but almost no one who measures up to the quality of the menu, the winelist or the room. It's been a while since I had a dining partner's plate cleared away while I was still eating.
When we asked our waiter for a wine  recommendation, a pinot from Marlborough was suggested because "the area isn't really known for pinot so it's something a bit different". I asked if there was someone who knew the winelist a bit better but sadly "he finished at 5pm".
Okay for a bar but not really okay for a serious restaurant, and you can't blame the kid, who really did want to help. It takes a lot of people to cover indoors and out, and they've only been open three weeks or so at the time of writing, so maybe training will be under control by winter.
Yes, winter will be interesting when the rain comes in and the windows are closed and the glass fogs up with the warm breath of 40 solicitors. But at the tail of this Indian summer, Pilkingtons is working well — busy, tasty, beautiful and fun, with enough goodwill in the room that you forgive its shortcomings easily and look forward to the restaurant becoming all that it promises.
3 spoons
How we review
Every restaurant is visited at least twice and rated for what it is trying to do: a superb bistro and superb fine-dining place both get 5 spoons. We pay for our meals and if possible do not declare our presence.
We'd eat here if we had to – 1 Spoon
Good, but it really should be better – 2 Spoons
Very good – 3 Spoons
Extremely good – 4 Spoons
Superb: among the very best of its kind – 5 Spoons
[booking_form]