Jul 24, 2015 Restaurants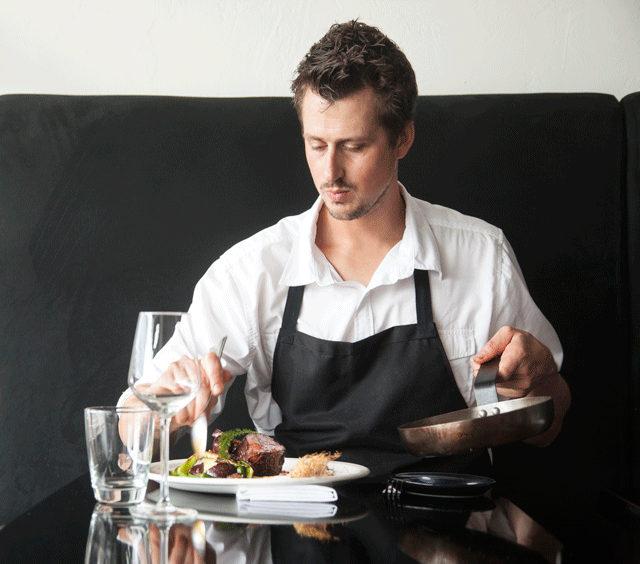 479 New North Rd, Kingsland.
PH 09 8497741, philskitchen.co.nz
Tuesday-Thursday 5pm-10pm, Friday-Saturday 12-10.30pm.
Starters $14-19; Mains $32-38; Sides: $7; Desserts: $14.
By Delaney Mes. Photo by Ken Downie.
First published in the June 2015 issue of Metro.
Kingsland has always had potential as a great central suburb, but while developers thought the Rugby World Cup would make it the destination it was meant to be, all that really happened was the rents went up, Tabou closed, and someone opened an expensive Kiwi-themed fish and chip shop.
And now there's Phil's Kitchen. I'd heard good things, read gushing reviews and was worried, as is so often the case, that I'd leave disappointed. I didn't.
The first thing that hits me at Phil's Kitchen is warmth. It's instantly a cosy reprieve from the wind on New North Rd. But even more striking, we are met with a genuinely warm welcome; one with a smile from a French maître d' who has worked in Michelin-starred restaurants from the age of 14.
Past the main part of this small dining room, there are three tables of two along the wall opposite the pass, and we are given front-row seats to the action. The quiet, contemplated, calm action of the kitchen. Phil himself (Phil Clark partner of the aforementioned maître d' Marine Peyregne) earned his stripes working for Michelin-starred restaurants in London. He's visibly excited to be here; a neighbourhood restaurant of your own with your expert partner out the front would be a dream for a lot of cooks.
There are fine-dining flourishes, but it is at heart a bistro, with a chef dedicated to cooking.
Lucky for us. The scallops come on a cauliflower purée — sounds simple and eloquent enough, but also on the plate: a red kale gazpacho, and duck fat crackle, which dusts the plate like snow. The kingfish ceviche is maple-cured and Asian-inspired with miso, toasted sesame, and radish. It's exquisite food — approachable, well-executed, balanced, and an utter joy to eat.
They write the menu each night, four starters and four mains. Likewise there are four reds and four whites, all by the glass. We have a Bannockburn ale and a glass of prosecco with our house-baked bread and oozing olive oil, and then a Central Otago pinot noir, and a mighty Sileni Estate merlot, the wine list made all the more alluring with explanation and recommendations in a heavy French accent.
Phil tells us he slow-cooks all the meat. Why? Because if you imagine an orange — and he holds up his hands — the white stuff between each segment is the fat. If you cook it slowly, it gently melts. Resting it properly, all the segments come back together, but meltingly tender and incredibly juicy.
The pork on the menu reads "pork cutlet, carrot, hazelnut" but it's cooked as described: meltingly tender yet structurally sound, and there's a whole carrot on the plate above some purée, treated with more respect than I've seen a carrot cooked: soft, intensified, sweet. There's a hazelnut crumb and a small pile of freekeh dotted with preserved lemon. The whole plate is beautiful.
That's the thing about Phil's Kitchen; it serves immaculate food, without being intimidating. No flashy designer soap in the bathroom and no bicycles hanging from ceilings. It's just a cosy neighbourhood bistro, which happens to be sprinkling its entrées with duck fat snow.
4 spoons
How we review
Every restaurant is visited at least twice and rated for what it is trying to do: a superb bistro and superb fine-dining place both get 5 spoons. We pay for our meals and if possible do not declare our presence.
We'd eat here if we had to – 1 Spoon
Good, but it really should be better – 2 Spoons
Very good – 3 Spoons
Extremely good – 4 Spoons
Superb: among the very best of its kind – 5 Spoons