Sep 2, 2014 Restaurants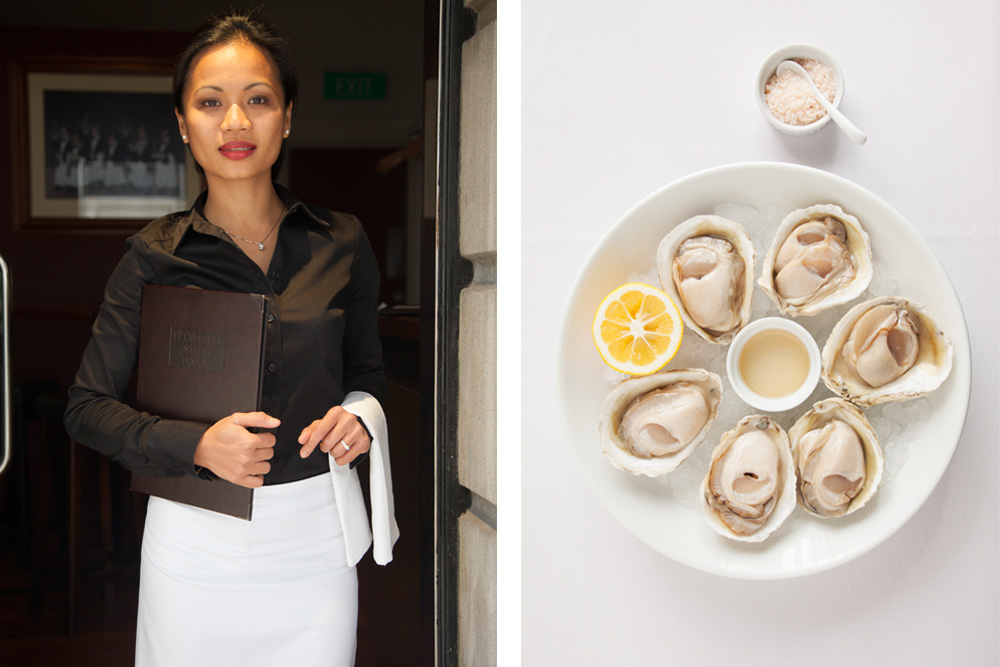 3 O'Connell St, Central City.
Ph 377-1884, oconnellstbistro.com
Lunch Mon-Fri, dinner Mon-Sat.
Entrées $22-$28; mains $28-$45; desserts, $16.50; express menu $36.50-$42.50.
By Simon Wilson. Photos by Ken Downie.
First published in Metro, July 2014.
This is going to be so good. The graceful stonework of Edwardian and Georgian architecture, a paved street with large nikau palms, tables in the open, bar leaners, retractable awnings and outdoor heating for when they're needed… O'Connell St may be a construction mess right now, but when it's finished [September 2014 update: the O'Connell St shared-space upgrade is now complete] it will become — I'm very happy to predict this — the finest little European-style boulevard in Auckland.
Shopping there will be fun; dining there will be splendid. There are half a dozen hospitality places on that one little block, and while all of them will find ways to transform the street, the flagship will be O'Connell St Bistro.
For 18 years now, Chris Upton has run this restaurant with aplomb: the wine is excellent, the menu is classic and the cooking astonishingly reliable (that's much more rare than you might think), the service is impeccable and they have a really cool private room on the Shortland St corner. And Upton himself is a great host: personable, engaged, dedicated.
I know, I'm raving. But I'm not done. The roadworks continue but the restaurant remains open, and it's so worth a visit.
When you eat at O'Connell St Bistro, don't bother with the wine list: ask them to choose for you. Unless you're a complete wine nut, they're going to be better at it. Tell them what you like. Give them something tricky — the old red with fish trick — and prepare to be delighted. Because while the list is good, their knowledge of it and how it works with food is exceptional.
You might want a platter of Bluff oysters, when they're in season. It's a ritual at this place: at lunchtime almost every table's got one. The oysters are arrayed impressively on ice, in tempura or raw as they come with a lovely sweet chardonnay vinegar. And, at lunchtimes right now, Upton is giving them away: just $22.50 a dozen.
You might also want to try the steak tartare. A neat mound of savoury, spicy raw steak mince, topped with a raw quail egg, made from a secret recipe Upton brought out with him from a hotel in Britain where he had worked. It's still, in my experience, the best steak tartare in town.
But honestly, this is a menu where I doubt anything will let you down. They do an entrée of squid rings, which I thought would be dull, except these squid rings are thick cut, each ring about a knuckle's length, deep fried and only just crispy so they're lighter than they look, and served with a very delicate wasabi mayo. Lovely.
Actually, for the pick of the entrées it's hard to go past the octopus carpaccio. A plate of sliced tentacles, the secret of which is that they are not sliced too finely — you get flavour and texture — deliciously adorned with gremolata and a saffron paprika mayo, and that would be enough on its own, but the dish also features four pieces of tempura crayfish. You eat, you gasp with pleasure, you think it's probably going to be downhill after this.
And yet it's not. The pork belly main has a terrifically thick, crunchy top, and it comes with slices of an almost crumbly, spectacular black pudding (boudon noir, they say, a little puffily). Beef cheeks, served with a sauce that manages somehow to bind the dish with big, complex flavours while not in any way overwhelming it with richness.
And there's the rabbit pappardelle, another great dish whose flavour threatens to unravel your sensibility. Looking for some perfect winter food? Look no further.
And, I should add, leave room for dessert. They've got a poached pear, served with rum-soaked golden sultanas, marzipan cake and a mildly spicy ice cream that I deeply recommend. They suggest a glass of Pedro Ximenez sherry, just to bring out the raisins, and I recommend that too.
And here's something else. When they reopen the street the bistro will serve croques monsieurs and other such daytime bistro delights, as you might expect. And Cristal by the glass. What else, for such a haven in the inner-city?
5 Spoons