Oct 15, 2015 Restaurants
Photos and words by Alice Harbourne.
Ask. Believe. Receive. A couple of years ago, my sister would respond to any problem ("We've run out of toilet paper!", "I wish I hadn't bought a new iPhone days before the update!", "Will sexism ever end?") with the mantra, having been indoctrinated with Rhonda Bryne's New Age self-help bible The Secret. 
For two Auckland street food vendors, Judge Bao and Tiger Burger, the law of attraction seems to have worked. The Chinese and Korean fusion stalls have been popping up wherever they can over the past year or so, at Silo Park, The Street Food Collective and recently at Coco's Cantina. The natural crossover between their respective food philosophies meant they found themselves wishing there was a space for them to trial a collaboration.
Such a space fell in their lap two weeks ago: an ex-cafe on O'Connell St, rather abruptly abandoned by its Chinese owner just weeks after he had fitted it out with brand-new fridges, a pizza oven and twee cafe art.
"Apparently his wife didn't like it here," Tiger Burger's Esther Jeong explains, "so he pretty much left everything, even his coat!" While the landlord finds someone to take over the lease permanently ("terrible at this time of year"), it's been left in the capable hands of Jeong, her partner Matt Shephard and Judge Bao owners Debbie Orr and Jamie Johnston.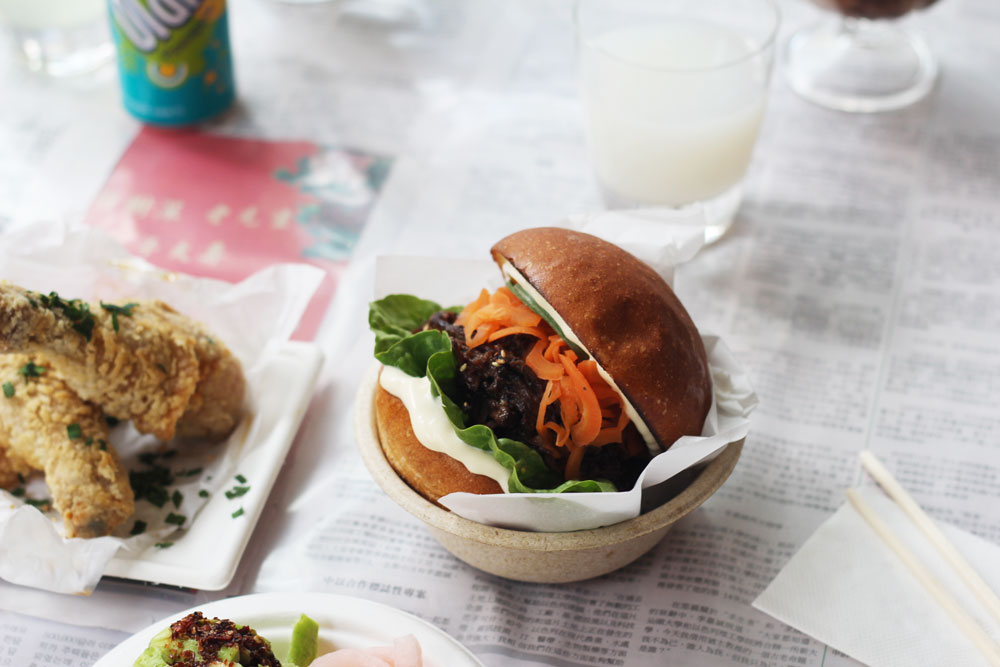 The team have wasted no time in turning it into a pop-up restaurant. Blond wooden tables have been covered with Korean newsprint, the window artfully scrawled upon by Auckland graffiti master Kairau "Haser" Bradley and the kitchen scrubbed down. The pizza oven is sitting pretty until corn season arrives (fingers crossed the tenant search is slow) among cutesy artwork which the team think is not quite bad enough to be classified as ironic.
In place of a menu is a fun order card with check boxes, from which the food vendors' respective signature dishes can be ordered alongside a number of special one-offs, designed to combine Korean and Chinese small plates in fast-food harmony. Tiger Burger's Kimcheese Burger (one of Metro's top 10) is available alongside a new galbi-braised version with pickled carrot and spring onion. Johnston has applied Tiger Burger logic to the hot dog; his infuses Chinese flavours in every substituted component: a little bao for the roll, a mild handmade Chinese sausage, Sichuan chilli ketchup, honey and soy mustard and onions caramelised in Chinese black vinegar.
It's worth ordering both the Korean and Chinese iterations of fried chicken: Judge Bao's is mild and creamy thanks to a tofu cheese coating, while Tiger Burger's has a spicy kick and extra crunch with a Korean-inspired sweet and spicy sauce. A side serving of traditional Korean pickles is a must for fullness-abating acidity, while two different ice cream sundaes do the opposite in chilli chocolate and green tea abandon.
Perhaps my favourite item on the menu is the least gourmet: Korean milk soda from a can, which tastes like all fizzy drinks did in the 90s before natural flavouring became a thing. In true Chinese/Korean/Kiwi mash-up style, Hite, Tsingtao and Garage Project beers are available.
The experience is so fun it's a shame it's not more permanent – the team expect to stay at O'Connell St for at least two weeks. "My dream would be a line running the whole length of the street from the door" Jeong says. I tell her to ask the universe, you never know.
Bao Meets Burger
12 O'Connell St
Central city
Officially opens Friday 16th October. Hours from then: Thurs-Sat, lunch (11.30am-3pm) and dinner (5pm-late).