Aug 19, 2014 Restaurants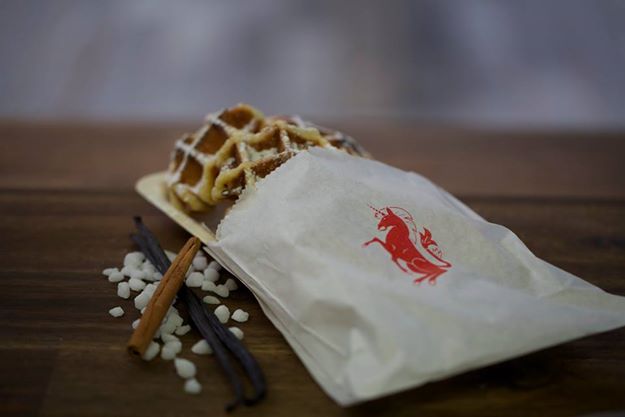 By Catherine McGregor
Banish all thoughts of heavy, tasteless American-style waffles from your mind: Liege waffles are in an entirely different class. Richer, sweeter and chewier than normal waffles, these treats from Walloon in eastern Belgian are made with nibs of pearl sugar which caramelise when baked. Where to find them in Auckland? New Elliot St food cart Waffle Suprême, where the waffles come plain or with toppings including Belgian chocolate; pistachio butter; and fromage blanc, orange blossom honey and spiced red wine syrup.  Wash down your waffle with coffee from Eighthirty. Open Mon-Fri 7am – 7pm, Sat-Sun 10am – 7pm. Elliott St, CBD.  Waffle Suprême on Facebook.
The sliver of a bar formerly known as the Eden Cloak Room has a new crime novel-inspired identity, Scarlett Slimms & Lucky. The building has had a half-million dollar makeover, including white wooden slat walls and a glass roof for the courtyard, and the menu has been overhauled. Gin drinks are a speciality – their gin collection numbers 28 right now, with more on the way – and they make their own shrubs, drink mixers made from fruit, spices, vinegar and sugar. Current flavours include Black Doris plum, star anise, and clove and bayleaf. Floor manager Adam Burgess (ex Moochowchow and Blue Breeze Inn) and bar manager Poni Sula (Monsoon Poon and Wellington's Matterhorn) head up the service team. 476 Mt Eden Rd. facebook.com/scarlettslimms
Critics fall over themselves to heap superlatives on chef Kazuya Yamauchi's breathtakingly creative French-Japanese cooking at his eponymous restaurant, Kazuya. Now he's pushing himself even further, doing away with the a la carte menu altogether and offering an ever-changing "trust the chef" degustation menu, built around seasonal produce and his finds from that morning's market expedition. See a sample of the new, bare bones menu here. 193 Symonds St, Eden Terrace. kazuya.co.nz
Fellow Top 50 mainstay Clooney has unveiled its ultra-exclusive Dom Perignon Room, offering a private dining experience for up to 18 seated guests (standing events can also be accommodated). The subterranean room features a long table surrounded by hand-singed (yes, you read that right) "Smoke" dining chairs by Dutch design sensation Maarten Baas. Meals are prepared by chefs Des Harris and Ian Harrison, cooking at the open-plan Gaggenau kitchen next to the table. Also new at Clooney: the restaurant is now open for Friday lunch. 33 Sale St, Freemans Bay. clooney.co.nz
Over in Grey Lynn, the old Mondial site has reopened as Dilecta (which means beloved in Spanish, or lovely in Latin). Where Mondial had the cosiness of a Spanish taverna, Dilecta is bright and sunny, with pale pistachio walls and simple wood furniture. Chef Anthony Gradiska's CV includes stints at The French Café, Molten and his own Mill Road Bistro in the Coromandel; his Mediterranean-inspired menu includes braised lamb shoulder gnocchi, smoked ham croquettes and bouillabaisse. 549 Great North Rd, Grey Lynn. Dilecta on Facebook
If there are any two Auckland chefs who know Spanish food, it's Will Thorpe and Logan Coath. As general manager and head chef, respectively, at Waiheke's fabulous Casita Miro " href="/top-50-restaurants/casita-miro-3/" target="_blank" rel="noopener noreferrer">Casita Miro, the two helped set the standard for authentic Spanish cuisine in this city. Their new venture is CBD restaurant The Black Hoof, dedicated to the very best Spanish ingredients – Iberico and Serrano ham, ewe and goat-milk cheeses, Marcona almonds – and classic dishes like arroz con albóndigas (oven-baked saffron rice with meatballs) and chicarrones (fried pork rinds with fennel seeds). Express lunch specials change daily and include a hot dish or a hearty sandwich, plus matched wine or beer, for $20. Level 1, 12 Wyndham St, CBD. theblackhoof.co.nz
Head to Milse each weekend from 10am for the Sundae Sessions, chef Brian Campbell's ever-changing array of spectacularly creative sundaes, $12.50 each. 31 Tyler St, Britomart. britomart.org/milse
Across Takutai Square, Orleans has launched its "Crab Shack" – not a new restaurant, but a Cajun seafood dining experience available on Sunday and Mondays from 4pm. Menu items include hot lobster roll and, the star of the show, giant Alaskan crab legs with butter sauce. Bibs a must. Roukai Lane, 48 Customs St East, Britomart. britomart.org/orleans
Great new cafes are popping up all over the city. Check out Little Sister, the new Henderson café from Aaron and Fran Carson, ex Salvation Kitchen and Sweetie. Food is splendid; coffee is Kokako. Over in Mt Albert, café/juicery Sprout has brightened up what was a nondescript of New North Road. Craft Kitchen is the new-ish café at the K' Rd end of Ponsonby Rd, serving a small but perfectly formed menu full of nutritious delights: try the house-cured free-range bacon and eggs on uno (Unprocessed, Natural, Organic) bread.
There's no messing around at Hog Heaven Louisiana Smokehouse, where the name says it all: hearty Cajun cooking (Andouille sausages, pulled pork sandwiches, gumbo, barbecue and more) plus pizza, beer and live blues. 60 Broadway, Newmarket. hogheavennewmarket.co.nz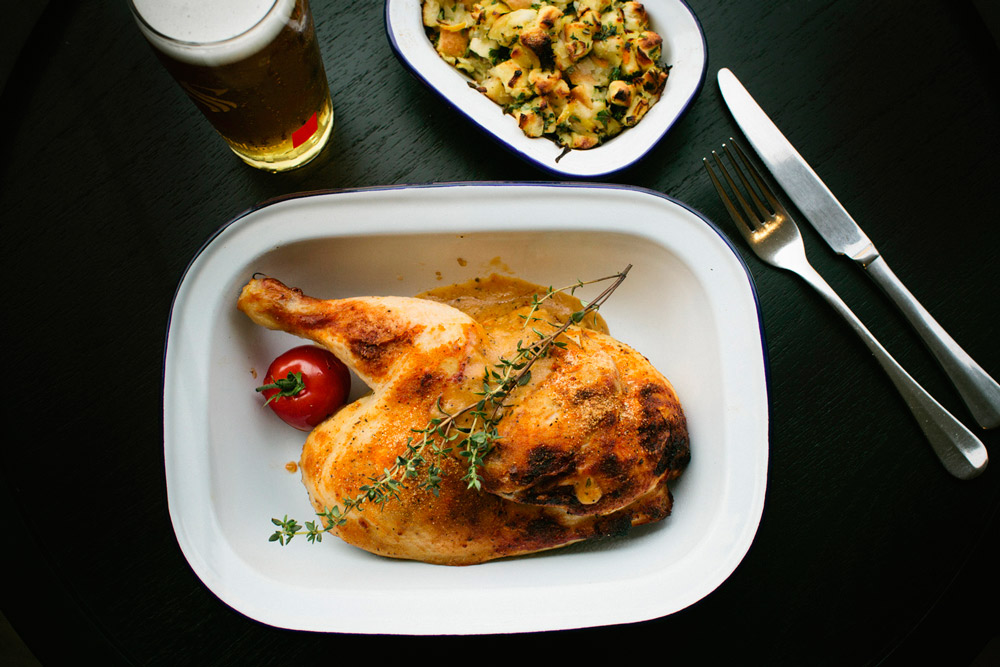 Birkenhead's Slipp Inn is now Good Home, a bright and spacious gastro pub/dining room with a menu of ambitious but comforting pub food like pork schnitzel with tomato parmigiana sauce, lamb koftas with halloumi, and gourmet burgers. Enter the draw to win a $120 food and drink voucher here. 83 Birkenhead Ave. thegoodhomebirkenhead.co.nz