Jun 25, 2013 Restaurants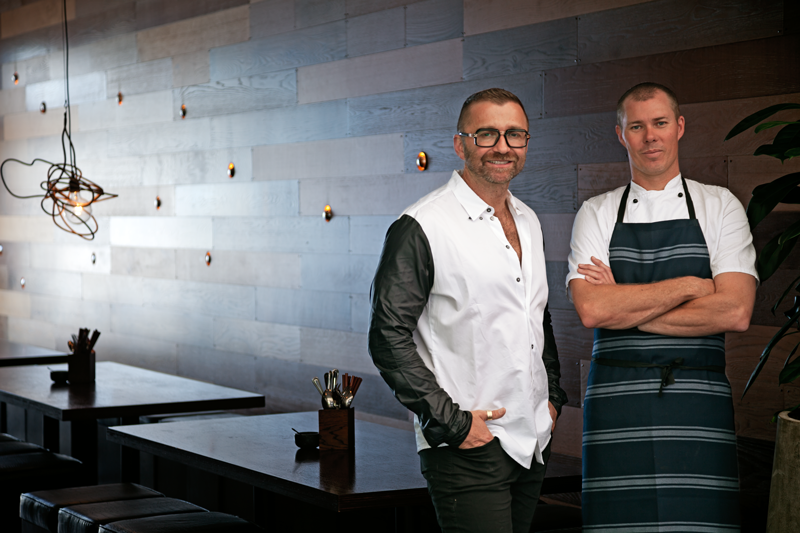 23 Ponsonby Rd, Ponsonby. Ph 360-6262, moochowchow.co.nz.
Lunch Tuesday-Friday; dinner Monday-Saturday. 
Restaurants that marry Asian cuisines with internationalist modern décor are common enough around the world, but still surprisingly rare in Auckland. Chefs take note: Che Barrington (above right) at Moochowchow serves Thai-inspired food brimming with flair and flavour, and his combinations of fresh, sharp and sweet flavours, authentic and hard-to-source ingredients and honourably old/new recipes make this one of the most original and appealing restaurants in town. The pork hock is so wildly popular, it's a surprise any other places are able to source pigs' legs at all. Add the front-of-house talents of owner Mark Wallbank (left) and one of the Ponsonby strip's most delightful cocktail lineups and Moochowchow rises high on the list of Auckland's sexiest eateries. Did we say cocktails? You could start — or perhaps finish — with the Bloody Wallbank: tequila, coriander, namh jin and tomato juice, served, like all the others on offer, with the prerequisite dose of tongue-in-cheek Asian fortune-telling. Knockout. $$$
4 Spoons
A favourite dish: Caramelised pork hock with chilli vinegar.
Shared-plate options / Good for vegetarians / Free-range chicken and/or pork / Private rooms / Good seating outside / Takes large groups / Bar
[booking_form]