Dec 1, 2014 Restaurants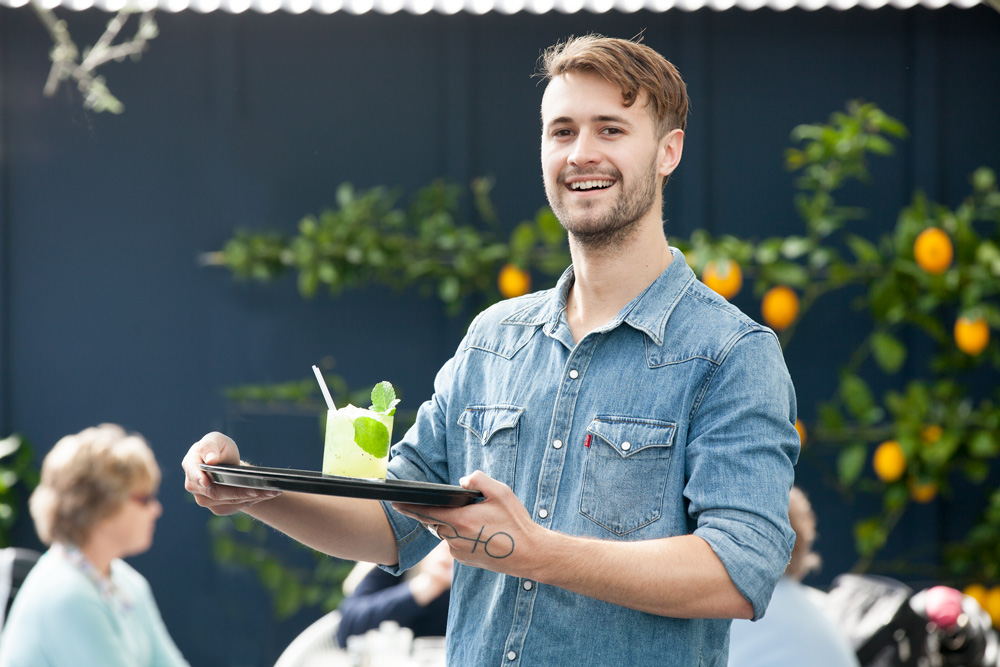 2o St Johns Rd, Meadowbank. Ph 521-1462.
Daily from 7am for "brunch" and dinner.
Snacks $6-$12; starters $15-$18; pizzas $20-$24; mains $19-$33; sides $7; desserts $14-$15.
By Simon Wilson. Photo by Ken Downie.
First published in Metro, November 2014.
I suppose it is possible to eat the burger with a knife and fork. They do, after all, provide cutlery, and they don't give you enough serviettes to make using your hands quite the satisfying prospect it ought to be. And yet, when you've got a burger that looks as good as this one sitting on a plate in front of you, why wouldn't you want to pick it up?
I recommend it. Yes, it was messy. But you can ask for more serviettes. The meat is minced wagyu beef — you know, fattily delicious because the cattle live in beautiful Japanese gardens and listen to Mozart. The bun is fresh, the red onion sweet and sharp and juicy, the tomato tasty even though we're still pre-season, the pickle on top enormous. And the lettuce! Perfectly fresh, crisp, flavoursome leaves of fresh baby cos from their own farm in Clevedon. Yep, Meadow has a farm. Nice.
I suppose it's possible (because they did work out I was there to review) that they hunted through five trays of lettuce to find those perfect leaves, but I doubt it. I suppose it's also possible they hand-selected every shoestring fry, but I doubt that too. The point is, the fries, the lettuce, the whole burger-and-chips lunch couldn't have been better whatever they did. (Except, and I mention this only because I'm paid to be picky, for the onion, which was cut a bit too thick.)
That's the best of Meadow, and it's a very fine best. You can sit in a delightfully elegant sprawling courtyard, shade trees and umbrellas up, a big lemon tree espaliered against one wall and dripping fruit, and work your messy, glorious way through a truly excellent burger, with a pot of fabulous fries on the side.
The wine list is well chosen (love that dry riesling from Maude in Central Otago, and they've got Matawhero arneis too), and it's almost all available by the glass. They have house-brand beer on tap, along with three imports and cider.
And they make imaginative cocktails, though some are a little more gimmicky than original (my rum and ginger beer was served in a bottle in a paper bag). Bloody Marys are the specialty — the Grand Meadow Mary features chilli and honey-spiced vodka with Kaitaia Fire and "flamed bacon". Possibly better for dinner, or breakfast, rather than lunch.
The service is friendly and attentive, even when they get very busy, which is most of the time. Though again, like the onion, there was that one thing: you don't need to interrupt a happily lunching customer to ask how their day has been.
They proudly offered new-season asparagus (while many restaurants were still stuck on winter broccoli and beans), served as a big delicious pile in a lemony buttery sauce. The fish is good and the meatball sliders excellent.
But I wish I could say more for the rest of the food. Tacos were nice, but bland. A dessert brûlée, ditto. The steak is sirloin, not scotch. Pappardelle was served with confit duck and portobello mushrooms and pecorino in a thick sauce — richness that doesn't so much trump subtlety as chase it off the plate and out the door and down the road. A sticky pudding was beset with a sauce of gluggy caramelly dullness.
The entire menu is an oddity. Despite that on-trend touch of having their own farm producing organic veges, the list reads like it was written a generation ago and too many of the dishes seem determined not to offend.
Most disappointing was the vegetarian offer, a twice-baked pumpkin soufflé. I assume the second baking is to ensure the removal of the pumpkin flavour. There was a bed of cold golden beetroot slices under the soufflé, and baby beets, tiny blobs of goats' cheese, walnuts and bits of crispy kale dotted forlornly around it. It had the taste, appearance and mouthfeel of something a chef who's angry with vegetarians might make.
On the good side, they kept the punters very happy during the power cut (in their opening week) with a "blackout menu" of staples. Extra points for that.
By day, this is a splendid cafe. At night, it's tempting to think of Meadow as a bar with food, but clearly it sees itself as more than that: dining tables dominate.
It's very popular with Meadowbankians, and that's not surprising: this is an engaging local bistro in which it's easy to enjoy yourself. But should the burger really be the best thing on the menu? Food wise, they need to shake it up.
2 Spoons