Mar 11, 2014 Restaurants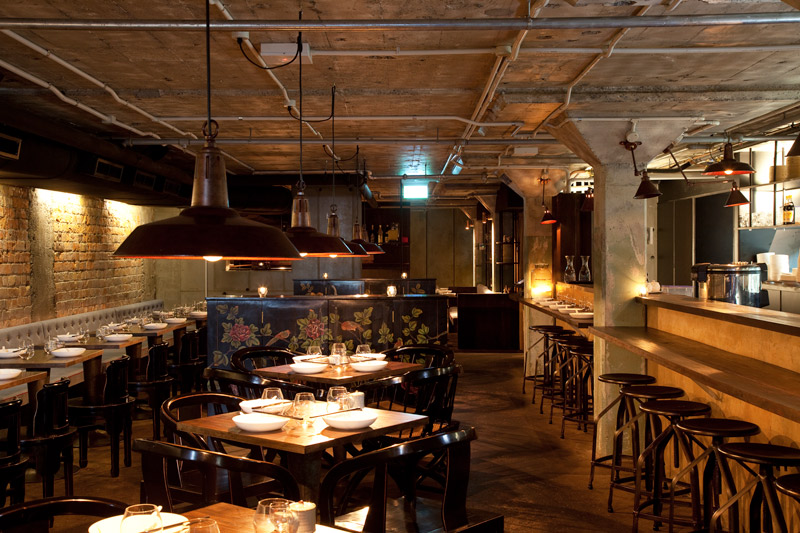 The Basement, 5 Fort Ln, CBD. Ph 300-7551. mandarinrestaurant.co.nz
Monday-Friday, noon till late; weekends 5pm till late.
Small plates $5-$22; large $18-$36; desserts $12.
By Simon Wilson.
There's a high bar for dumpling houses in this town — and yet the Blue Breeze Inn jumps it with ease, and so do Barilla, New Flavour, Jolin and many of the other wonderful joints of Dominion Rd. Mandarin Dumpling, sadly, is lying semi-comatose on its belly, gasping for breath.
It should be good. The chefs have pedigree. The place itself, in the basement of the Imperial Building on Fort Lane, looks lovely. Flagstones, low ceiling, brick and concrete, dark burnished wood and steel, all softly lit for intimacy and snugness: when you walk in, it seems like a perfect little spot in the downtown precinct.
And it has a good wine list. Short, smartly chosen, good at the cheap end and good further up the scale too. I can specially recommend a dry but flavoursome little sauvignon blanc from Wairau Valley called 13 Row. A 2012 vintage and a great match for most things on the menu.
At least, that's true to the surprisingly limited extent that I could tell after two visits. On the first visit, several of the menu's listed items were not available. Second time out, that was true for several others. It's a very short menu, too. And at five to eight, we were told we had better order soon because the kitchen was about to close. What?
The food itself. The dumplings are, well, okay. They're moreish enough, as they should be, but you don't get that bright, fresh flavour bomb you always hope for.
They've got xiao long bao, the Shanghainese dumplings with soup in them, but the dough was tough and they had hardly any soup in them. I ordered them on both visits, hoping for better the second time, but no.
"Three shot chicken" offered tender pieces of thigh, which was quite nice, but when you got to the end you discovered a spicy sauce pooled in the bowl beneath them. Odd. In the shaking beef, which is a Vietnamese dish, the meat was again tender, but had little flavour. Broccoli was served as a big pile of steamed blandness.
Green beans — that triumph of a dish at Canton in Kingsland and Flourishing Cafe in Avondale — were smothered in tongue-numbing Sichuan pepper. There's a trick to using Sichuan pepper so that the peculiar flavour and mild spiciness come through without your tongue being ruined. At Mandarin Dumpling, they don't appear to know what it is.
Wok-fried tuatua, served with jumbo prawns, are certainly tender, but there's very little kick in the chilli and ginger sauce. Nice, but not special. And that's the highest-priced item on the menu. Tuatua. Really?
Worst of all — actually, the thing that defines the place — is the service. You order a bottle of wine and they place it on a nearby shelf and don't notice when your glasses are empty. In fact, mostly they don't notice you at all. Mandarin Dumpling is quite small, and they have several floor staff, most of whom manage to hang around without noticing anything that needs doing or anyone who wants help.
On one of our visits, the waitress wrote down our order, took three steps to the computer terminal to enter it, and simply forgot to write in half the dishes. The memory of a goldfish. And because no one came round while we were eating to see if everything was all right, we didn't realise that had happened for a long time.
For a place like this to work, it must have style, quick-smart service and really exciting food. At Mandarin Dumpling they've eschewed most of that in favour of a different strategy. All the staff are really gorgeous.
Could I say this? There's your problem right there. The place looks good, the people look good, even the crockery looks good. It's like they think superficial appearance is all there is to success.
Even in Auckland, you know, that's not true.
1 Spoon
Update, March 11 2014: Mandarin Dumpling has announced its immediate closure.
Photo by Ken Downie.