Sep 22, 2015 Restaurants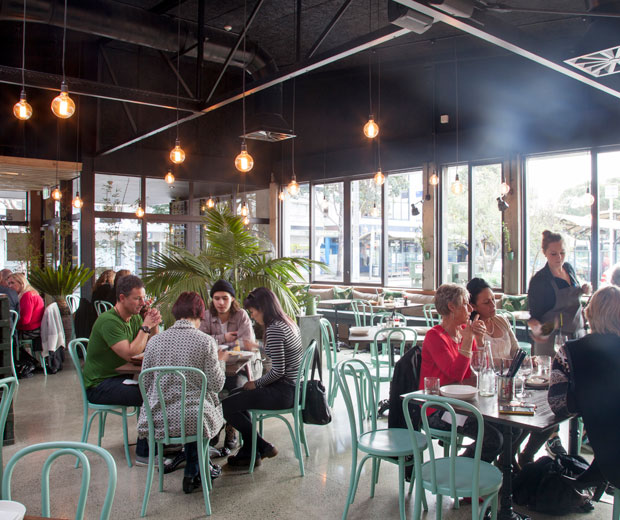 486 Lake Rd, Takapuna.
madamwoo.co.nz
Hours: 7 days, noon till late.
Dinner bill: Entrees $9-$16, mains $29-$32, desserts $7-$12.
By Simon Wilson. Photo by Ken Downie.
First published in the September 2015 issue of Metro.
Old enough to remember Cobb & Co? Garlic bread! Wine with your meal! Actually, in parts of New Zealand where it's still 1973, Cobb & Co lives on. Not Takapuna, of course, where they now have the 2015 equivalent. It's called Madam Woo.
I wish I was joking. Josh Emett, the restaurateur behind Madam Woo, is one of the most internationally acclaimed chefs this country has ever produced, and I wish that when I went into any one of his restaurants it was obvious why he's so highly regarded. At Madam Woo, sadly, it's a mystery.
The place is a travesty. It reeks of an attitude that says, "We won't try hard because they won't care."
I'm not saying it should be fine dining. What I miss — what I hunger for — is an informal, buzzing-with-excitement, expertly run, culinarily wonderful, big ol' joint. A brasserie with a beating heart, oozing style, a place where it's just so great to be there. The kind of place, in fact, that Madam Woo claims to be.
But it isn't. Where to start? It's a barn, and right now, in winter, it's really cold, because they haven't installed any heating.
The décor? They've stuck bamboo along the bar front, hauled in a few potted plants and hung a couple of pictures on the walls — it feels like the canteen in a holiday park where someone started to jolly it up and decided to go for a swim instead. And you sit there, looking out at Takapuna's finest carpark, lit up by KFC.
On the good side, the staff are very friendly, without exception in my experience (two visits), and have the manner of being helpful.
But when a waitperson can't tell you — with a menu of Asian food — how spicy a dish is; when another cheerfully concedes she doesn't know what some of the dishes taste like; when a third says she doesn't know the wine list but goes to ask the bartender and he makes the wrong choice; when they forget to bring your drinks; when the bartender tells a customer he doesn't know anything about the bottle he's holding except that "it's Spanish or something"…
Okay, they get really busy and they're still learning. But they're undertrained. Good service isn't a nice-to-have. It's essential — it's what makes an evening special.
The wine list is quite short, which is fine, but less than half of it is available by the glass. In a place as big and busy as this, why aren't they all available? The beer list is better, although it's not the cornucopia you might expect, and the cocktails are good too. There's no decaf coffee, despite it being standard in restaurants now.
And the food? It's "authentic" Malaysian hawker style, which is both true and not true. True, because of a fidelity to most ingredients and presentation, but untrue, because while it's definitely flavoursome it's also very mild.
Nyonya chicken curry came as three of those difficult ribcage pieces everyone leaves till last in a KFC bucket, in a thick mopping sauce that was tasty without actually tasting like curry. Hawker rolls are thick flaky roti with flavourings. Beef rendang has the ingredients separated (crispy anchovies, fresh peanuts), which is great, but it was too dry. Dumplings were flavoursome and chewy. The stir-fry char kuey teow was full of pork, prawn and vegetable bits, which would be fine if it hadn't, like the curries, lacked an edge.
It all lacked an edge. And yet the condiments that could help you fix this at the table (sambal or other chilli sauce, even soy) are not offered.
Auckland's full of places doing similar things much better: Mekong Baby, Monsoon Poon, The Blue Breeze Inn of course, and also about half the outlets on our Cheap Eats list.
Perhaps I have been unfair. To Cobb & Co, that is. In their day, they took it seriously and offered a really good version of themselves. That's precisely what Madam Woo is not doing. Instead, with a cheap barn, undertrained staff and unspicy food, it represents a calculation: in Takapuna, you can get away with cutting a lot of corners.
And the place is packed, which suggests that it's true, you can. Doesn't mean you should.
1 spoon
How we review
Every restaurant is visited at least twice and rated for what it is trying to do: a superb bistro and superb fine-dining place both get 5 spoons. We pay for our meals and if possible do not declare our presence.
We'd eat here if we had to – 1 Spoon
Good, but it really should be better – 2 Spoons
Very good – 3 Spoons
Extremely good – 4 Spoons
Superb: among the very best of its kind – 5 Spoons
[booking_form]