Jun 21, 2018 Restaurants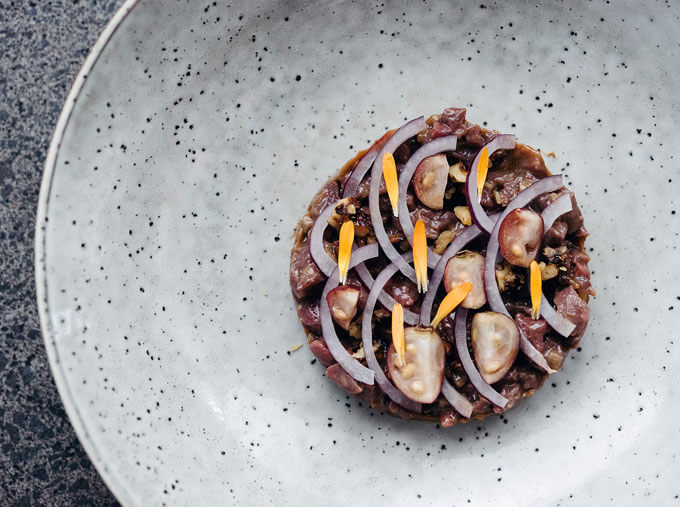 Metro Top 50 2018 restaurant Madam George on K Road is a contemporary city-fringe bistro.
This noisy K' Rd dining room with its pavement tables and retro-chic interior treads a fine line between restaurant and bar, but there's no doubt which it is when it comes to the inventive food. Chef Patrick Schmitt eschews the smashed avocado on toast that has a worldwide cult following, for example, and instead roasts this odd, savoury, subtropical fruit. It's a punt that pays off. Not dissimilar to a good baba ghanoush, Schmitt's roasted avocado comes alive with citrus and garlic, and he tops it with piquant, pickled yellow zucchini and wafer-thin slices of dehydrated tomato. For a menu that changes so frequently, the waitstaff are adept at talking customers through dishes in way that doesn't sound scripted. There's a lot here to please vegetarian and vegan eaters.
What it offers Good for vegetarians / Free-range chicken and/or pork /Good seating outside / Takes large groups / Craft beer selection
A favourite dish Venison fillet with cherries and soured potato.
Awards Finalist, Restaurant Personality of the Year: Dante Adams
Price $
Seats  50 seats across both the bar and dining room
Hours Dinner Tue-Sat
Bookings Yes
Chef Patrick Schmitt

madamegeorge.co.nz
K' Rd Precinct
490 Karangahape Rd
Ph 308-9039
See here for all of Metro's Top 50 Auckland restaurants for 2018