Jul 9, 2014 Restaurants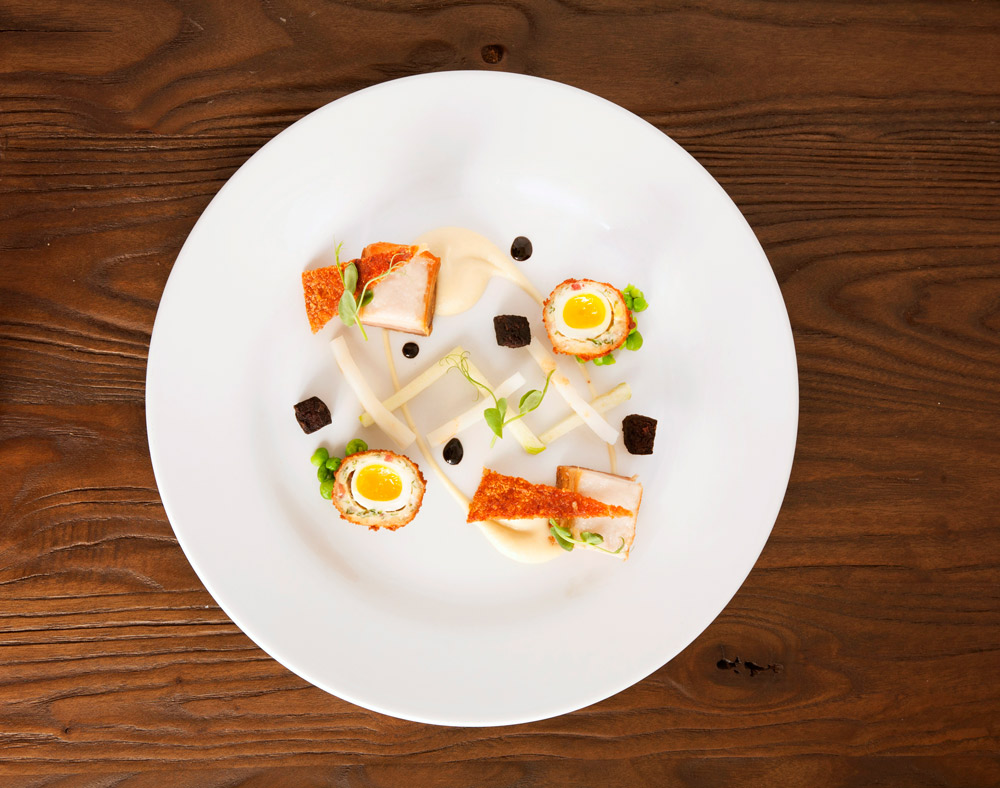 62 New North Rd, Kingsland.
Ph 849-4448, loopdining.co.nz
Hours/ Wed-Thurs 5pm-9/10pm, Fri-Sun noon-9/10pm.
Dinner bill/ Entrées, $14-$15; mains $25-$29; desserts, $11-$15.
By Simon Wilson. Photo by Ken Downie.
First published in Metro, June 2014.
I really don't get the paleo diet. Eat like a cave man — do anything like a cave man, for that matter — and you'll be better off? So off I went to "New Zealand's first" paleo restaurant, hoping against hope. And you know what? It's pretty damn good.
Personally, I reckon the quality is more despite the paleo thing than because of it, but I know there are plenty of people who would say otherwise and, in the end, who cares? Good is good. I've been twice, and I'm going back for more.
Curiously, Loop doesn't actually call itself a paleo restaurant. They prefer the term LCHF. That's "low carb, high fat", and what that means, though they don't really say this either, is: a lot of meat.
The mains, at the moment, are slow-braised beef, fish, poached lamb rump, roast pork loin and a really good aubergine and mushroom dish (yes indeed, vegos get a look in). That last one aside, each dish comes as a large and very beautifully presented pile of meat.
I do think this is slightly weird. Take the lamb, which, as the menu promises, is accompanied by aubergine, beetroot, labne, kumara, mint and lettuce oil, and lamb jus. A perfect main-course dish, you might think, but actually, it's all garnish. The dish is a plate of sliced lamb, impressively delicate in flavour and texture, with blobs of stuff on the fringes.
In this, of course, Loop is not alone. There are plenty of restaurants around Auckland that you think are going to give you a fully balanced main, when it turns out everything else on the plate is there merely to decorate the meat. It's just that they don't call themselves LCHF.
In theory, it's easily fixable: you order sides. At Loop, that means chips served with parmesan aioli and malt vinegar salt — they're good, though not omg good — or kumara mash, which is a little heavy. I know, kumara mash is usually heavy — but a chef who cares enough should work out how to overcome that.
And the greens? Well, oh dear. "Seasonal vegetables" and a rocket and parmesan salad. They make me want to throw things, both of those. The salad, because it's such a dreadful cliché. The steamed veges, because it doesn't matter what they are, you just know they're going to be bland. And so it is at Loop. At least they didn't have sliced almonds on them.
Enough complaining. The atmosphere is lovely. Welcoming, warm, homely and — this is Kingsland — more than a little hipsterish. Elliot Boock and Hailey Rodger, brother and sister and co-owners who work front of house, are charming hosts, and they start your meal with an unexpected delight — soups in shot glasses. It's great when bistros add touches like that.
Those meat dishes really are good, and so are the entrées. Do not overlook "bacon and eggs", which is a bit of pork belly and a truly magnificent little "squid and chorizo scotch egg", served with peas, celeriac and apple salad. The head chef (and also co-owner) here is Craig Rodger, Hailey's husband, and for that dish alone he deserves a place on the honour roll — yet the fact he also puts out those boring vegetable sides means he has work to do inside his own head.
Depending on where you sit you may be able to see into his kitchen, where one wall features a big mural of Marco Pierre White — whom Rodger cites as inspiration. You do wonder what that means: ol' Marco was the throw-things-and-scream-at-people psycho who taught Gordon Ramsay how to behave, yet in this little enclave dedicated to good health — and local seasonal produce and all that — it's hard to imagine anyone raising their voice.
They don't have decaf, and that's careless. But they do have some very fine desserts. The spiced orange polenta cake, served with yoghurt and various bits and blobs with the flavours of hazelnut, apricot and orange cardamom, is so good I suspect it would be easy to get addicted.
3 Spoons