Oct 8, 2014 Restaurants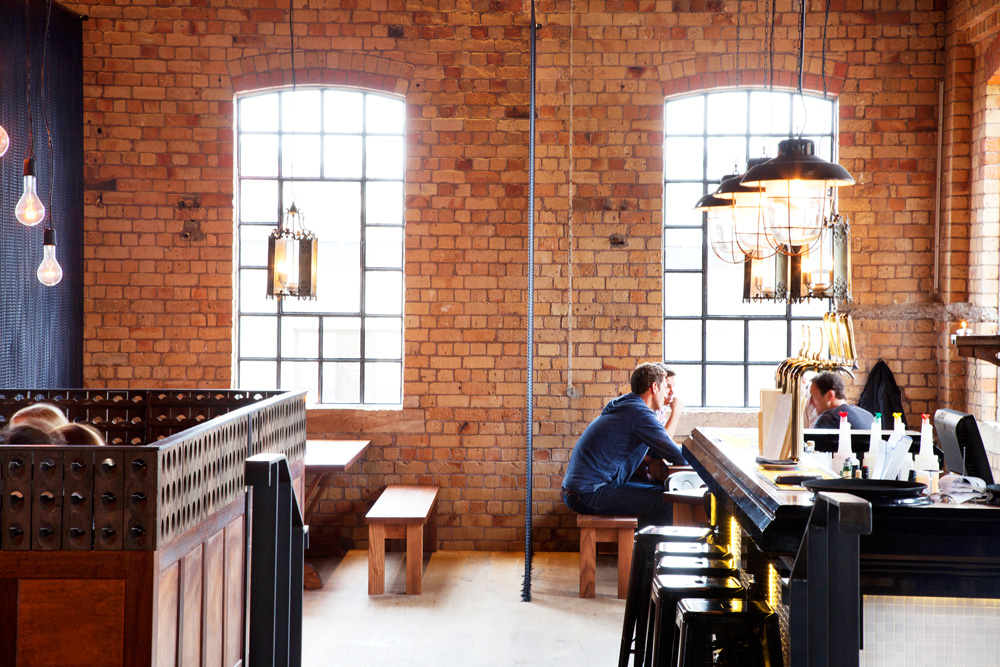 37 Drake St, Freemans Bay.
Ph 929-2790. libertine.co.nz
Tuesday to Thursday 3pm till late; Friday to Saturday 4pm till late.
Dinner bill: To Start $16-$22; To Follow $26-$28; To Finish $14-$16.
By Jesse Mulligan. Photo by Ken Downie. Published in Metro, September 2014.

I reviewed Libertine when it first opened and hated it. The food was patchy, the staff were somnambulant and to wash your hands in the bathroom you had to rub your palms vigorously on what looked like a soapy, wall-mounted penis.
Well, two years later, the food is much better, most of the staff have woken up, and in the toilets they now use liquid soap, which has way less of a sexual connotation.
Owners Pack Group have put ex-Roxy star chef Sean Marshall in charge of the kitchen and it shows. Most of the dishes are really excellent — a sort of cheffy bistro fare, if you had to name it — including a brown crayfish rice which oozes dirty cray-stock flavour and is topped with morsels of the delicate white flesh, grapes and almonds, drizzled with verjuice. The goats' cheese is perfect: chèvre served with wintersquash, raisin and a very short bread which crumbles and dissolves on the bite. The oxtail and oyster is sublime. I'd eat any of these every day for a month.
But there are some disappointments, such as the rotisserie beef. Whatever the alleged benefits of cooking on the spit, the most obvious thing to me was that it should get a piece of rib eye to medium-well done without breaking down the thick vein of fat that runs through it. It's sliced thin, too, so you miss out on all that tasty surface area.
Fish of the day was bluenose, tasty and cooked to moist perfection. But is there any good reason to leave skin on a fish if you're poaching it? Kingfish sashimi came without much flavour at all — no curing, no soy. Using rhubarb juice instead of citrus is a good cheffy trick with fish, but the sashimi came with fine ribbons of raw rhubarb, which didn't seem to make any sense.
The staff are friendly and eager to impress, but some of them are still a bit dopey. I tried to book late in the day and they said they were full, with no solution offered. It took quite a bit of work from me to secure a 6pm table, where we ate with most of the restaurant to ourselves for an hour and a half. A couple of walk-ups were being seated as we left.
The most annoying thing of all? We visited during Restaurant Month, of which Libertine is a part, but we had to specifically request a look at that menu; none of the other tables got to see one. Three courses for $40 was a great deal, and we would have done it if we'd seen the offer before we ordered — can we draw any other conclusion but that they didn't want casual customers to find out about it? Is Restaurant Month the new Entertainment Book?
Libertine lives in an old brick building in Vic Park, architecturally enhanced to work as a beautiful bar/restaurant space. It's a nice place to sit while you dine, or just drink; the beer list is passable, though wine options by the glass are a little boring (arranging them by style is helpful, but not when your "crisp whites" consist merely of four New Zealand sauvignon blancs).
But the food is mostly very good, the atmosphere is fun and the energy of a new chef is clearly making an impact. A bit more attention to the other stuff and we could have a new favourite spot, in an old part of town which could really do with a hit.
3 Spoons