Mar 22, 2018 Restaurants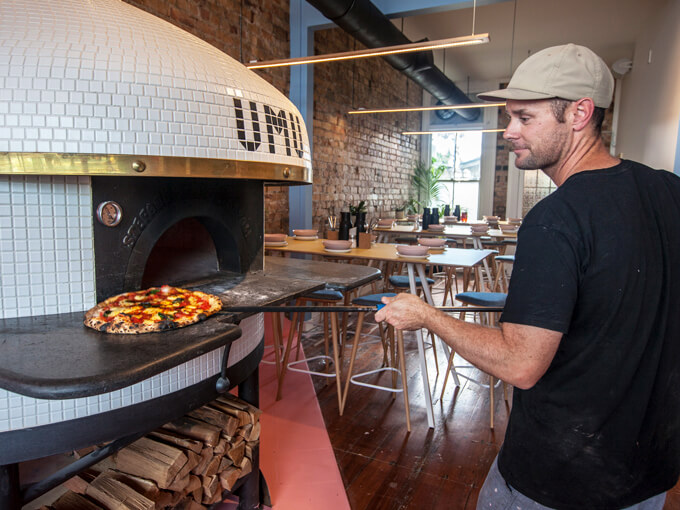 Umu Pizza, a new pizza joint opens in Kingsland
You'd be right to admire the three-tonne white-tiled oven which sits just inside the door at soon-to-open pizza joint Umu – made by a third generation Naples-born oven maker, the process from building to shipment took five months. When it finally arrived, Umu's owner Simon Murphy not only had to hire a forklift, four men, three vans, and close part of New North Road to get it in place, he had to remove his entire shopfront too. It's crucial, he explains, that the wood-fired oven (or umu) is right because it will be the foundation of everything that's cooked here.
An ex-travel agent shop, redesigned by Gerrick Numan of Mille, Umu is small. All exposed brick and soft pinks the restaurant seats only 24 across three tables of eight, with the bulk of the front-half of the room taken up by the oven and a small bar. Murphy hopes the tight quarters mean a big buzz when the restaurant is full.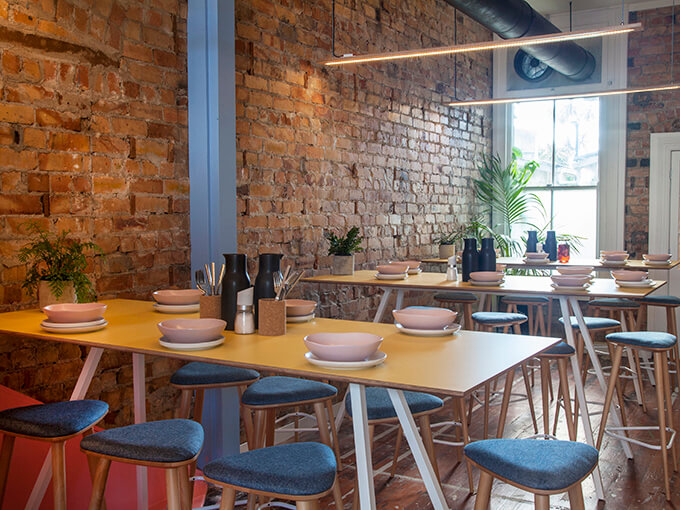 But Umu is about more than just a snazzy room, it's about pizza – one of Murphy's favourite foods. Pies will be loosely Napoli-style with 36-48 hour fermented sourdough bases made using a mix of Italian 00 and stoneground flours. Toppings include the standard tomato-mozzarella-basil combo but they also veer away from the traditional: Murphy predicts a Hungarian salami, Aleppo pepper and pickled red onion-topped number will be as popular as another non-traditional recipe with homemade lamb merguez, harissa and labneh. "This isn't strictly Italian food," he says.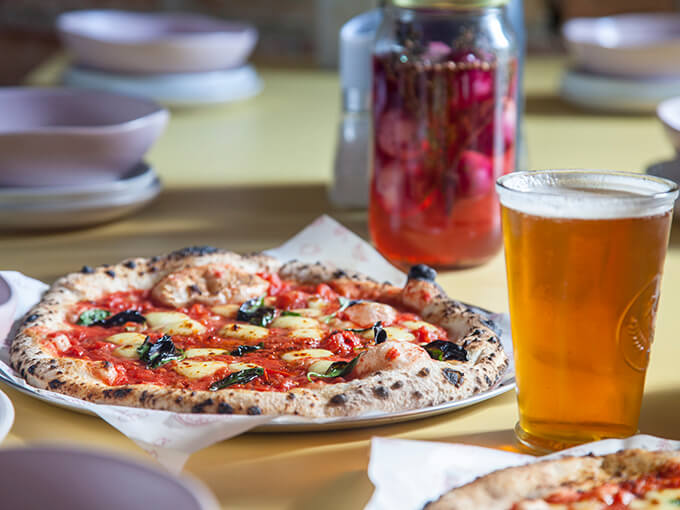 As well as pizza, Umu's consulting chef Reginaldo Richard (ex-Odettes) has created a couple of wood-fired sides, there'll be local tap beers from Brothers Brewery and Urbanaut, and wine from Matakana-based organic vineyard, Te Rata. Most of the drinks will be bought by the keg to reduce waste and when they're empty, the list will change.
And we need to talk about the wood which will be used to stoke the fire in the oven, because choosing it has been a pretty lengthy process. "People like manuka," says Murphy, "but it doesn't burn hot enough for pizza." His oven needs to reach temperatures of 450-500 degrees Celsius, so he's using a mix of kiln-dried beech and oak with a few manuka and pohutukawa branches for flavour. As is typical with Napoli pizza, each topped base will see a 90-second turn in the oven before being served.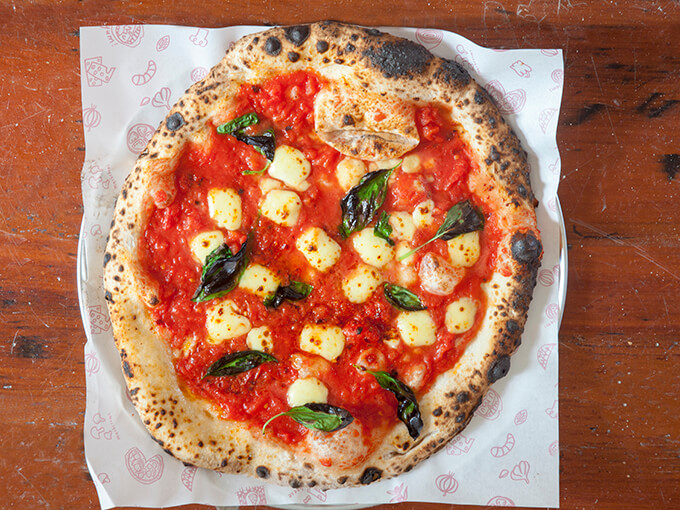 Murphy, whose first job was incidentally as a pizza delivery boy, is visibly excited about his new venture and has spent several months refining recipes and researching flours, sauces and cheese, even moving out of his east Auckland home to live above the shop while it was renovated. He's back home with the family now, his umu is seasoned, and the only thing left to do is open the doors.
Umu Pizza opens 24 March 2018

Umu Pizza
469 New North Road, Kingsland