Apr 20, 2018 Restaurants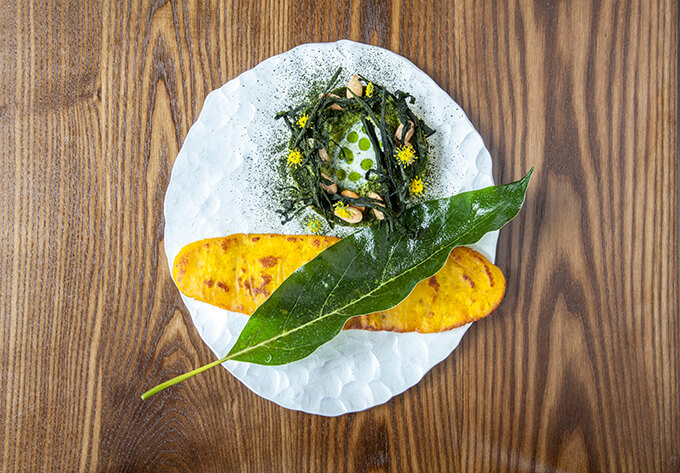 Inti is now closed
Simon Farrell-Green reviews Hispanic restaurant and Metro Top 50 2018 finalist Inti.
Inti is a big, high-ceilinged space in the bottom of Shortland Chambers at the top of O'Connell St. It was formerly the home of Meat Fish Wine, which opened with an expensive fit-out, a huge wine cellar, lots of PR — and mixed reviews.
MFW didn't last long, but the owners held on to the site and had the wisdom to give Javier Carmona — formerly of Mexico, Beirut and a very popular pop-up in Avondale — his own restaurant, named after the Incan sun god, Inti.
The focus this time is on the food: most of the fit-out is left over from MFW, which isn't a bad thing since they invested heavily in some beautiful wooden chairs and a striking bathroom that has one-way glass back out to the restaurant and centres around a gigantic round concrete trough with sensors to make the taps go. The walls have been repainted an earthy, restful sort of grey-brown.
<!– –>
It's billed as a trip through Chile, Peru and Mexico, riffing on empanadas and tostadas, ceviche and guacamole. Only, in Carmona's hands, these humble street-food dishes ascend to something radically different. They are better versions of themselves.
A monkfish bacalao comes in a perfect circle, with melon and cucumber and samphire arranged deftly on top like scales, the bacalao cured and salty and somehow creamy, offset by a careful web of acidity from the greens.
A guacamole is made from cactus and comes with edible flowers and a dehydrated avocado leaf put deftly on top. A dish of "green chorizo" is topped with a 65-degree egg, draped over a pile of chorizo meat — no sausage casing in sight — and accompanied by a perfect piece of red-veined sorrel. You eat this food with your eyes. Then you eat it properly, and you're surprised yet again by the depth and breadth of the flavours, at once citrus, sweet and smoky.
The confusing thing about Inti? It's always empty. I sat there on a weekday for lunch and had the entire place to myself. Another time, it was a Saturday night and there were, oh, half a dozen tables with people at them. The food is fantastic, the service is helpful, considerate and well-paced, and there's a good wine list that runs through some interesting New Zealand wines contrasted with South Americans at excellent prices. The ceramics are beautiful — water comes in hand-made cups; every plate is a triumph. As a friend said the other day, people should be queuing out the door. Surely — surely! — it's not because we're afraid of menus with lots of xs?
For that lunch, I started with a dish of two arepas, perfectly crunchy on the outside and just cooked on the inside. One was topped with grilled capsicum, white anchovies and edible flowers, the other with guacamole and perfectly grilled single rounds of leek. Next, I ate steak grilled in jamon fat and served on a skewer, which was tender and medium rare, offset with a zesty green sauce of "lettuce juice". And then I ate a little piece of John Dory Veracruz, just translucent in the middle, served with a smoky tomato salsa, slices of fennel heart and candied ginger, flavours at once indefinable and familiar. It's food meant for sharing, but it's just as good alone.
Equally, you might start with salsa tarasca, made from pumpkin seeds and peanut, served with a perfect milk bun and a cricket panucho — a refried tortilla that on the street is stuffed with refried beans but here comes with cricket (!) flour. We had a rice tostada — crunchy and light — with tomato, achiote (a kind of mild peppery spice) mushroom and black ant powder, which sounds overblown but was actually deft, fresh and at once strange and familiar.
And we had tlayuda, a selection of vegetarian dips that comes on a fried tortilla: you break off a bit and pick up a bit of this or that, including a spectacular dish of grated pumpkin with a smoky sort of spice and that bacalao, and some Oaxaca cheese. It was the highlight of our night; I was disappointed it didn't make the new menu, but maybe it'll come back.
And so you sit there at Inti, in that big high-ceilinged room, and you watch Carmona running the pass in elegant fashion, talking waiters through new dishes — the menu changes often, in a sort of hyper-seasonal way. And you think: this is fantastic.

Inti
Corner O'Connell and Chancery Sts, City.
This review was published in the March – April 2018 issue of Metro.