Feb 5, 2018 Restaurants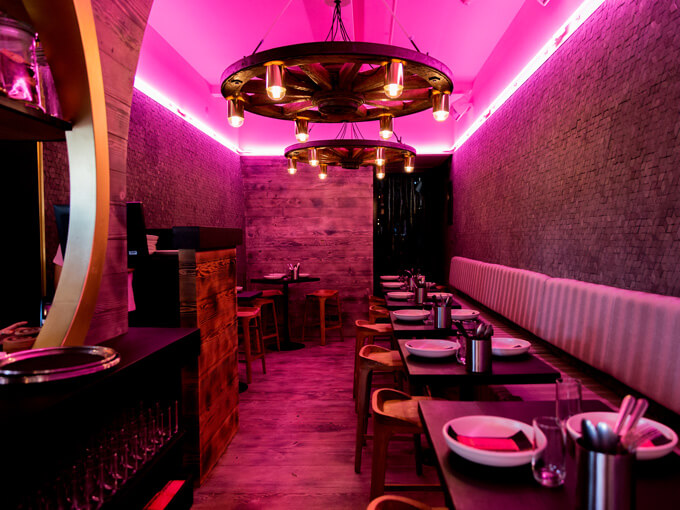 Honeybear is now closed. 
Restaurant review: Honeybear in Ponsonby Central has some hits and misses — go for the curries, they're especially good. Simon Farrell-Green reviews the Burmese-Indian restaurant.
You'll find Honeybear in Ponsonby Central, in a small space on the corner with a lot of windows and a sort of airline-departure-lounge-meets-Moroccan-souk vibe: pink neon lights, banquette seating, tiny tables close together. Perhaps not surprisingly, most people sit outside if they can.
It's the newest restaurant from Che Barrington and Mark Wallbank, who also own Blue Breeze Inn and Chop Chop next door, as well as the excellent Woodpecker Hill in Parnell. It's been billed as Burmese, but it's more complicated than that — think Burma via India and even Sri Lanka. (The name, incidentally, is inspired by the idea that you should eat with your paws, as people do in Burma. How people who live where it's standard to eat with your hands feel about being compared to bears, I couldn't possibly say.)
It shares a few things with their other restaurants — an outrageous fit-out, a soundtrack with attitude, and a menu of modern Southeast Asian shared plates. Though in general, it's not as accomplished: the service is good and helpful, but feels tentative. Some of the food is really good but some of it isn't. And it's empty by 9pm.
It's a really good place for a drink. The signature cocktails are all based on kombucha, which you add booze to, but I couldn't go past the gin. Honeybear offers three excellent gins, to which your choice of tonic and aromatic is added. The craft beer selection is short but carefully thought through, and changed from one visit to the next, though there's always their signature beer made by Coromandel's Blue Fridge. If it's on, the Salty Sea Dog IPA goes very nicely with the lightly spiced food.
The menu is equally short, nicely composed and not particularly expensive. It changes frequently: you could easily drop by every couple of weeks and try something new. There are five mains to share — a lot of them curryish — and about eight shared starters, running through tacos to puri and on to soft-shell crab. The hero dish is a dosa, which comes with a coconut chutney and curry leaves and is chewy, slightly sour and crispy all at the same time. It's 50cm long.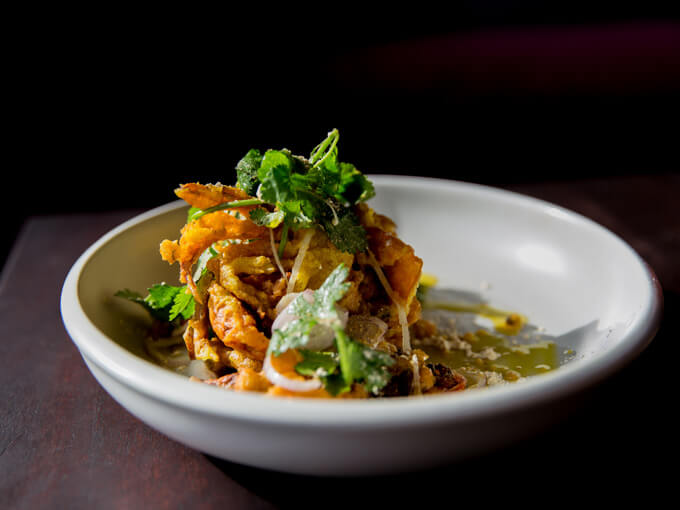 Mostly, the food is really good, the curries especially. You can tell they make their own spice paste by the texture. Recently, I ate a "hot and smoky" chicken curry that was not particularly hot but aromatic and quite smoky; it went really well with the dosa. I've also eaten curry of lamb shoulder with green chilli and fenugreek, which had plenty of heat to it. I love the soft-shell crab: wokked with toasted coconut, chilli jam, kaffir lime leaf, Thai basil and green peppercorns, it was at once smoky and sour and herbaceous. I'd eat this again and again. I've eaten tacos there as well: there was a brilliant taco with prawn and lap cheong sausage, the juices running out of the sausage; there was a less-brilliant one with roasted eggplant and a yuzu dressing which veered too far to sweet, though the eggplant was roasted perfectly.
Misses? Desserts, for a start. There was a stodgy lemongrass-and-ginger crème brûlée that lacked any evidence of lemongrass or ginger, with a tasteless sorbet and pistachio crumble so sticky it could remove a filling. There was a beautiful cardamom chocolate mousse with masala chai ice cream and an entirely unnecessary "orange, rose and pistachio" which turned out to be slightly soft popcorn.
But we really need to talk about the puri. That street-side Indian snack is best made with a small, delicate wafer that you pop into your mouth in one go. Here, they're small meals on a thick crackerish wafer, which breaks and spills its topping, bringing back memories of awkward finger food at parties. Though I loved the flavour of the caramelised pineapple and kaffir lime in one, the version with salmon sashimi on it didn't work — and it came with a small mountain of "pickled shallots" that just tasted like raw onion and lingered through the rest of the meal. At moments like these, it feels like the place is over-reaching, changing something just for the sake of it. Go for beer and curry instead.

4 Brown St, Ponsonby,
Ph 360-8080.
Hours: 11.30am-late, seven days.
Dinner bill: "Shorties" $7-$16; "Biggies" $16-$26; "Sweeties" $12-$15.