Sep 16, 2021 Restaurants
Hunting for ghost kitchens is pretty easy. Their names, usually generic and slightly silly, stand out online among the names of other businesses who are forced, like fools, to emblazon them on their streetfronts. I click on places such as Low Carb Kitchen, Pimp My Rice, Chur Burger and La Sesame Pizza, plug their addresses into Google, and watch as the names of other restaurants pop up. Gotcha!
Ghost kitchens are food businesses that don't have a physical address where you can walk in, look at a menu and order the way you'd typically do. As delivery-only operations, they usually exist solely on digital platforms such as Uber Eats, either cooking out of restaurant kitchens that serve different food to dine-in customers, or from commercial kitchens that moonlight under several different brand names. As a business proposition, the concept makes sense: rent and labour costs, hospitality's biggest, would theoretically stay the same while more revenue streams in, helping to fill a  restaurant's dead spots (like, say, the 5–6pm time window) with orders. Or you can run an online-only 'restaurant' without all the hassle and expense of customer service. Ghost kitchens, also known as dark kitchens, also act as a way for emerging chefs to innovate and test their product (though they usually end up selling some form of comfort food — go figure).
The concept of beloved restaurants opening ghost kitchens is not generally well received by loyal patrons. It's often portrayed as an ethical betrayal due to the parasitic nature of food-delivery platforms, especially Uber Eats, which takes up to 35% commission and has been accused of underpaying its delivery drivers. When Auckland restaurant Coco's Cantina was discovered to be operating ghost kitchen Pasta Pronto (now closed) out of its Karangahape Rd site, owner Renee Coulter told The Spinoff that "it was a hard call, because Uber is Uber, but it's also a hard call being in hospitality. Everyone is hustling… the fear of having some backlash cannot outweigh what is good for the business in terms of how do I reach the goals of paying living wage, of freeing up some head- space, and actually showing some leadership."
Because of the stigma attached to ghost kitchens, rightly or wrongly, they are hardly ever proud of their ghostly status and rarely associate themselves with their dine-in businesses. ('Hunting' is, therefore, an apt description of my research.) Although these delivery-only restaurants fulfil a different function than those catering to folks going out for a nice meal, there has always been chatter around what the faceless entities could mean for the hospitality industry — are they the Big Bad, hastening the death of restaurants as we know them? Are they a way to escape the hardships of rising rents and create a utopia of low overheads and workers earning a living wage? Or do they merely reflect the realities of the hospitality industry, as Coulter says — its never-ending hustle for survival?
The more I look, the more I notice them. While eating dinner at Korean restaurant The Place on a busy Sunday night, all our food arrives except for a plate of fried chicken. I'd nearly demolished my entire dolsot bibimbap before the chicken finally got to our table. At the same time, a constant flow of plastic bags full of containers boasting an unfamiliar brand name was quietly passing out of the kitchen and into the waiting hands of delivery drivers hov- ering outside on their phones. Our fried chicken had been delayed by an influx of ghost-kitchen orders.
"Dine-in is the priority," says Paul Anakakul, owner of Thai eatery At Bangkok and ghost restaurant Arcade. Both have a presence on Uber Eats, operating out of the At Bangkok restaurant on the main Kingsland strip, and Anakakul juggles online and in-person orders at the same time. He is one of those rare exceptions who's not quiet about having a ghost kitchen; he even allows customers to order and dine in on the Arcade fried chicken if they wish. However: "Our number-one rule is, when it's busy, we pause Arcade. Arcade is the first one to go."
In a previous life, Arcade existed as a dine-in restaurant (before that it was Chicka, also a venture of Anakakul's) where people could hang out and play video games. It stayed open for the time that Anakakul had the lease — about two years. Interestingly, Anakakul says he always knew that Arcade, which mostly sells fried chicken and burgers, would eventually become a ghost restaurant. "That was the goal: to market it physically," he says. "That's the thing most people don't do with [delivery- only] restaurants. One of my other mates saw that we were doing about $5 to $7K without renting, or hiring other staff. He didn't understand that I did my fundamentals; I did my due diligence. I knew my product would sell, but
I needed to promote it somehow."
Anakakul saw the brick-and-mortar restaurant essentially as marketing for the ghost business. It worked. Arcade makes up about 20% of his overall sales; as such, he is pragmatic about the necessary evils of cooperating with Uber. "I appreciate Uber," he admits. "I've done it [ordering] through my own website, and, realistically, it's time-consuming, there's risk… And when you've all that done, and you're doing it right, you're saving, what, 10%? Getting a full-time driver is $20 an hour; picking up the phone and writing in orders, that's hard. If the customer gives you the wrong address, you get a prank call, the customer's not there to receive the goods… you don't get the money. Uber takes that stress away."
Jonghung Kim, founder of pick-up and delivery-only food business Pick Meats, expresses a similar sentiment. Kim is also on Chinese-based apps called Buy@Home and EASI, but rates them much lower in ease of use than Uber Eats, though the commission rates are also slightly lower (18% for Buy@Home, 15–25% for EASI). He serves mostly Korean food — dishes such as jok bal, a pork hock, or mag-guk-su, a cold buckwheat noodle — and started out by advertising his wares on Korean community groups. He soon had to expand his offering to include more Western-friendly options (like Korean fried chicken) and, like Anakakul, quickly realised the importance of social media in cutting through the noise when you're just one of many faceless names on a delivery app.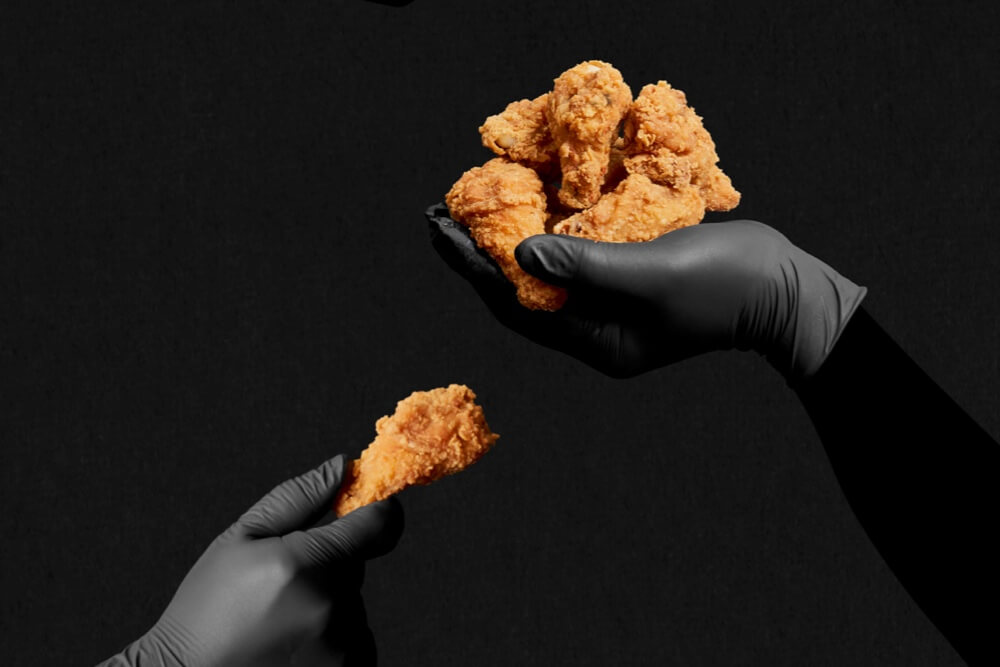 "I'm focusing on white people these days," he says with humour, showing me the Pick Meats page, which is now flooded with laser-sharp Instagram-friendly videos.
Kim started Pick Meats in the aftermath of the Alert Level 4 lockdown. It benefited hugely from the sudden surge of goodwill towards hospitality as the world of takeaways opened up in Level 3 — in this instance, Covid-19 gave Kim an "opportunity", he says. Mostly, he started  the venture as a way to test the market and develop his recipes, many of which came from his dad. Kim cooks out of the Ding Dong Lounge, a club in central Auckland that doesn't use its fully equipped kitchen for much more than basic snacks; in exchange, he helps it out alongside Pick Meats. "To be honest, when you messaged me about a ghost kitchen, I was like, 'What's a ghost kitchen?' I had to google it."
Ghost kitchens first entered the Auckland vernacular around 2018, when Hot Lips opened on Ponsonby Rd (also selling fried chicken, funnily enough). Uber Eats started operating in New Zealand in 2017. Though other food-delivery outlets had existed in the Auckland market prior to this — Menulog, for example, entered in 2012 — it was Uber Eats that reimagined the process (i.e. providing cheaper and faster delivery), contributing to a massive rise in delivery culture. Competing apps have found it hard to deliver a similar service to the level as Uber's efficiency, in terms of drivers and ease of use for both restaurants and diners. Some have tried and failed (like Eat Local NZ, Flamingo) and some are trying and lagging behind (like Menulog).
David Fu, owner of One8Tea in Epsom, has a ghost restaurant called Loadedfriez where he sells just that, plus some homemade sodas on the side. He was happy to explore beyond his in-house menu of bubble teas and baos — the side business is adjacent to, and simple enough to run beside, the main one. Fu estimates that he crams about eight days of work into six, and, like everyone I talk to, he has a love/hate relationship with Uber Eats. Uber Eats, he tells me, includes a caveat for businesses who sign up for ghost kitchens: it makes you agree to a sort of exclusivity deal, whereby you can't set up ordering through your own website. Some ghosts get around it by making their phone number available to the public.
There are a few much-needed alternative avenues to Uber Eats (30% commission is not a sustainable proposition for most businesses), and some of them appear more low-key than others. In 2019, Taste in Memory, a small Chinese restaurant in Mt Albert known for its xiaolongbao, was named Supreme Winner in Metro's annual Top 50 Cheap Eats list. In 2020, after the Level 4 lockdown, it never reopened its dine-in service, choosing instead to move its entire ordering system to WeChat, a messaging app that primarily serves the Chinese-speaking community. Customers are invited and then cordoned off into groups; I'm in one with 499 other people, and there are many others (groups, that is). Every Sunday, DL (the owner) posts a link to her WeChat shop, with detailed instructions on how it works, how to pay, and a menu. You deposit money into the bank account, then collect your food at the store, which was previously full of people picking up xiaolongbao with their chopsticks and is now bare and empty.
This is happening on a smaller scale in WhatsApp groups, Facebook Marketplace, Instagram and elsewhere: home cooks running ghost kitchens — though most of them don't view it that way. Paulus Kasuma of Kasuma Kitchen is one of many 'at home' cooks hawking his food through word of mouth and social media. "If you wanted real Indonesian food in Auckland, you had to be in the know and be in a community with aunties who sold the food," Kasuma tells me. He is based out of a commercial kitchen that his employer (a daycare catering company) lets him use for free, and releases a limited menu (some- times only one or two dishes at a time) online for pick up and delivery. He also makes jars of chilli oil, which are permanently available.
The "real" cooking, Kasuma says, happened when lockdown started: when the world stopped, and he and his wife didn't have anything to do. "We were staying with our mother-in-law, who used to sell food to the Indonesian community. She told me we should start doing it, too." Just like with chilli oil, selling hot dishes, such as sate ayam, started with the community — church, the neighbourhood — and then eventually fed through to Lazy Susan, a popular Facebook page for people in Auckland who love food.
In overseas markets, Covid-19 has massively accelerated the rise of ghost restaurants, but with the slow re- opening of dine-in restaurants, many predict the delivery boom is about to burst. The downside of ghost kitchens is obvious: restaurant food tastes, feels and is fundamentally different when there's no dining-out experience attached to it. As Kasuma tells me: "I cook to see people enjoying my food, so when I can't see them it's… meh."
The hidden spaces and eating places that exist further behind the curtain — the Taste in Memory WeChat groups, the Facebook pages where cultures huddle together and bemoan the lack of chop suey or kuih until an auntie or uncle steps up to make it, the Instagram stories where someone will post "I'm making doro wat today, DM to order" — will continue to exist, regardless of what happens with the pandemic, or rent, or cost of labour. And it feels good to support them. Ghost kitchens, on the other hand, don't carry that same appeal. Most of them feel born out of a broken system, especially when peddled through delivery apps you know don't treat the operators well. Even so, they're still a significant part of Auckland's food ecosystem that has been mostly kept out of sight — and in my opinion, they're not going anywhere. After all, on a late-night scroll of desperation can you really do anything better than inoffensive fried chicken?
—
This piece was published in Metro 431 – Available here in print and pdf.