Mar 3, 2015 Restaurants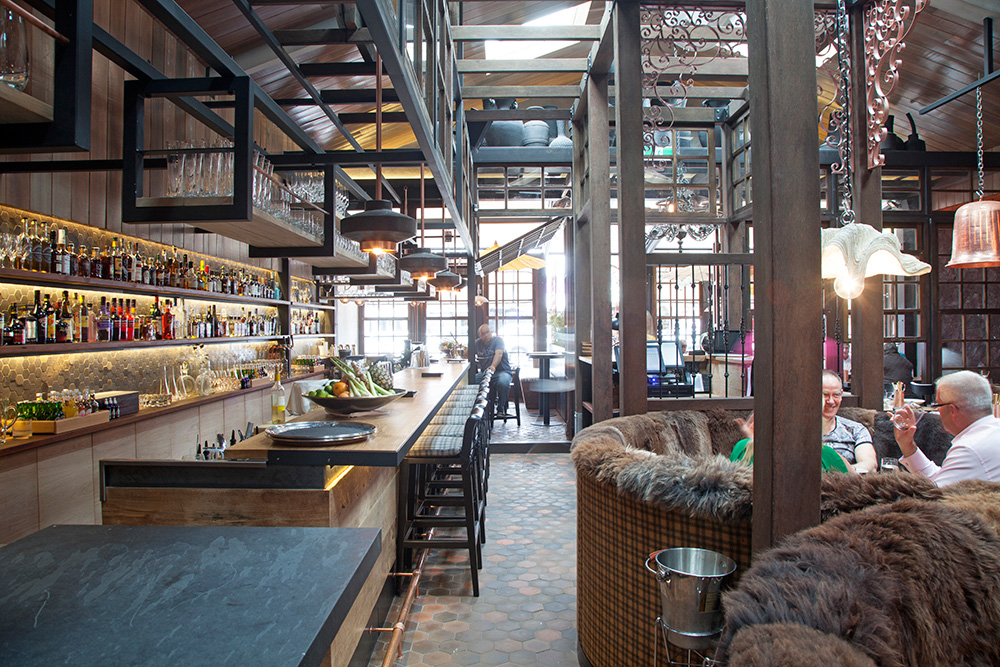 By Catherine McGregor. Photo by Ken Downie.
In a little under four years, Mark Wallbank and Che Barrington have helped revolutionise Asian dining in Auckland, thanks to their blend of South-East Asian and Western cooking styles at MooChowChow, The Blue Breeze Inn and Chop Chop Noodle House. Now the restaurateur and chef have opened their first venture outside their usual Ponsonby Rd stomping ground. Woodpecker Hill may be located in unfamiliar territory — Parnell Rd, to be precise — but the menu is easily recognisable as the East-meets-West fusion chef Barrington does so well.
This time around, he's mixing his favourite ingredients — betel leaves, tamarind, lemongrass, chilli —with Texas-style barbecue. It may sound unlikely, but giving barbecue classics like beef brisket and pulled pork an Asian makeover isn't as odd as it seems. As Barrington points out, sharp flavours like lime and tamarind work well with barbecue, helping to cut through the fattiness of the meat.
But why barbecue? Why now? According to Barrington, it's all a matter of satisfying his own hunger.
"All the restaurants we've opened have been in response to things I've missed here in Auckland. MooChowChow was about missing the modern Thai food at Longrain in Sydney [where Barrington worked for two years]. The Blue Breeze Inn was about the kind of Chinese food you find at Spice Temple. Chop Chop Noodle House, really good ramen. And now I get to indulge my love of barbecue. It's me being selfish, really."
In the kitchen sits an enormous smoker, imported from the US. The other day it was home to 18 ducks, 15 cuts of brisket and 8 pork shoulders, with room to spare. "You could get a whole goat in there, no problem," says Barrington with barely concealed delight.
Once the meat comes out of the smoker it's combined with house-made curry pastes to produce dishes like smoked duck jungle curry or the melt-in-your-mouth red curry of smokey pork pictured above, or simply served as-is with barbecue sauce on the side. Meat-lovers are sure to make a beeline for the fourteen-hour beef brisket with pickled papaya, also shown above.
Like their other restaurants, Woodpecker Hill features an impressive drinks list, featuring interesting craft beers (including Garage Project's Pacific Ale on tap); sections devoted to New Zealand, European and, unusually, American wines; and a generous array of non-alcoholic options including house-made sodas, iced tea and a "lassi of the day". They even have their own bourbon-style whiskey, Waiheke Whiskey, made at Woodpecker Hill's own distillery on the island. White Lightning, an un-aged spirit created as a by-product of the whiskey-making process, is used in house cocktails and punches.
The interior, designed entirely by Wallbank, is a brilliantly odd mix of Asian elements (stained black coconut wood, bell-like copper lampshades, metalwork detailing made by Balinese craftsmen) and groovy 70s style, with a touch of American ski lodge thrown in. Seats are lined with mustard-coloured plaid and thick sheepskin; stacks of raw logs separate the bar from the kitchen; and a brown stonework wall is Wallbank's pride and joy, having taken him a fortnight to complete after the contractor quit on day two.
After years of dashing between MooChoChow and the Blue Breeze Inn without a second thought, both Wallbank and Barrington are still getting used to running operations from the other side of the central city. "We're spending a lot more time on the phone, that's for sure," says Barrington. But they agree that it's an exciting time to be opening in Parnell. "Both Mark and I worked at Cibo back when we were first starting," says Barrington. "And I cooked at [legendary Parnell restaurant] Metropole for a while too. That was 22 years ago. It's good to be back."
Woodpecker Hill
196 Parnell Rd
Parnell
woodpeckerhill.co.nz