Dec 16, 2016 Restaurants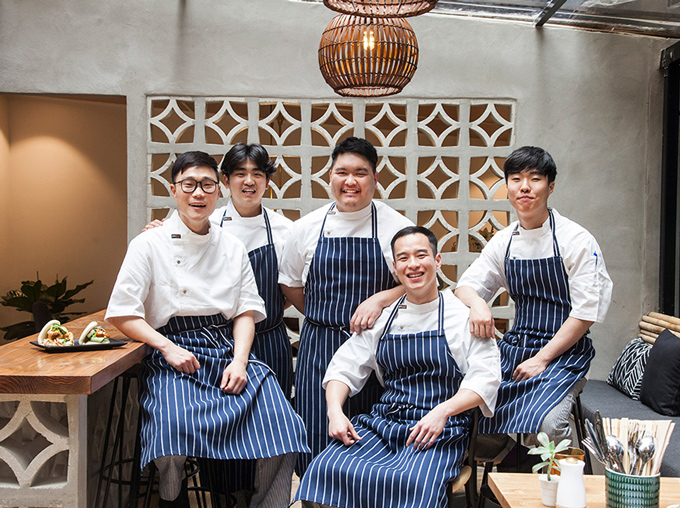 I only went to O Bar once before it became The Kimchi Project. It was a dive drinking spot, catering to students who wanted to get plastered on soju and Red Bull cocktails. They served Korean food on big plates to soak up the drink and played really loud K-pop. The bar was open until 3am and you could smoke cigarettes inside. Needless to say, it was wild.
The same young couple, Ben and Kyung Huh, still hold the building's lease, but gone are the gross white chairs, plastic bunting and long nights, replaced by bamboo-backed banquettes, a shiny new bar and trendy plants all with a little help from The Fit Out Company and Look Design Co.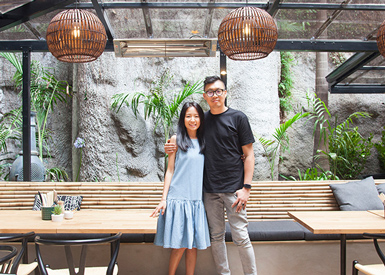 The Kimchi Project is an Asian fusion café and restaurant. It looks deceptively small from the outside but actually has a massive, partially open air courtyard out back. Attached to that is a private room with one long table and some pretty art work.
Ben is a graphic designer by trade and intends to use the private space as an office and meeting room when it isn't in use by guests. He's cleverly hidden an Apple TV behind a painting which when removed will allow him to give design presentations.
Days will start at 7am with berries and bagels and eggs benedicts with little twists like bok choi instead of spinach and dabs of soy.  There is a prawn congee with oyster mushrooms and yuzu-spiked muesli. Red Rabbit Coffee will supply your morning brew, be that espresso or filter. Juice is squeezed fresh to order.
From midday, the menu gets longer and – as is typical – is divided into two: small dishes for solo dining and larger ones for sharing. The smaller menu sees four types of bao, ribs and a Korean style beef tartare with blueberries (the jury's out on that one).
In the larger section, prawn Panang curry comes with green beans and a little bowl of rice dusted with dried seaweed and egg. Kimchi-fried rice is given a Chinese touch with Hoisin and honey-glazed pork. If you like the sauces, kimchi and pickles from the menu, they're available for purchase in little jars to take away.
Ben is visibly excited about his new restaurant. For him, The Kimchi Project is about experimenting with his family's Korean heritage while drawing influence from all the other cultures which make up Auckland. He wants diners to be surprised by his food but also to know that you can still get a signature soju and Red Bull cocktail, just like you could at O Bar

18-20 Lorne Street, central city, (09) 3024002
For more first looks, follow Metro on Twitter, Facebook, Instagram and sign up to the weekly e-mail