Jan 25, 2017 Restaurants
Set back from a traffic-heavy corner of Point Chevalier, family-owned and operated Afghan restaurant Samadi has arrived quietly.
The simple dining room consists of two sunken communal tables, draped with traditional Afghan rugs – their hand-woven symbols explicated on the dining room's back wall – and an outdoor seating area for pavement dining.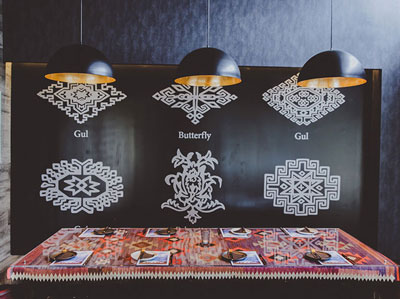 There are plump, inviting floor cushions, black and gold pendant lights and a few shelves, upon which variously sit jars of pickles, ornaments and a very battered, but very significant book. Published in 1986, Flight From Afghanistan documents the many obstacles Abdul Fatah Samadi, his wife Golbibi and his seven children had to overcome to flee Soviet-dominated Afghanistan and permanently settle in Auckland. 32 years later, their first restaurant is dedicated to the family name.
On arrival in Herne Bay in the 1980s, the Samadis' quickly established a reputation for their generous hospitality. The Samadi kids were always popular with school friends, who'd come over to play and end up staying for home-cooked feasts. But the restaurant game is completely new to the Samadis' and has been a family effort drawing on years of experience of catering family gatherings. Golbibi's acted as prime taste-tester, overseeing the quality of the dishes.
Afghan dining is all about sharing, so the menu features plenty of sharing plates, some of which feature charcoal-grilled meats. There are also baked vegetable dishes, Afghan flat bread, a signature beef qorma and two traditional rice dishes. The staples of Afghan cuisine, Wali Samadi explains, stem from the centuries of cultural exchanges that occurred along The Silk Road – an ancient network of trade routes across the Asian continent. "There are Middle Eastern influences, like kebabs, but there's also steamed dumplings – mantu – inspired by Chinese cuisine, and qormas, which are Indian influenced." Samadi's beef mantu are cooked to Golbibi's secret recipe, and topped with yellow split peas, garlic yoghurt and dried mint. 
Samadi's menu will evolve with the seasons – traditional stews will be introduced in winter, for instance. Guests can opt for a glass of traditional Afghan soft drink, from dogh –a salted yoghurt, mint and cucumber drink – to rose milk and pomegranate soda.
Complimentary chai is served at the end of the meal, the spirit of generosity inextricable with the cuisine. The two communal tables are designed to encourage group bookings, but also embraces the opportunity to bring strangers together over food. It's something we could use more of.
Samadi
Unit A, 11 Pt Chevalier Rd
Pt Chevalier
For more first looks, follow Metro on Twitter, Facebook, Instagram and sign up to the weekly e-mail