Nov 2, 2017 Restaurants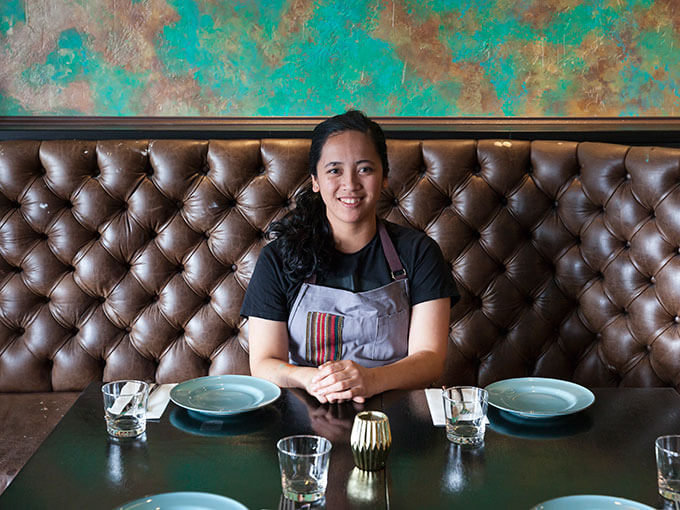 Nanam , version 2.0, opens in Takapuna" width="680" height="510">
First Look: Nanam
Jess Granada, co-owner and executive chef at Nanam Republic, has spent the last month or two covered in paint rather than food. With partner Andrew Soriano, she's moved the contents of their modern Filipino restaurant to the other side of town – all the way from Royal Oak to Takapuna – into what was briefly French restaurant Le Desir, and renovated the space.  
The couple live in Milford and often spend weekday mornings walking the length of Takapuna Beach. They weren't necessarily looking for a new site – it was more a case of Granada stumbling across it when out walking solo – but with many of their guests travelling from the shore to eat with them, and in need of more room, they took it.
If you've been to Nanam before, the most noticeable difference is the vibe – gone are the newspaper-decaled walls and colourful chairs of their Royal Oak restaurant, replaced with tasteful nods to the couple's Filipino heritage, which somehow makes the new Nanam feel like a more grown-up version of itself. On entry, the bar is decked out with Filipino and Maori kete bags (a blending of two cultures); the walls are painted in green and gold marbling – a symbol of Islam, The Philippines' second most popular religion. A private room at the back of the restaurant pays homage to Spain's colonisation of the Philippines from 1565-1898 with a low-hanging drape ceiling and decorative wicker baskets.
Read more: Nanam restaurant review 2018
Food will be much the same, but Granada has refined her multifaceted offering. If you've never had it, Filipino cuisine is seriously complex, drawing influence and technique from the Americas, Spain, India, Malaysia, China and Indonesia. Before 3200BC, the Filipino diet was meat-heavy (mostly pork) and relied on locally raised animals. When explorers from Taiwan and southern China settled in the islands later, they brought with them the means to cultivate rice and other food sources, which expanded the Philippines' culinary offering. Trade with mainland China at this time also introduced such staples as soy, tofu and mung beans – seen on Nanam's menu alongside crispy pork belly and bitter greens. Bangoong – krill fermented in salt – comes from Malaysia and is eaten with a monkfish fillet. Adobo, a vinegar, soy sauce and garlic marinade, is an age-old Spanish dish and cooking method – Granada uses it to tenderise octopus. 
The complexity of Filipino cuisine can be difficult to describe and recreate – as Granada has found out from some of the many Filipinos that come to eat at Nanam. Some don't return, as they leave feeling as though Granada has bastardised their regional cooking she says, but Nanam offers one of the most exciting culinary experiences in Auckland – make a reservation soon.
Nanam Eatery
178 Hurstmere Rd
Takapuna
Auckland