Jul 17, 2017 Restaurants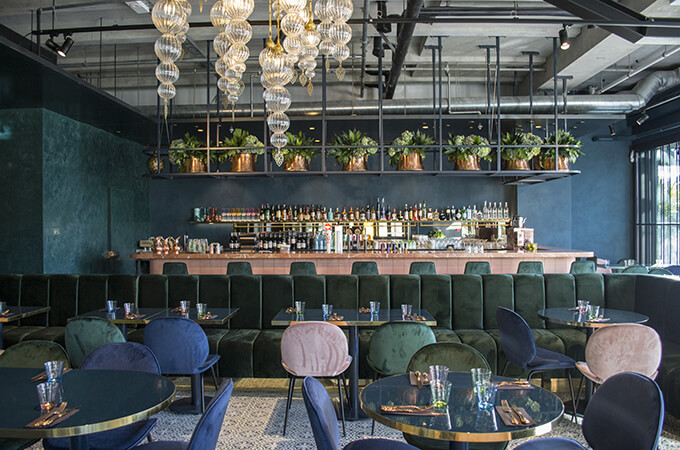 No expense has been spared transforming short-lived restaurant Kindred into the kind of opulent dining room worthy of a feature on Rich Kids of Instagram. From the flashy, central chandelier imported from Turkey, to a 1.8-metre-high Giles Smith original painting of the owner, and a show-stopping rose-gold oven craftily placed front and centre in the open kitchen, Feriza's oozes extravagance.
But for the restaurant's creator, Alex Isik, no amount of money could be too much, because Feriza's is a gift to his elder sister of the same name; a thank you for giving up many of her dreams to help Alex save the money he needed to start a new life in New Zealand. When Alex moved here in 2001, Feriza stayed in Turkey, working as a patissiere and banker to save for her own plane ticket while Alex opened various hospitality ventures including Ponsonby Central's Miss Istanbul.
Inspired by a childhood spent cooking recipes from their grandmother's home cookbook, every object here is meant to evoke a fond family memory. Serving trays are a reminder of traditional Turkish hospitality, as are copper water jugs. Jewel-like tumblers and geometric-tiled flooring reflect their colourful homeland. The urns placed above the bar and the pass are replicas of the ones Alex's mum used to jokingly put him inside when he was little. You mightn't notice any of this, but Feriza will. 
The food, a lengthy mezze-focussed affair, mirrors another Turkish tradition – generosity. "People aren't meant to look at the menu," says Alex – though they can if they choose to. He wants guests to ask, 'feed me' and be waited on without having to think, giving them space to relax and more time to focus on enjoying their friends' company.
One of the menu items which Feriza and Alex are particularly excited about are the gozleme –traditional savoury flatbread, made with yufka dough, which come with various fillings. Typically eaten throughout the day, this was the first thing the pair learned to cook and is a staple of Turkish cuisine.
There is a traditional drinks list, including raki – a grape-based spirit popular in Turkey – which Alex will be enthusiastically encouraging guests to try. He hopes dinners turn into long nights at Feriza's with the same big hugs, loud voices and merriment he remembers from being at home.
Feriza's Kitchen, Gozleme & Bar 
7/12 Jellicoe Street,
Wynyard Quarter
ferizas.co.nz