May 24, 2016 Restaurants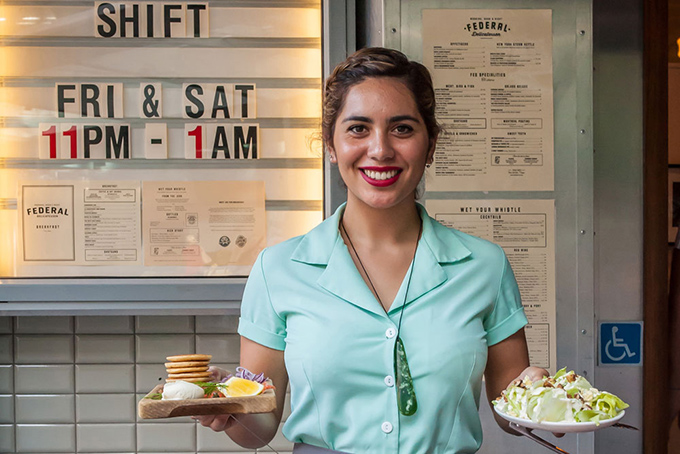 What makes it special?
This splendidly unabashed New York-style diner offers super-tasty food from first light to late at night, with such effusive warmth and charm you might just decide you want to live there.
Behind the scenes
Where do we start? The toasted reuben sandwich, thick and juicy, has been imitated all over town but still not bettered. And yet some say the chicken sandwich, with crackling and dipping gravy (!), is even better. There's schnitzel with sage and lemon, lemon sole with pickled raisins and almonds — come on, no one in an American diner eats half as well as this. Breakfast bursts with flavourbombs like blueberry buttermilk griddle cakes and salmon latkes; desserts include pumpkin pie; drinks feature original cocktails, wine on tap, soda jerks and floats for the kids…
A favourite dish
Chicken sandwich with chicken-skin crackling, iceberg lettuce and dipping gravy.
What it offers
Shared-plate options / Late Shift menu 11pm-1am (Friday & Saturday) / Free-range chicken and/or pork / Good seating outside / Bar / Wine on tap / Good cocktails / Craft beer selection / Good for kids / Takeaway window on street
Inner-City Bistro
Bookings: No
Price: $$
Seats: 75
Chef: Kyle Street, executive chef; Penn Evans, head chef
86 Federal St. Ph 363-7184, thefed.co.nz
Winner, Best All-day Restaurant; Finalist, Restaurant Personality of the Year: Rachael Spratt; Finalist, Best Value for Money