Jan 18, 2019 Restaurants
NEO is a new all-day eatery overlooking Queen Street.
With the afternoon sun streaming through the trees onto the balcony, a flow of oblivious pedestrians on the street below and ice clinking in your cocktail, a visit to bar-by-night cafe-by-day
NEO
feels less like downtown Auckland and more like a cosmopolitan city. Being set inside a neoclassical (hence, NEO) building doesn't hurt its international vibe either.
The menu too is designed with an all-hours clientele in mind, with simple dishes that work equally as well with a cup of L'affare coffee or a glass of wine. One such dish is the pan-fried snapper on chargrilled ciabatta with the unusual addition of anchovy butter. The dill-seasoned potatoes with poached eggs and burnt sage butter appears on the breakfast menu, yet works in the evening. Unexpected condiments aside, NEO has kept their bacon butty simple and classic.
The backlit neoclassical arches that frame the bar are a focal point, so it's little wonder emphasis is placed on their cocktail list. Co-owner Mariann Karlsson says the pineapple daiquiri is popular while the "Sentinel" (yes, that is a Matrix reference) with gin, cherry brandy and Cointreau is our pick for a something a bit different. The wine list spans most of the world with wines from Hawke's Bay, Marlborough, Otago, Australia, Europe and USA.
Read more: Azabu opens a new spot in Wynyard Quarter, plus more January food news" data-mce-href="https://www.noted.co.nz/dining/auckland-eats/azabu-wynyard-quarter-auckland-food-news-january-2019/">Azabu opens a new spot in Wynyard Quarter, plus more January food news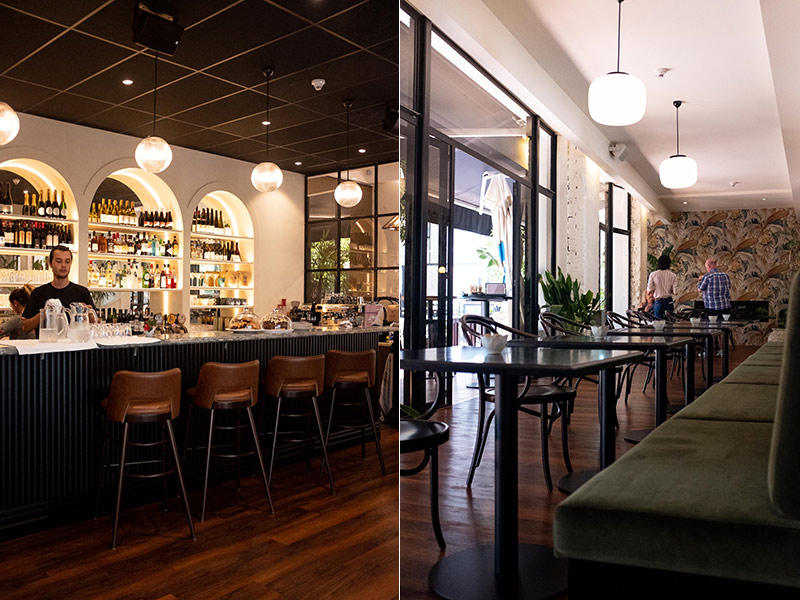 Inspiration for the interior is taken from the building itself and its former life as a jazz club, Sardie, way back before it was Queen's Cafe and Bistro. The half-moon turquoise booths, smoke-coloured mirror and sepia-toned jungle wallpaper are intended to work for day and night; Karlsson picked the spot for its equal "day feel and evening feel".
Interior designer Jess Blair worked with Jason Williams, Karlsson's business partner and NEO's head chef, to enhance the flow from the indoor area, leafy with monsteras, bamboo and philodendrons, to the equally-green balcony. Keep an eye out for the stained glass light fittings – a remnant of the space's former life.
Its global feel is no accident and Swedish-born Karlsson, the former manager of Dizengoff and now-closed Landreth & Co, reports they've had plenty of visitors from Spain, Scandinavia and South America, to name a few.
A lot of thought has been put into making a spot just above busy Queen Street feel like a place to relax – whatever the hour. As if composing our perfect sunny afternoon, they're even adding oysters to the menu soon.
Photography: Alex Blackwood
NEO
30-34 Queen St
Auckland CBD
@drinkeatneo
Follow Metro on Twitter, Facebook, Instagram and sign up to the? weekly email for more food news.