Jul 25, 2013 Restaurants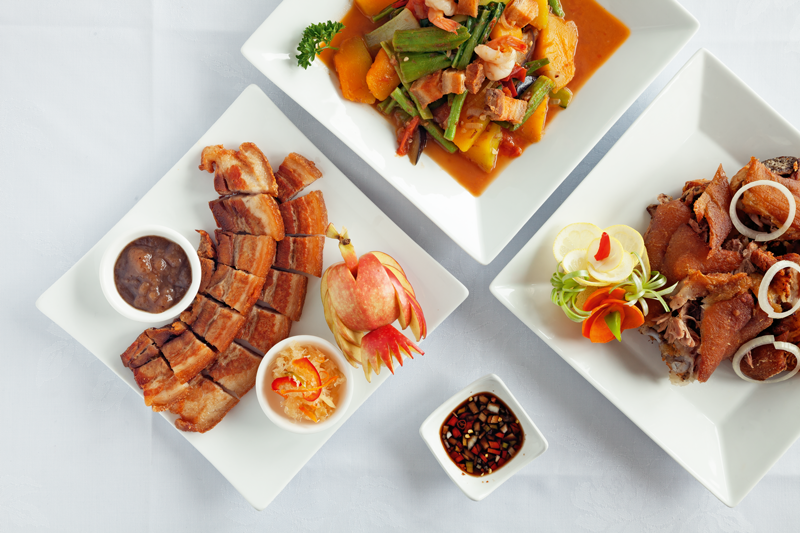 From left: litson kawali, pinkabet and crispy pata at 3 Kings Filipino & International Restaurant
By Connie Clarkson
My uncle was once married to the niece of the Mayor of Makati, the financial centre of the Philippines, and I have three half-Chinese, half-Filipino cousins. Much of my childhood was spent listening to the lilting Spanish-influenced English and the bouncy rhythms of Tagalog, one of the native Filipino dialects spoken by my auntie and her family. I adored the elegance and glamour of the Filipina national dress, with its crisp embroidered fabric and gorgeous colours. In the early 2000s, in Auckland, we served dinner to President Joseph Estrada and his entourage in his suite when he visited the city. In all that time, Filipino cuisine eluded me — until now.
Auckland's 30,000 Filipino community has spawned a small collection of restaurants. They serve the crispiest pork hocks, a vegetable dish with shrimp paste that makes the taste buds dance, chicken cooked in sweet soy and vinegar, and shaved ice desserts — and it's all pretty fine.
The 7000 islands of the Filipino archipelago live with China to the north and Indonesia to the south-west. They have been through the hands of the Spanish, Americans and Japanese and have been doing it for themselves since the end of World War II.
All these influences add up to a cuisine with many faces. Turo Turo in Glen Innes, just round the corner from the Glen Innes Post Shop, has a huge menu. The pinakbet — fresh vegetables cooked in bogoong (shrimp paste) with rice and soup — was startling. Steaming soft jasmine rice with a spoonful of chunks of okra, pumpkin, eggplant and greenbeans and strips of soft pork belly tossed with shrimp paste was sharp, salty and hot all at once, and quite delicious.National dessert halo halo turned out to be a large bowl of shaved ice heaped with fresh coconut shavings, jelly, sweet red beans and syrup — in Singapore we call it ice kachang.
3 Kings Filipino and International Restaurant in Birkenhead is down a flight of stairs in the main shops. We began with tuna kilawin — raw tuna marinaded with vinegar, chilli and fresh chopped red onion. It was tart, crisp and refreshing. Adobo is perhaps the most famous Filipino dish: it's a bit like the soy-sauce chicken I grew up with in Singapore except with more complicated flavours. Chicken adobo pieces are steeped in a soy vinegar gravy laced with garlic, oyster sauce, bay leaves, peppercorns and brown sugar, and they fall off the bone.
But the winner was the crispy pata. It was probably the crispiest pork hock off the bone with vinegar sauce I've ever had and, not surprisingly, it's their best seller. The pork hocks are boiled till they are very soft, air-dried then deep-fried till super crispy. The sauce is a combination of vinegar, soy sauce, garlic, chilli and finely chopped onion. I guess we'd be better not having crispy pata too often, but it really is rather good when we do.
It was all washed down with sinigang, a pork-rib soup flavoured with tamarind, tomatoes, garlic, bok choy and radish. This is the kind of food that needs lashings of fragrant white rice and mango juice with lots of ice cubes. There's a lot more to try: tapsilog, a breakfast of fried beef, garlic rice and egg; litson kawali (crispy pork belly); ginatang manok, which is chicken cooked in coconut milk with ginger and chilli.
What exactly defines Filipino food? Ostensibly, it's chicken, pork, vinegar, garlic, chilli and onions, with Chinese, Spanish, Mexican and American influences. Intrinsically, it's the history and the people who have blended the cultures and ingredients, and given the dishes such lovely musical names.