Apr 28, 2014 Restaurants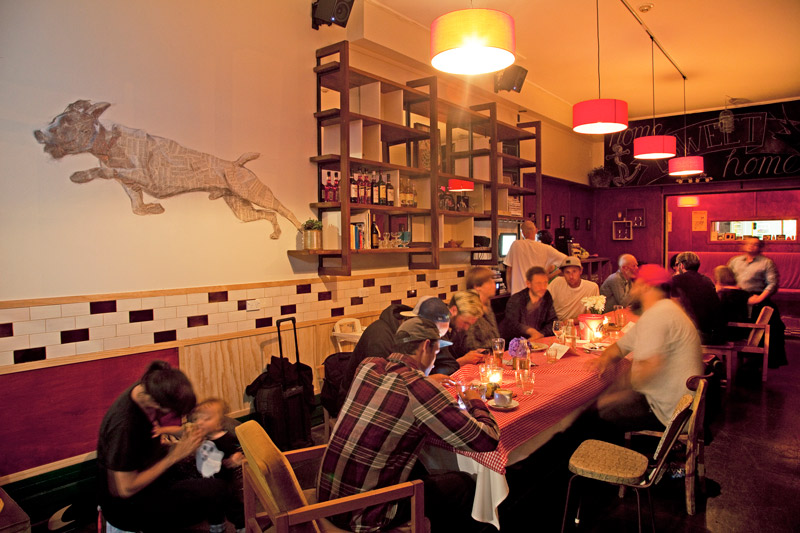 376 Karangahape Rd, Newton. Ph 300-7582, cocoscantina.co.nz
Tuesday-Saturday, from 5pm.
Antipasti $6-$28.50; pasta $26.50-$29.50; secondi $33.50; desserts $9.50-$16.
By Jesse Mulligan.
In the bathroom at Coco's Cantina , they've hung a sign which reads "a person who is nice to you but not nice to your waiter is not a nice person". I love this sign, for the message it sends, but also for who it's aimed at. The owners have been around long enough to know that you'll never convince arseholes not to be arseholes — the best you can hope for (and assist with) is that they'll end up with no friends.
From the moment those owners, Renee and Damaris Coulter, opened Coco's in 2009, it became the first-choice eatery for the casual diner with high standards. Now their moneyed competitors in Federal St and Britomart have caught up with this growing market segment, I was interested whether Coco's would still feel like an important part of the cityscape.
Well, the food is still incredible and the service is still perfect. Never mind those two amazing women, on a busy night Coco's engine is Petaia Unoi, the guy behind the bar — who greets people, curates wine choices, lines up drinks and returns lost property.
Someone like him is so important if you're running a no-bookings racket. It's one thing to wait for your table, but if you stay thirsty for long the restaurant will spend all night just trying to get you back to how happy you were when you walked in. Conversely, 30 minutes doesn't seem so long to wait when you've got a guy devoted to making sure your glass stays full of something good.
The food is rustic Italian; simple but special, like this: they combine three different meats for their meatballs, and deep-fry the balls before they go into the pot, to keep them moist and tender. Yet the dish is simply called "spaghetti and meatballs" on the handwritten menu.
Veal comes crumbed, the residual oil and pink meat perfectly balanced by a tart caper and white anchovy sauce. And the ravioli might be my favourite Italian dish in town, but again it's nothing fancy. Just perfectly cooked pasta envelopes filled with bright flavours of pea and mint, a subtle wine sauce with some sharp grana padano and crunchy fried breadcrumbs — an Italian trick which can turn a great pasta dish into a mouthgasm.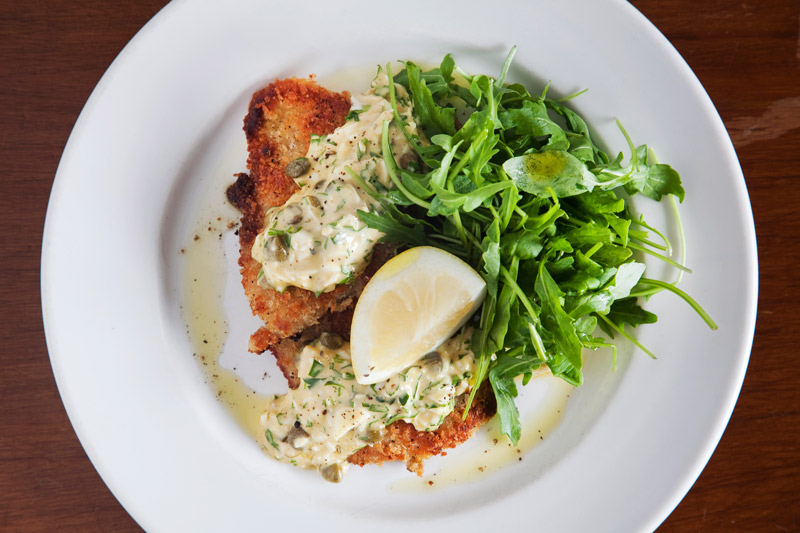 Crumbed veal
About the worst thing anyone seems to say about Coco's is that it's loud. And it is noisy, sure, but that noise is a symphony of happy voices, of empty plates being collected, of cold glasses of wine landing in front of stylish women. What would you prefer, the quietude of a fine dining restaurant, where your neighbours can hear your gossip and you their silence?
Good noise does an important job — it knocks out the unappealing sounds in the room. At the near-perfect Cocoro , I once sat across the shared table from a cabinet minister big-noting it in front of his guests, boasting about how he had shafted one of his "friends" in Parliament, who didn't suspect a thing. Ha ha ha ha, stupid him for being a naive and trusting person. The rest of us in the room had no choice but to hear the story too.
You see? Arseholes. They're everywhere. But Coco's Cantina has fewer of them than anywhere else in town, and I don't think it's just due to that sign in the toilets. I think it's because rich/selfish/insecure pricks are allergic to everything this restaurant is about: simplicity, meaningfulness and humility. Coco's is somewhere for the good people to eat, and that will always be important.
5 Spoons
First published in Metro, April 2014. Photos: Ken Downie