Jun 25, 2013 Restaurants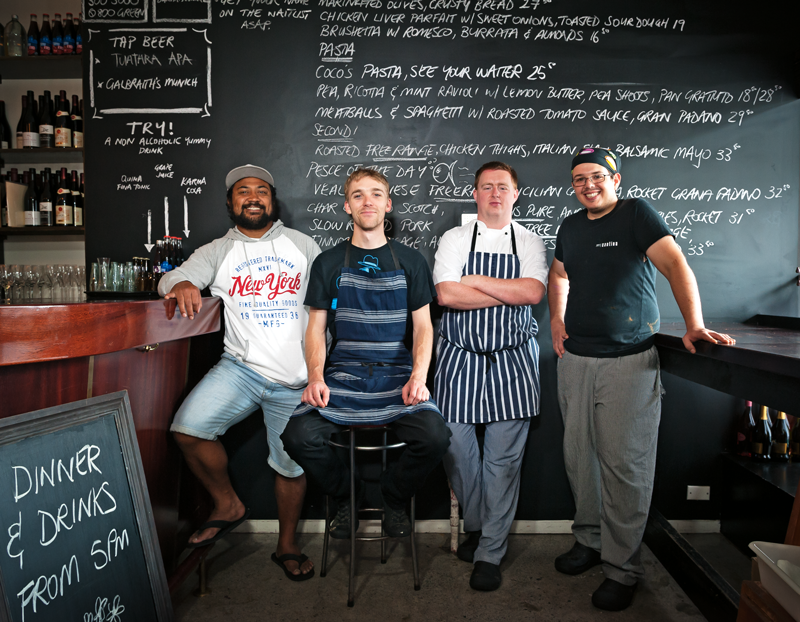 376 Karangahape Rd, Newton. Ph 300-7582, cocoscantina.co.nz.
Dinner Tuesday-Saturday.
Super-cool, super-cheerful, super-welcoming, this delightful cocoon of life-affirming hospitality on K' Rd is a bar/bistro run by sisters Damaris and Renee Coulter. And while Coco's Cantina is famous for the "Coco's girls" who work the tables, as our photo shows the guys are more than a bit cool too. The food is largely Italian, the wine list is full of surprises, the bar service is particularly skilled and friendly and that table service warmly embracing. They warn you on their website that you may have to wait and you may have to squeeze up a little, and it's true, because Coco's is very popular. You can sit out front on the street, and it sort-of looks like that's the place to be, but if you like a rowdy, everyone-lovin'-it atmosphere, you'll want a table inside to experience the true heart and soul of the place. On a search for the city's best steak frites? Coco's Scotch fillet with anchovy butter has to be on your list. And the spaghetti agliolio, the ravioli, the free-range veal… need we go on? And they have Galbraith's on tap! $$$
4 Spoons
A favourite dish: Meatballs and spaghetti with roasted tomato sauce and grana padano.
Free-range chicken and/or pork / Bar / Craft beer selection