Aug 18, 2012 Restaurants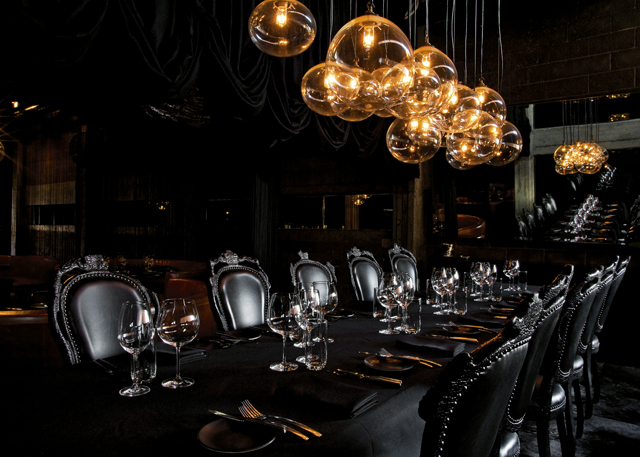 33 Sale St, Freemans Bay. Ph 358-1702.
clooney.co.nz
Dinner 7 days.
Still, still, after all the action in other parts of town, this is the most poshly dramatic dining room in the city. Rich brown curved leather banquettes, black frill curtains, distressed concrete, big hanging globes of light… The real beauty of the room, though, is that although it's large, they light it and screen it in such a way that every table feels intimate. You can come here in a group and it's like you're in a private room (the big group table is pictured). You can come for an intimate dinner and, well, it's like that too. Chef Des Harris revels in the subtlety of his food, presenting delicate flavours in exquisite combinations, and owner/manager Tony Stewart maintains a very large and very excellent wine list to match. Degustation is a good option here, and — how's this for commitment? — there's a full vegetarian degustation option, right there on the menu, so you don't have to plead. We brought British food writer AA Gill here once and it didn't work out. In our more recent experience, they've solved the problems of that night. If AA Gill came back, we'd be proud to take him here again.
A favourite dish: Potato gnocchi with sweet pea salad.
$$$$$  |  FP  |  D  |  V  |  FR  |  PR  |  G  |  B            what's this?
WINNER
Best Fine Dining Restaurant
FINALIST
Best Drinks List
[booking_form]