Mar 13, 2020 Restaurants
Metro writer Jean Teng avoids the glitz and glamour of Westfield Newmarket's rooftop dining precinct and finds an eatery doling out comforting and tasty Hong Kong-style food.
Someone once told me not to support mall food. It's commodification to the ninth degree, they argued. Housed in a box of glaring lights and polite, cookie-cutter store-fronts, there's an assumption that food loses a sense of personality – a big negative within an industry that people love to idealise as fuelled by passion, or filled with love. There's some truth to that, sure, but if you've ever eaten in malls overseas, you'll know that mall food can be incredibly good, and the hypothesis that they're all owned by some Big Corporate Baddie is also not true.
Canto Canto is family run and competing with Newmarket's humongous food court, along with Tai Ping across the way, and other eateries next door – Master Bao, Bird on a Wire. The menu, peppered with charmingly slightly-out-of-whack dishes like "Kinda Spicy Fried Rice Vermicelli" and "Thousand Island Tangy Pork Chop" is true to the cha chaan tengs of Hong Kong; casual diners where you'll chow down on dishes which mix and match from Chinese and Western cuisine. Cha chaan tengs are popular all day but mostly breakfast, when you'll call in for a pineapple bun or macaroni soup with a side of spam. (Yes, they eat instant noodles and spam for breakfast in HK, all sodium and a far-cry from the granola-heavy breakfast bowls of Auckland. It's great.)
Like most of the places in Westfield Newmarket, Canto's interior doesn't have as much character as a cha chaan teng; it's modern and blandly pretty, with bricked floor as a nod to grittier streets. Perhaps a lost opportunity to do something purposely downtrodden and retro-cool, like the infamous Kam Fung Cafe in Kowloon. The team is compact but friendly, offering you water or tea almost immediately. Halfway through our meal, we're served our dishes by the ex-head server (she basically ran the place) at iconic Newmarket restaurant Sun World, who chatters at us in Cantonese like we're friends. It's nice seeing familiar faces pop-up through Auckland's hospitality world, whether that's a sommelier moving from Cocoro to Sid at the French Cafe, or a front-of-house member from Sun World to Canto Canto.
I couldn't help but order the Hong Kong Style French Toast, which I've never had in New Zealand (though you can get it at other restaurants here). It's a big slab of fluffy bread dipped in egg and fried, sandwiched with peanut butter and a generous pat of butter on top. You'll get maple syrup on the side. In Hong Kong, it's served with condensed milk, but maybe as a concession to the New Zealand taste, they've done away with it here. Despite all odds, this is a breakfast food, and it's just so incredibly tasty: sweet but not sinfully so (well, maybe a bit sinful) and meltingly soft, yet with bounce. Even if you've never had it before, it'll speak to some part of your childhood.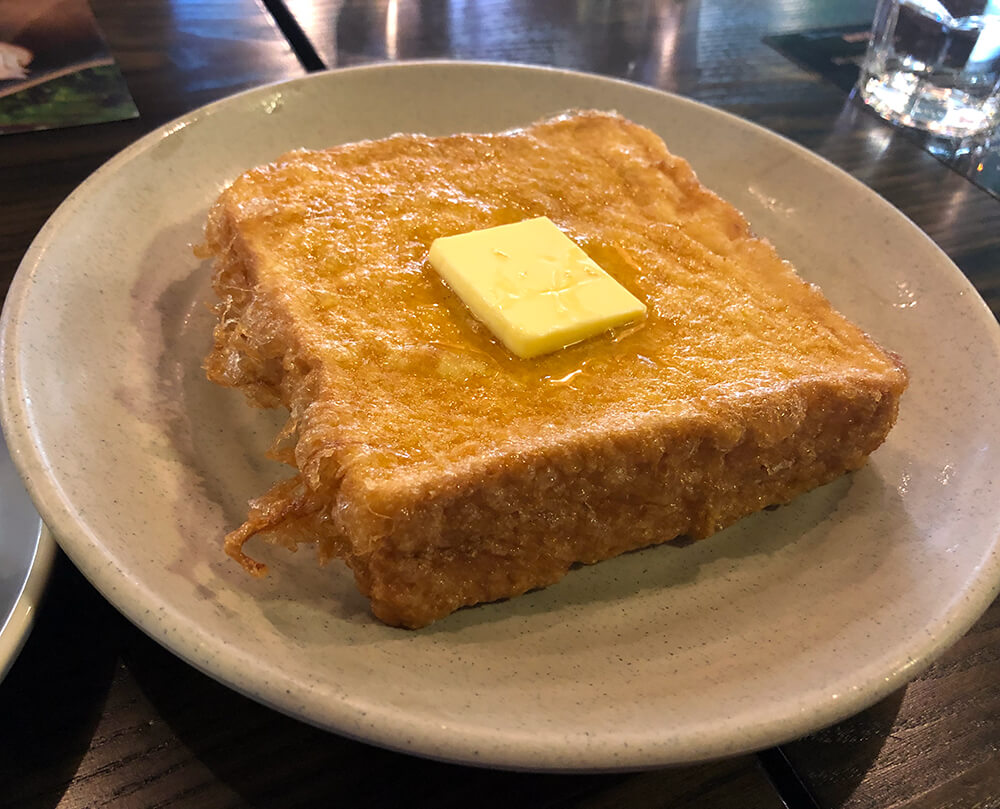 In Hong Kong you usually get curry fish balls at street-side stalls, cradled in a paper packet with a toothpick skewed through them. At Canto Canto, the curry is slightly thicker, a gravy which reminds me of Japanese curry. I don't think the fish balls are house-made – they taste like the frozen ones from the Chinese supermarket – but they do the job. The roast pork belly bao is boring with too-sweet hoisin sauce, and just another reminder of how overdone this style of bao is done in Auckland. Sadly, it's probably a bestseller.
After Mercury Plaza closed last year, Aucklanders started to mourn the loss of Chinese Cuisine's wonton soup, a bowl with umami-packed broth and, in my opinion, too much salt. If that was your favourite version of wonton soup, you may not find much joy in Canto Canto's. But if your tastes skew towards a subtler flavour, incredibly clean and slightly sweet, you'll like this. It's easy to dismiss clean Cantonese soup as bland, but slurp it up with aplomb (noises encouraged) and the sweetness will come through, I promise. Egg noodles with bite; wontons juicy, the filling akin to siu mai, in silky smooth skin.
Crispy chicken leg noodle soup made me kneel down at the altar of fried chicken, to be completely honest. Exceptionally tender, with the crispiest deep-fried skin clinging to and then sliding off the meat. It comes with a soupy bowl of the same thin egg noodles as the wonton soup, which in the end was more or less a D-List celebrity to the A-List chicken. It's just the kind of dish I want to eat the day after a long and complicated fine-dining meal, just to remind myself how fucking good simple food can be.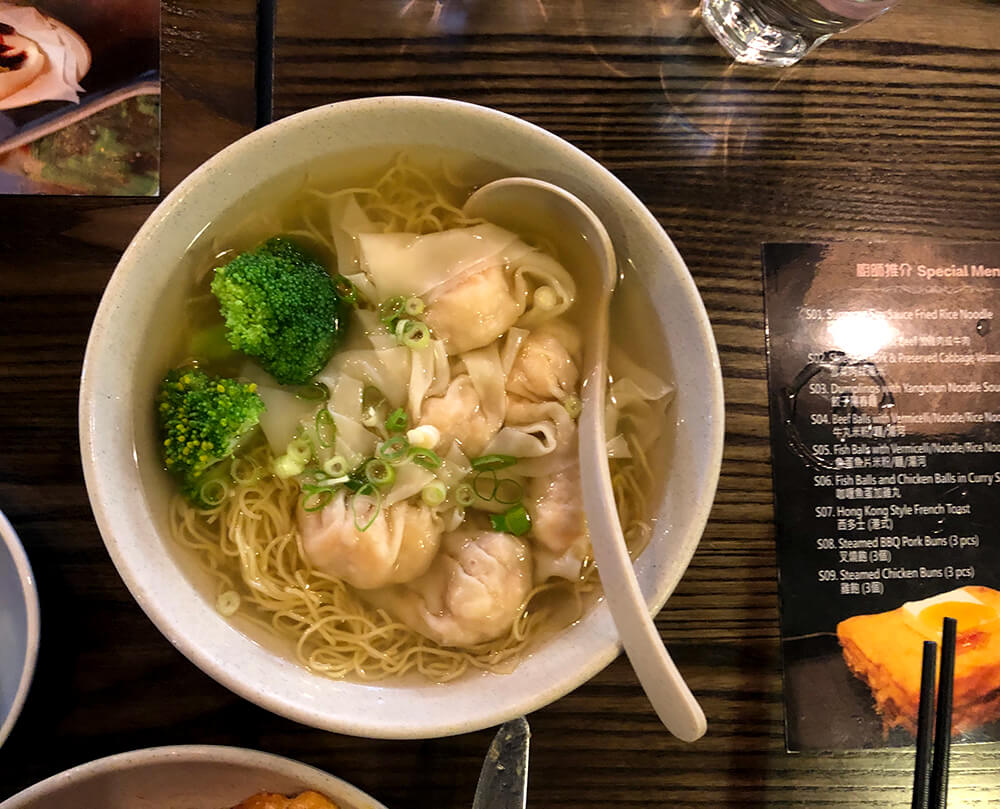 In any other restaurant, my advice would be to lose the weird hang-ons, like "Canto Canto Fish & Chips", but it fits in so well with the eclectic nature of cha chaan teng's, it oddly works. I love seeing a little fun in food, especially when I have so much fun eating it.

Canto Canto
Level 3/277 Broadway, Newmarket
cantocanto.co.nz
Hours: Mon-Sat 9am-9pm; Sun 10am-9pm
Bill: Snacks $8-$12; Mains $16.80-26.80; Noodle soups $18.80
Note: We have a new rating system! All our reviews will now be scored out of 100.
We rate restaurants for what they have set out to do: a superb bistro and superb fine-diner both get 90 or more. We pay for all meals and do not declare our presence.
Under 50 – Avoid! Avoid!
50-59 – We'd eat here if we had to
60-69 – Good, but really should be better
70-79 – Pretty good
80-89 – Really good
90-100 – As good as it gets