Nov 27, 2018 Restaurants
A Turkish-Greek restaurant and a Napoletana pizzeria open their doors in Browns Bay.
Two Auckland staples have joined forces in Browns Bay: Bodrum, a Turkish-Greek outfit, and Dante's Napoletana pizzeria, have opened in one space with two menus. Bodrum and Dante's decided to share a space to accommodate differing tastes, as well as to educate people who might go in for Italian food and discover a love for Turkish food or vice versa. According to Bodrum owner Alex Isik, "it isn't easy, but we like the challenge."
If you've been to Dante's elsewhere in Auckland you'll know their signature crispy, doughy crust. And if you're looking for authenticity, you can't get much more Italian than the Margherita pizza with its tangy tomato and basil sauce that enhances, rather than covers, the taste of the base.
Bodrum's menu features a taste of what Isik ate growing up in Turkey. There are plenty of sharing options: the mezze platter, skewer platter, and tapas. Mains include chicken or lamb tagine, stuffed capsicum dolma, as well as lahmajun – Turkish street pizza. One of Isik's recommendations is "Breakfast in Turkey", a tray of Turkish favourites; olives, chorizo, jam, feta, meatballs and egg with bread. "This is how we eat in Turkey," he says. At the bar, you will also spy scones, muffins, and baklava, the honey and pistachio pastry treat.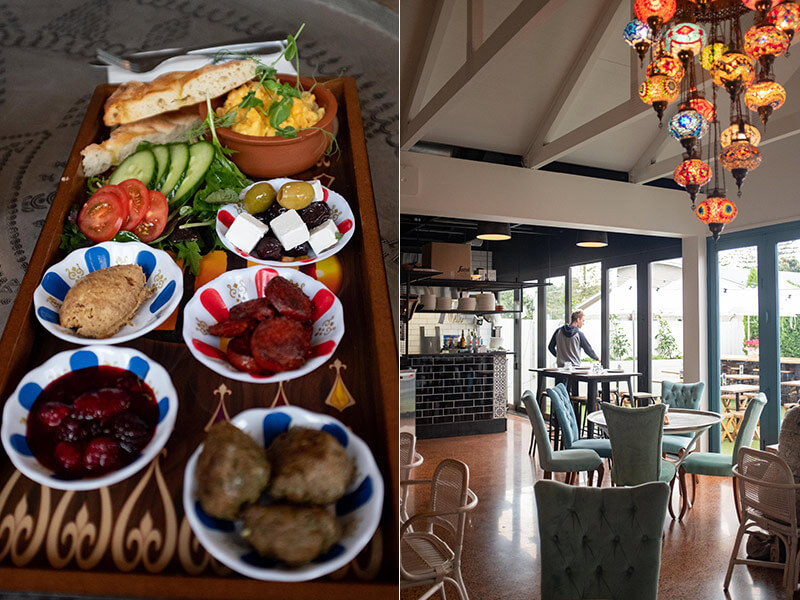 As in Turkish culture, tea is recommended after the meal. There's apple or pomegranate (both imported from Turkey) and also Turkish-style coffee, which is thicker, grainier and much darker than what we are used to in New Zealand. Dante's use the Italian coffee brand, Segafredo Zanetti. When your coffee (or tea) from Bodrum arrives at your table, you'll find it on a little metal tray, with a square of house-made no-gelatine, halal Turkish delight.
The tiled, 3.5-tonne pizza oven from Naples is the star of Dante's monochromatic side of the decor. Their kitchen is painted black and acts as a stage you can see into as they work, loudly and enthusiastically. The open plan design is intentional, and Isik delights in the "theatre and spectacle" of his Italian collaborators' work. Adjacent to the Italian kitchen is Bodrum's seating area, decked out in beachy blonde wood tables, as well as turquoise velvet chairs around large metal tray tables made by a Turkish family business: "made in Turkey" is a theme here. Another motif repeated throughout the restaurant is the evil eye, or nazar, a blue, glass eye talisman believed to prevent bad luck or misfortune. The eye is embedded in the walls, printed on the napkins and worn around the necks and wrists of some of the staff members of both Bodrum and Dante's: a reminder of their shared Mediterranean origins.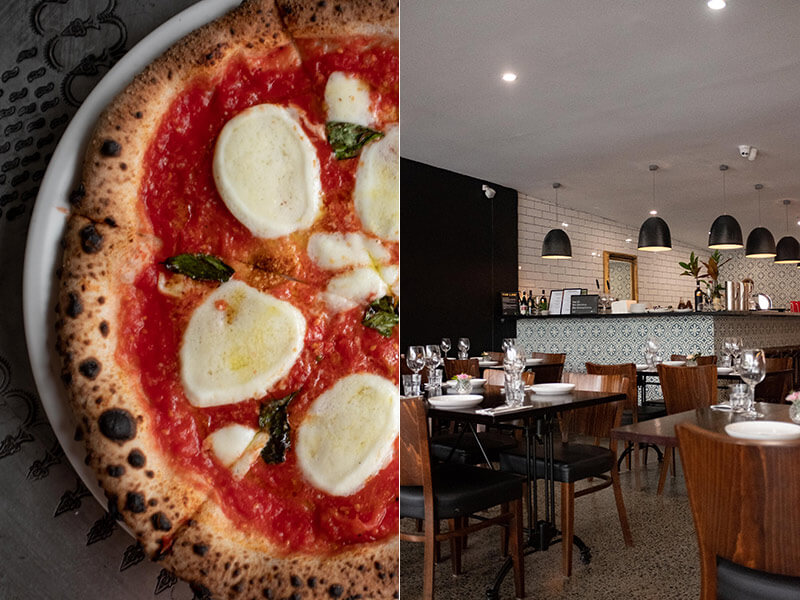 The view looks out over the beach by no accident. Like Isik's other restaurants of the same name, he's picked this spot specifically because it looks out over the sea, like the peninsula city Bodrum is named after. You might get the idea it reminds him of his childhood in Turkey but you'd be wrong. Isik didn't see the sea until he was 18 when he started studying hotel management, the career that led him to learn about New Zealand.
It sounds as if the restaurants are far from done growing. Isik talks about the areas evolving as spaces of theatre, to watch the chefs cook. Dante's pizza chefs are experimenting with a New Zealand first: chocolate pizza. They only started making it in Napoli last year, and director Enis Bacova is excited. "This is huge," he says. It isn't on the menu yet, but he is already talking about what they might add to it: "spice, salt, caramel… anything".
bodrumkitchen.co.nz/browns-bay
dantes.co.nz/browns-bay
111 Clyde Rd
Browns Bay