Jul 16, 2019 Restaurants
METRO X BIG TIKKA: Big Tikka restaurant promises huge flavour with dishes that are authentic, fresh and made from scratch.
Everything at authentic Indian restaurant Big Tikka lives up to its name. The interiors of both the Takapuna and Stanmore Bay restaurants, designed by the legendary Paul Izzard, transport you straight from the familiar streets of Auckland to a bustling restaurant on the streets of India. Details and decor flourishes are carefully considered, with an intertwined structure of copper and bronzed pots hanging above colourful mismatched seats, bringing a delightful character to the space.
The long menu bursts at the seams with breads, tandoor-roasted meats and seafood, complex curries, aromatic biryanis, and plenty of vegetarian options. Big Tikka doesn't restrict itself to only cooking delicacies from one region of India, so there's always something new to come back to each and every time. The food here is the true taste of India. All of it is plated up by chefs intimately familiar with Indian cuisine, having worked at overseas five-star hotel restaurants and other prestigious eateries.
Sit looking towards the kitchen and you'll get to watch a chef plop a white mound of dough on the counter, roll it out, add the toppings or fillings, then place it swiftly in the tandoor oven to later arrive at your table. The cheese, chilli and garlic naan is perfect paired with a fiery curry to calm down the palate, or to mop up the last drops of gravy clinging to the bowl.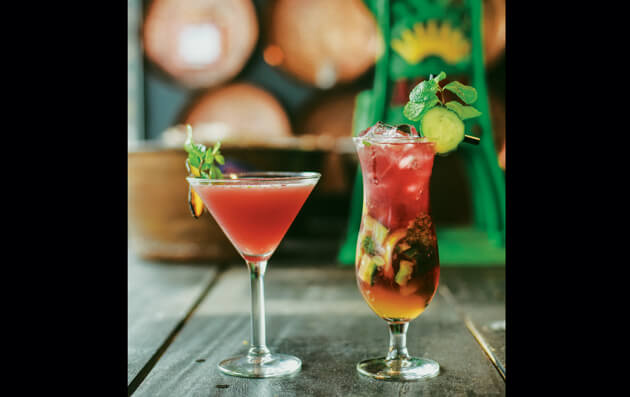 Some of Big Tikka's stand-out dishes can be found amongst the entrees, so don't miss out. The crispy chilli aloo starter is potato fried in chilli, garlic and soy sauce: the real definition of finger-licking good. We can't go past a platter of the dry chilli chicken, Indo-Chinese chicken dumplings battered in cornflour that will leave your tongue and lips tingling with life-affirming spice.
All curries here are made from scratch with fresh ingredients, without any cream or sugar. They don't cut any corners, so every curry has its own individual flavour; if you order a range of curries for the table, you'll see what we mean. The murgh makhani (butter chicken) is sweetened by cashews rather than sugar; the jhinga Malabari (prawn curry) is creamy with coconut milk and livened by mustard seeds and curry leaves; and our favourite, the kudi kura, is a homestyle chicken curry with a thinner sauce, immensely comforting in its simplicity.
An extensive wine, spirit and cocktail list has been curated to cater to all fancies, executed by expert mixologists. Their bindaas imli margarita is given the Big Tikka spin, with an addition of house-made tamarind paste and black pepper, and their Big Tikka Stress Buster refreshes with mint leaves muddled with elderflower syrup, gin, cranberry juice and lemonade.
458 Lake Rd, Takapuna, and 570 Whangaparoa Rd, Stanmore Bay