Sep 25, 2013 Restaurants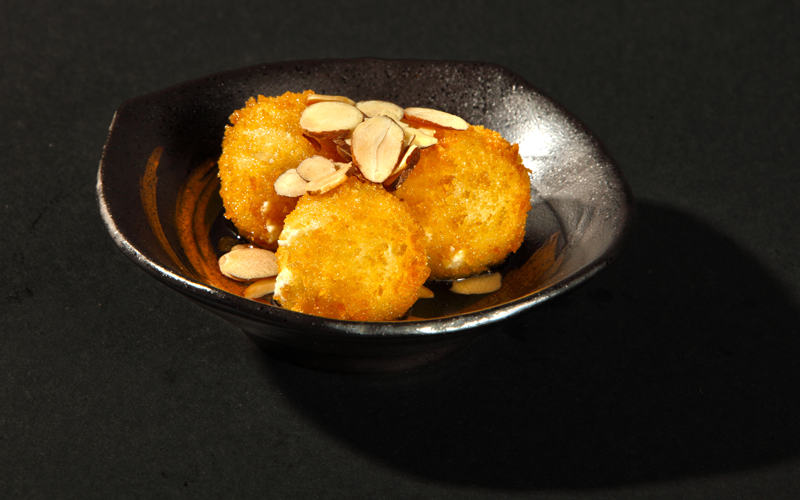 This Sunday, September 29, marks an important event for the boom in Spanish cuisine – World Tapas Day. To celebrate, Bellota's Head Chef Ernest Pietx along with Peter Gordon would like to share a secret recipe for their best selling tapas dish, Goats' Cheese Balls.
'Tapas' originated from the Spanish word 'tapar' which means 'to cover' (when small pieces of bread sat on top of wine glasses to deter flies in the scorching heat).
In New Zealand, tapas has taken on a Kiwi spin and now encompasses anything from hot or cold bite-sized portions to larger dishes. It can make up part or all of a meal and is popular because it encourages conversation over sharing food.
At Bellota, we like to keep our tapas truly authentic. So take some time on 29 September and celebrate the tapas, a symbol of quality, flavour and well-being.  We hope you enjoy this recipe and look forward to seeing you at Bellota soon.
Bellota's Special Goats' Cheese Balls
I once had some garrotxa goats cheese with almond honey (from almond tree blossoms) in Catalonia and was keen to replicate the combination. By crumbing the cheese and deep-frying it, I created a lovely textural tapa and the honey and almonds adds a lovely richness to the cheese.
– Peter Gordon
Makes 25 balls
Equipment needed
Scales
Mixing bowl
Three plates
Whisk
Pan or electric deep fryer
Paper towels
Ingredients
500gm good quality goats' cheese (if you can't find a Spanish one, go for the German Zicklie or the French Buche de Chevre)
4 eggs
150ml milk
150gm standard flour
300gm Japanese breadcrumbs
1 L of canola oil
To serve
Sliced almonds
300ml honey
150ml water
Method
Heat the oven to 160°C to roast the almonds.
Separate the goats' cheese into 20gm balls (you should get approximately 25 balls). In a mixing bowl, beat the eggs and milk together with a whisk. Place the flour on a plate and the breadcrumbs on another plate. Coat the goats' cheese balls with the flour, dip them into the egg mixture and then roll them with the breadcrumbs. Dip them again into the egg mixture and roll them with the breadcrumbs for a second time so that they are double-crumbed. Place the finished balls on a tray and keep them inside the fridge until ready to use.
Spread the almonds out onto a tray and toast them in the oven for about 12–15 minutes or until they turn golden brown.
To make the runny honey, warm the honey in a small pan with the water – gently whisking until combined.
Heat the oil in a deep pan to 180*C and deep-fry the balls in batches. When they reach a light golden colour, remove with a slotted spoon and drain on a tray lined with paper towels to remove any excess oil. Keep them inside a 100°C oven to keep them warm until ready to serve.
To serve, place the deep fried goats' cheese balls on a serving plate, drizzle over a generous amount of runny honey and sprinkle them with the toasted almonds to garnish. Ya está!