May 25, 2016 Restaurants
Beirut is now closed.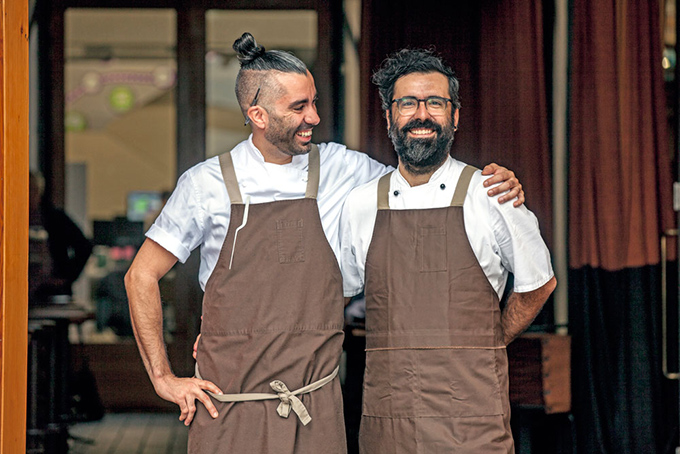 What makes it special?: Chef Javier Carmona's interpretation of Middle Eastern food is astonishingly tasty and very beautiful to look at, too.
Behind the scenes: You may recognise names on the menu — fattoush, tabbouleh, frikkeh — but that won't prepare you for the quality and style of the food. Chef Javier Carmona oversees the Mexico chain of restaurants, too, but it's Beirut where he reveals his mastery. This is a menu to explore: the slow-braised goat, flavoured with cinnamon and fenugreek, is unbelievably tender; the skate dish, which includes fermented apple water, beeswax, pine oil and onion ash, is like nothing you'll find anywhere else in town. The wine list is full of unusual treats, and at the bar they're serving shrubs: vinegar-based fruit cocktails with or without alcohol. They're divine.
A favourite dish: Smoked yoghurt labna with citrus burnt ghee, date, chickpea and scorched flatbread.
What it offers: Shared-plate options / Good for vegetarians / Free-range chicken and/or pork / Good seating outside / Takes large groups / Bar / Craft beer selection / Good cocktails
Smart Dining
Bookings: Yes
Price: $
Seats: 70
Chef: Javier Carmona, executive chef; Jacopo Crosti, head chef
Hours: Breakfast and Lunch Mon-Fri; Dinner Mon-Sat.
85 Fort St. Ph 367-6882, beirut.co.nz

Runner-up, Best New Restaurant; Finalist, Best Chef: Javier Carmona; Finalist, Best Bar; Finalist, Best All-Day Restaurant; Finalist, Best New Fitout; Finalist, Best Value for Money