Nov 20, 2019 Restaurants
1947 Eatery offers a cross-section of Indian regional cuisines and a bespoke cocktail menu.

?
Everything about 1947 Eatery will expand your view of what an Indian restaurant is. The name is a subtle nod to India's year of independence, and it's touches like these which establish just how committed the team is to bringing a taste of contemporary Indian dining to their unassuming Federal Street location.
It's comforting to walk out of the bustle of the CBD into the low, moody lighting of 1947's interior. It's relaxed but not quite casual, with wrought iron, wood and leather finishes. The look is inspired by the way modern restaurants feel in Mumbai and New Delhi, with mismatched ceramic plates by various New Zealand potters used interchangeably with the silver serving plates you find throughout India. The service is friendly and knowledgeable without being stuffy.
But more importantly, let's talk about the food. Flicking through the menu there's plenty of choice, but you won't be overwhelmed by an over-long list of options. Offering a perfectly crafted cross-section of various Indian regional cuisines, what you'll get at 1947 is modern, exciting, and authentic. Take the tandoor lamb chops – charred in all the right places and unbelievably juicy and tender, they're just begging to be eaten with your hands. Go ahead and dunk them right into the perky pea puree and cream sauce they're served on (you'll want to wipe any leftovers up with a bit of roti after).
Or the deccan prawns, juicy and enormous, served with a swipe of earthy house-made curry leaf sauce. The tandoor menu is the real deal here, meaning the chefs use charcoal and absolutely everything is cooked fresh to order.
Make sure to leave room for mains like the paneer lagan made with fresh house-made paneer in an onion and tomato gravy, or the exceptionally tasty daal makhani. Simmered for 24 hours on top of the tandoor oven, the daal is rich and creamy, simple and soulful – you won't want to share.
While most of what 1947 offers up is food you'd actually find in India, there are a couple of tasty concessions to fusion, including the curry chips – crisp fries slathered in cashew-rich butter chicken sauce and cheese. They're the perfect accompaniment to one of their many excellent cocktails, if you're just popping in for a drink – and we really recommend you do.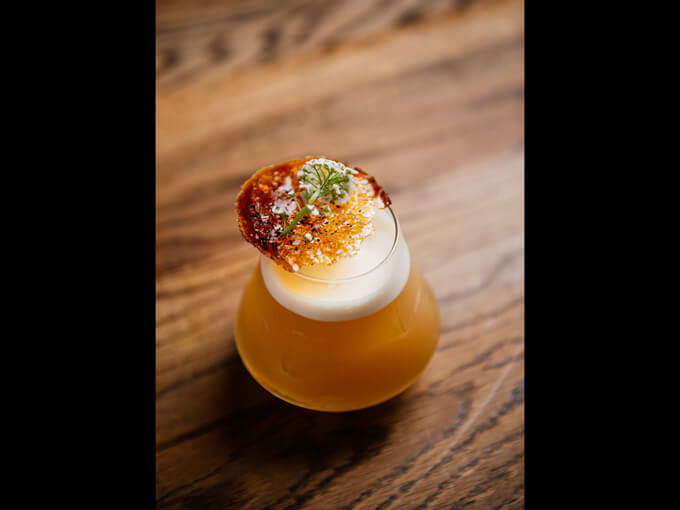 At 1947, drinks are given just as much attention as the food, with a bespoke cocktail list lovingly crafted by restaurant manager Sahil Patel. Syrups, garnishes and infusions are made in house and the block of ice in your drink are carved by hand (they melt slower, so you can sip for longer). The 'Charred Night' cocktail – inspired by the night skies down South – is a stand out. A mix of Maker's Mark bourbon, Disaronno, Grand Marnier and Fernet, with just enough sour tang. Served in a slinky glass, it sparkles and glistens when it catches the light. Another cocktail, the 'One Love', is served from under a dome which, when lifted, releases a cloud of hikori wood-infused smoke. High drama, we love it.
While 1947 don't do an express service, they're open for lunch time diners – it's the perfect place to swing by for a leisurely late lunch, or to celebrate a special occasion.