Dec 14, 2019 Restaurants
The new rooftop dining precinct at Westfield Newmarket is going off! Metro went to check out three great new venues at the top of the city's flash new destination: Something & Social, New York Grill and a brand new White + Wongs.
Something & Social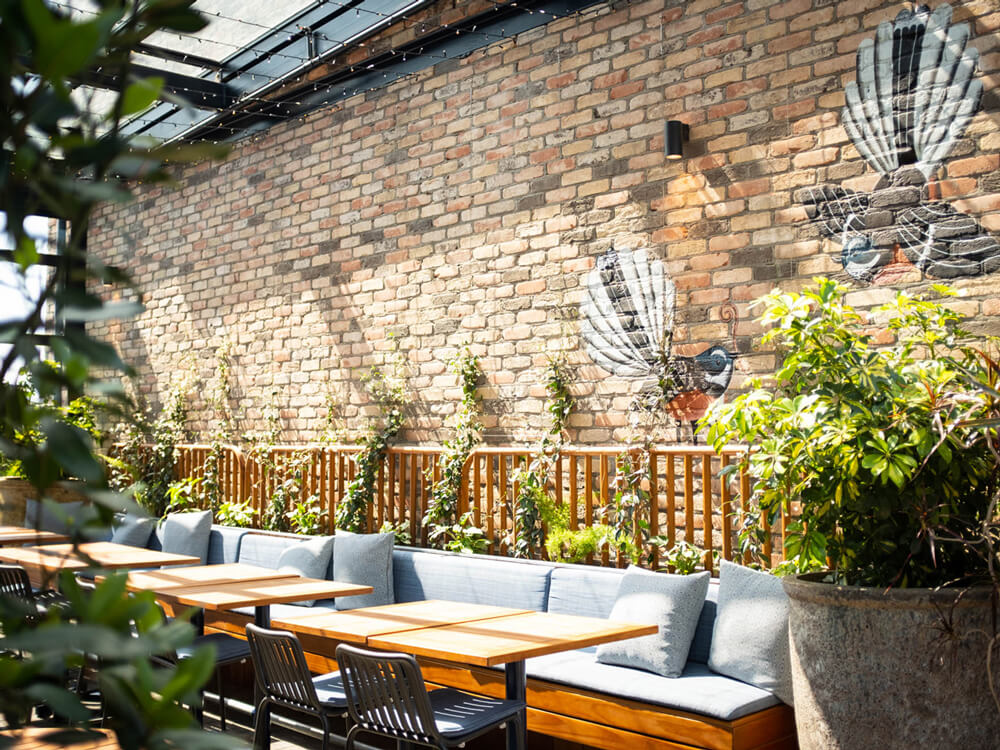 Something & Social sits in the sun, next to a sky pool and a breezy, lawn-chair dotted garden atop the Newmarket skyline. It feels like a well-kitted-out city street but actually, we're in a place which, as owner Paul Lomax explains, might have five years ago been known as a "mall". Now, the shiny, sprawling buildings offer something more: they encompass arcades, beauty parlours, movie theatres, playgrounds and dining precincts such as this one.
Something & Social aims to provide an oasis of calm comfort for shoppers, movie goers, families tuckered out from a hard afternoon on the bumper cars at Archie Brothers Cirque Electriq, or a sunny spot for post-work drinks. And the way Ctrl Space has designed the spot reflects that, with seating areas to suit every mood and state of relaxation. The main area is filled with wooden bistro-style seating. The bar is lined with taller seating, leading through to an alleyway with plush seats among foliage, by a mural of some cheeky looking fantails. Further around the back there's a sun-soaked balcony overlooking Broadway ripe for a beer in the sun.
Paul and his wife Vanessa also own Pilkingtons in the CBD as well as a traditional pub, The New Orleans Hotel, in Arrowtown and a Tauranga iteration of Something and Social.
Those who have visited the Tauranga spot will recognise the custom pale wood tables at Newmarket; the sweeping curve of the bar and the breezy ceiling light feature made of thin black panels of wood. They're all part of the effort to be a relaxed and approachable bar occupying a similarly chilled-out space while being slick and modern.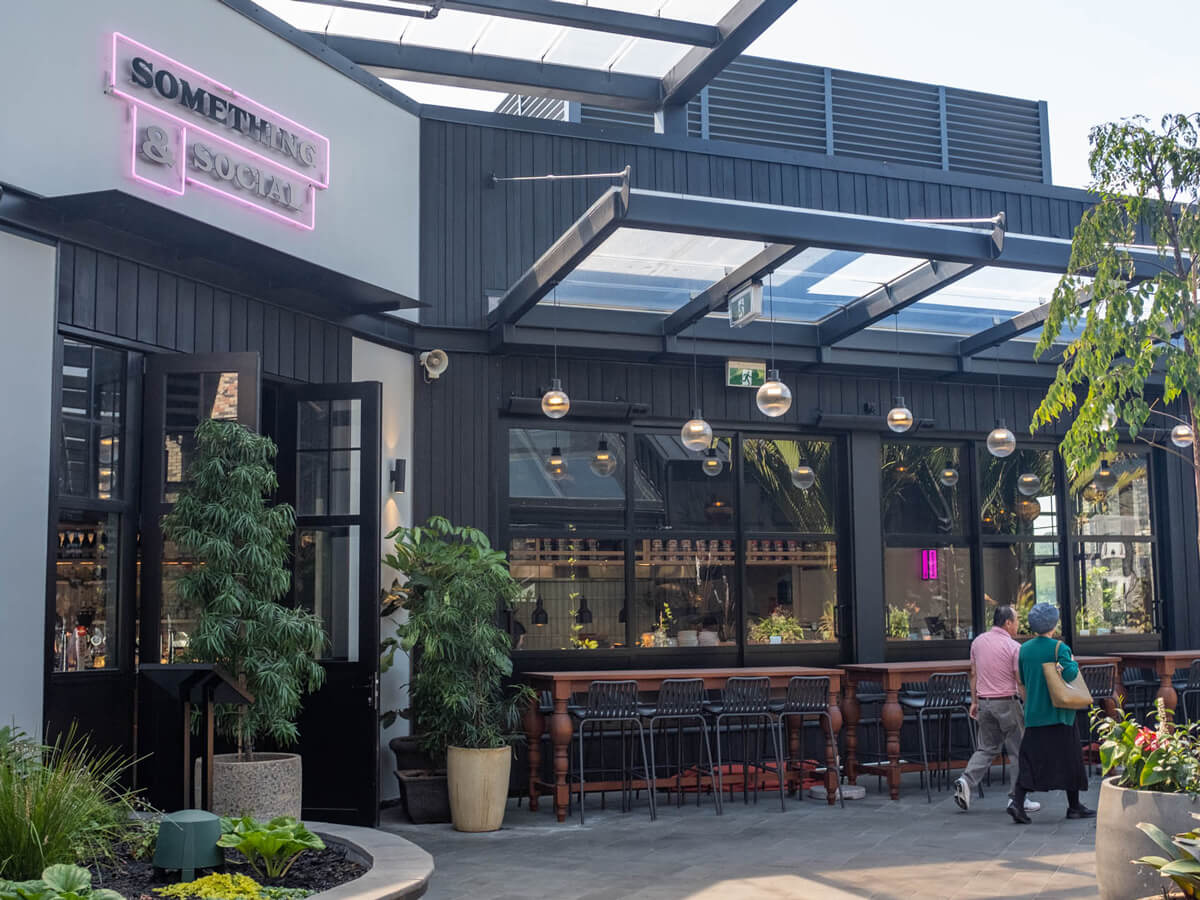 By the same token, the menu has classics which wouldn't be out of place at a nice pub; burgers, steak, fish and chips as well as similarly relaxed Mediterranean and Italian cuisine. There are stretched pizzas, clam linguine, and pork and fennel orecchiette as well as sharing-friendly platters and bites like empanadas, burrata and zucchini fritters.
The New Zealand based wine list (with a few European and Australian wines thrown in for good measure) is comprised of drops that Lomax has personally enjoyed and ones he knows patrons enjoy at his other venues. There's a beer list with all the usual favourites, plus a few good crafties and a rotating "guest beer", as well as cocktails, mocktails and cider. Unexpectedly in such a breezy, casual place there's a pretty hardcore gin list. Matching 13 different gins with a tonic and botanical hand-picked by East Imperial, there's no guesswork around what tonic to put with what gin, just the best possible combos already sorted for you.
For somewhere to relax and socialise, Something & Social is fit to purpose. Each aspect is easy, comfortable and taken care of. For somewhere perched on a rooftop, Something and Social is pretty damn down to earth.
New York Grill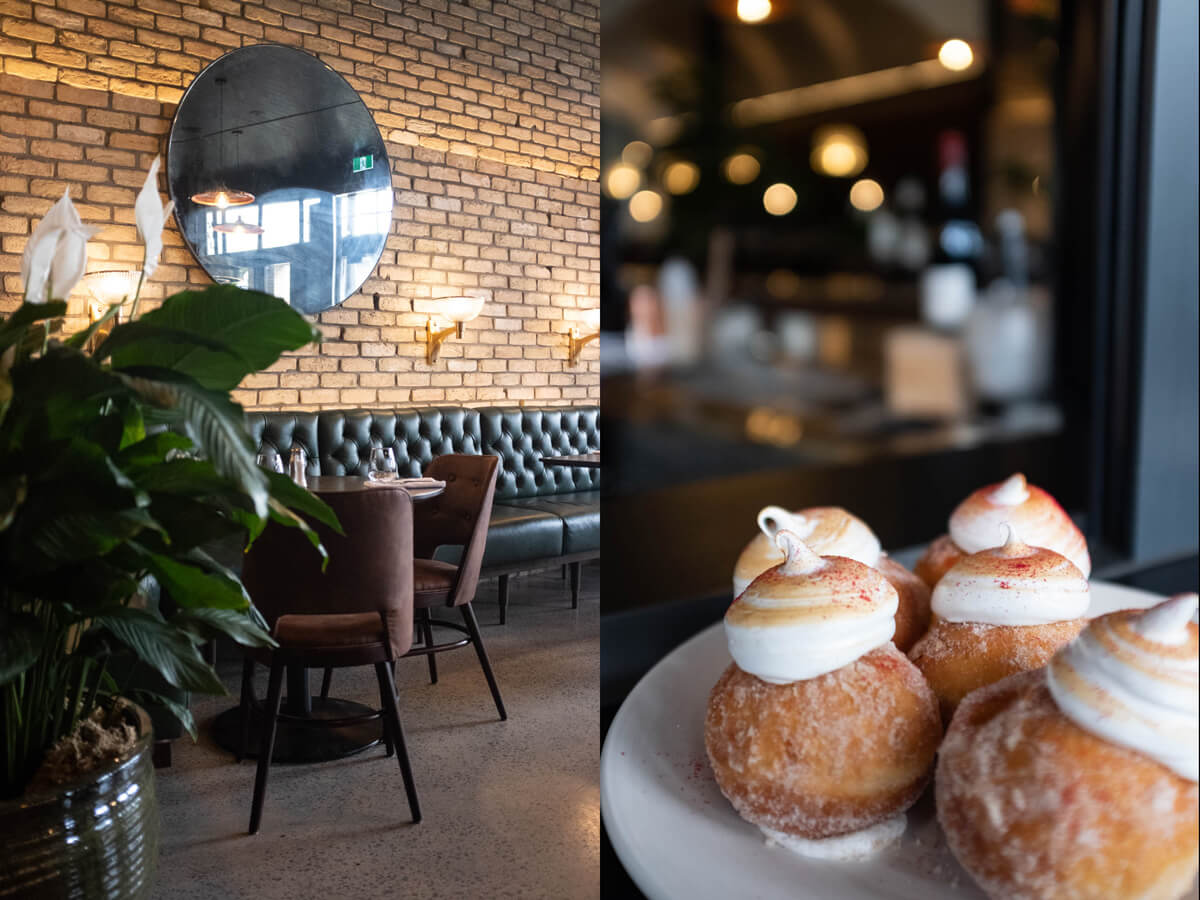 Even if you've never been to New York, you know what it looks like from movies and shows; Friends, Sex and the City, Mad Men, Breakfast At Tiffany's, When Harry Met Sally, to name a few. Newmarket might be quite a while away from New York, but a steakhouse in Westfield Newmarket's rooftop dining precinct could convince you otherwise.
When you walk into New York Grill, you'll notice an archway reminiscent of a subway ceiling. A diner-style pod of a curved kitchen, dark wood chevron floors, and a balcony facing the lush greenery of Highwic Gardens are designed to feel as if you're looking out over what could be Central Park.
It's a New York steakhouse which just so happens to be in Auckland. Director Adrien Loy has worked with design company Ctrl Space to choose the tables, the seating, the menu and the walls with a mind toward the tactile. Run your hand across the table and you can feel the grain. The menu has a pleasing hefty weight to it. Sit in a booth and you can smell the leather scrolls covering the wall. Loy and his team have also put thought into how they've divided the 360sqm space into smaller, more intimate areas. There's a bar, tall tables in the sun, a private dining area, a dining table weighing 250kg and sumptuous leather booths under glass orb lighting repurposed from their former life as Parisian street lamps from the 1950s.
Bagels and doughnuts are served during the day along with a lunch menu featuring the more luxurious, classic steakhouse meals; crudo, spanner crab fritters, cloudy bay clam chowder and charcoal baked bone marrow with lashings of truffle butter. Top tip; ask what oysters they have the day you go – New York Grill serve them natural, Kilpatrick or with a bloody Mary shot, and a few Coromandel oysters go down very well with a wine in the sun.
But of course, the place is ultimately a steakhouse. And boy does New York Grill mean business with their steak. They have their "From the Grill" steak menu divided into Angus; Waygu and sharing – and don't look past the specialty steaks, including one for 35 days in butter, causing it to take on a buttery flavour and softness. Then there's dry aged steak which, as you might expect, is aged dry for 30 days, concentrating the flavour and allowing the beef's natural enzymes to soften the texture. We'll stop. You're drooling. But Loy has consciously kept prices accessible: you can have a steak dinner for as little as $25 – or as much as $300.
Also from The Grill, so to speak, is James Laird, who came straight from The Grill by Sean Connolly, where he was also head chef. Safe to say, he knows his way around a steak. Other key staffers have been cherry picked from other top restaurants – at New York Grill, they're keen to be the best. "I don't want to play for second," Loy says.
And with 300 patrons storming the newly opened restaurant on Saturday night, you might want to book ahead.
White + Wong's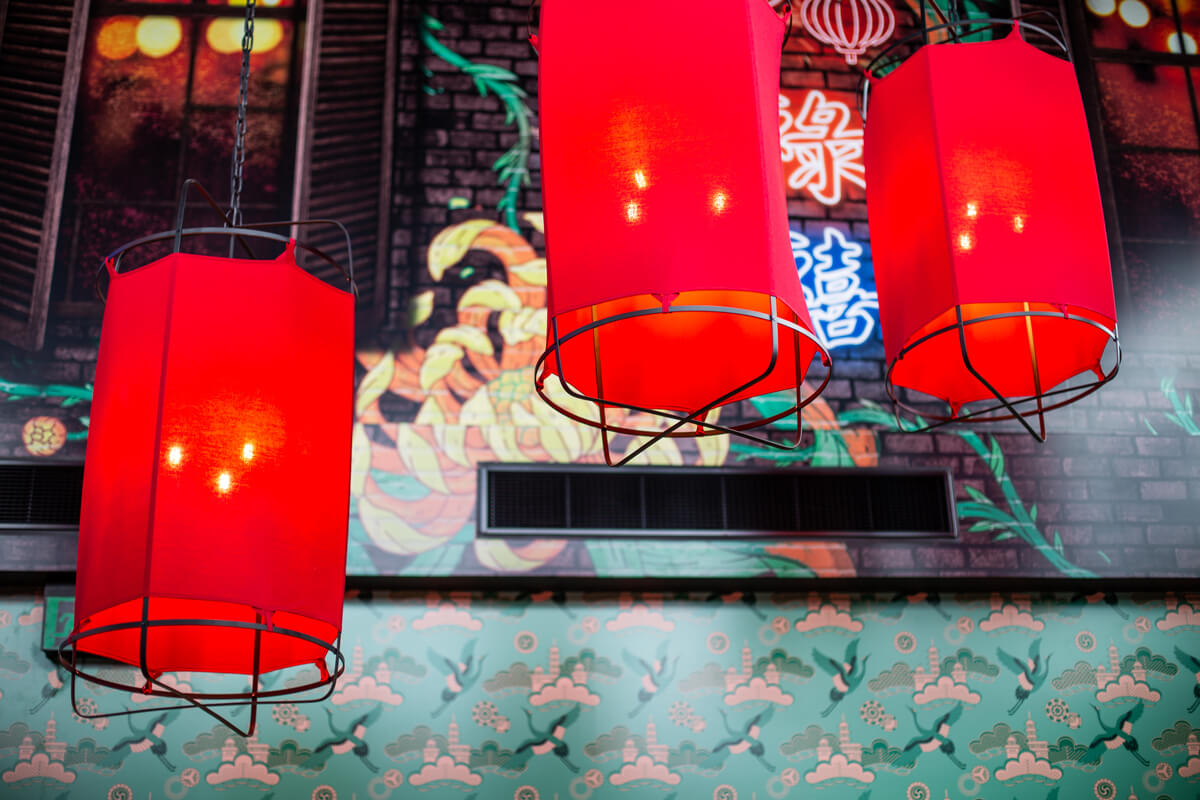 White + Wong's is a little above the rest – literally, in this case. It's the sole venue to sit at the very top of the new Westfield Newmarket rooftop dining precinct, offering incredible views not only of the city but also the rest of the brand new rooftop area from above (watch the queues for Ippudo Ramen while smugly sipping a drink at the comfort of your table).
As you walk in, you'll spot monkeys hanging from the bar, from the light fittings and outside on the deck – playful little nods to the fact that while this place might be serious about its food, it's also the kind of restaurant which wants you to have a little fun while you're there.
Hanging lanterns, straw lampshades and brightly patterned wallpaper all add to the fun vibe of the light-filled venue, which is fitted out in a mix of dark and blonde wood, with hanging plants and floor to ceiling windows – so as not to obstruct the view.
The deck wraps around two sides of the top of the mall, with plenty of seating for a sunny afternoon lunch or a cheeky post-work drink with spectacular views. Nip inside to the bar, where you can choose from a drinks menu as long as your arm, including myriad wines by the glass and bottle and a selection of cocktails inspired by the flavours of Asia – like the tom yum Bloody Mary, a twist on an old classic.
White + Wong's has long been a viaduct go-to and the business recently expanded to Queenstown, making the Westfield Newmarket opening a hat trick for the Good Group owned restaurant. As at the other venues, there's a Sardine Bar onsite here too.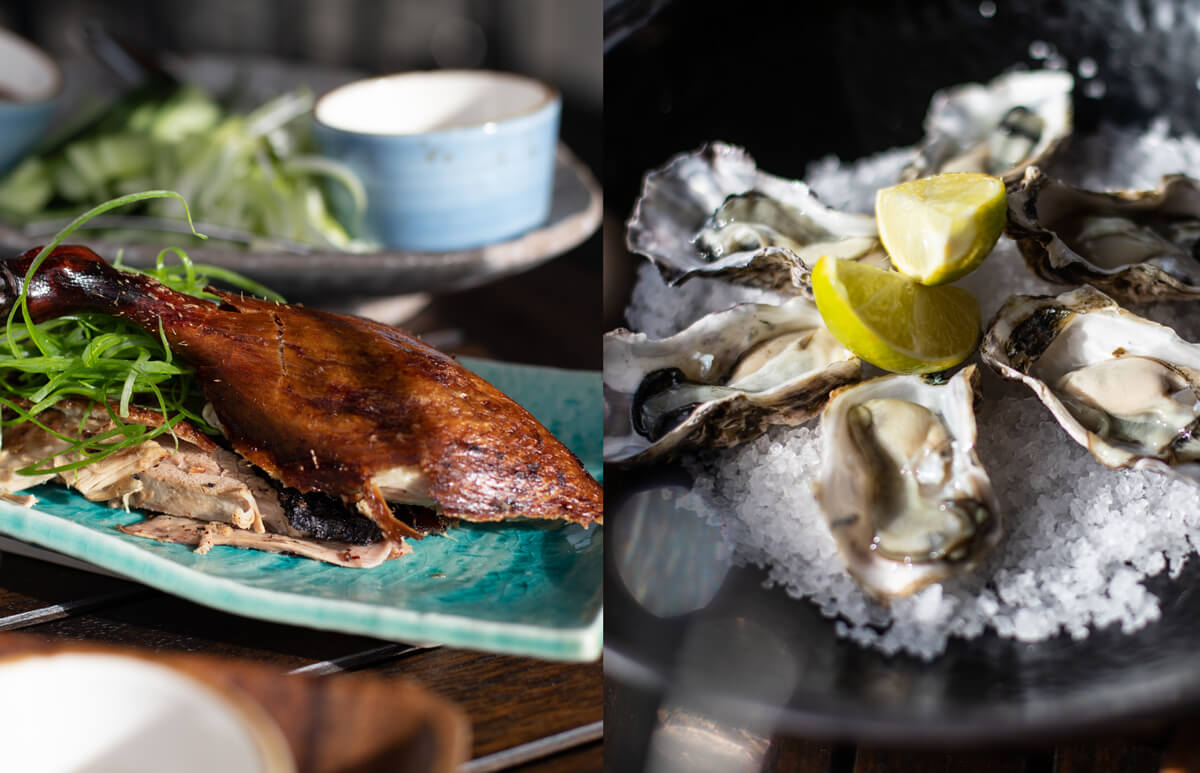 Great for big groups the kitchen, headed by South Korean-born chef Brian Choi, cooks up an array of 'east meets west' fusion food taking inspiration from all around Asia: Chine, Hong King, Vietnam, Malaysia and Thailand. Order up a selection to share, get the drinks flowing and you're guaranteed a fun night out. Not sure what to order? Two banquet set menus are available, offering a selection of the best of White and Wong's menu.
You can't go past the Peking Duck, served half or whole with cucumber, spring onion, hoisin and plum sauce and delicate sheets of pancake for rolling everything into a delicious bundle. Start with a few of those with some super fresh yellowfin tuna shashimi or oysters (tempura or natural), then move on to the massaman wild goat curry with agria potatoes. Creamy, rich and slightly smoky it's a great chance to eat something a little different from your usual beef or chicken. Not that there's anything boring about the red curry with beef shin here, now the green curry with chicken, eggplant and roast cauliflower.
Finish up with one of White + Wong's tempting desserts (mango pudding with pandan sorbet, anyone?) or one final cocktail.