Mar 20, 2015 Restaurants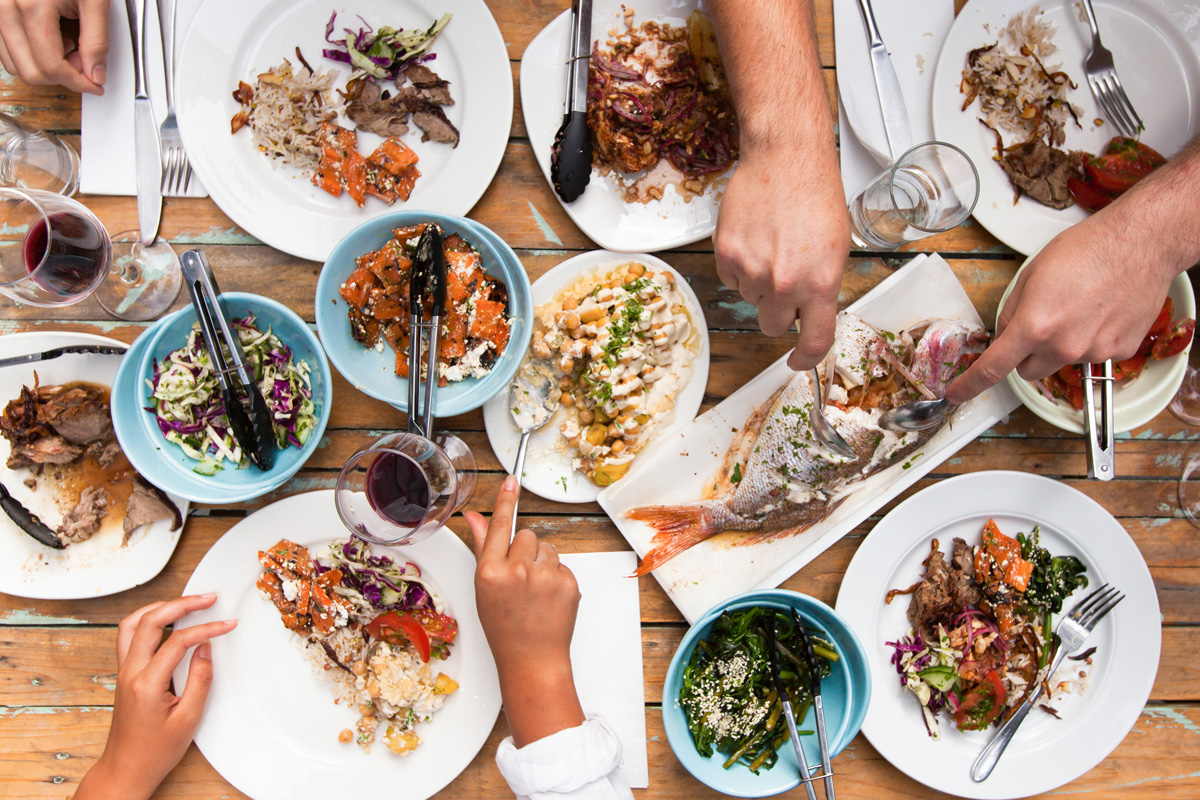 Above: Ima , Fort St. Photo by Sarah Grace.
We asked our food writers to nominate some of their favourite affordable dinners in the city, and then whittled their choices down to the top 50. Find the full list in the March Metro, on sale now. To whet your appetite, we present five of our picks:
Ima
Slow-braised lamb with rice and salads
A family meal served in a restaurant? Ima's owner/chef Yael Shochat is constantly inspired by her own Israeli culinary traditions, with liberally added extras from elsewhere in the Middle East, and her menu is now conceived primarily for group eating. Which means you get a big table full of dishes: meats to share and salads and veges that come out in serving bowls too. It's joyful, not just in the way of eating, but in the quality of the food. And if you're there as a couple or on your own, they're happy to scale down the concept — it really does still work.
Our choice: brik (tuna and egg in a paper-thin warqa pastry parcel), followed by slow-braised Lebanese lamb shoulder, so gorgeously cooked you can pull it apart with a spoon. The accompaniments evolve, but right now they include Tunisian carrot and feta salad, a zesty mint salad, "slightly spicy" tomato and shallots, seasonal veges and a rice dish packed with lentils, nuts and caramelised onions.
57 Fort St, Central City. Ph 300-7252, imacuisine.co.nz
Bellota
Tapas to share
We know, our criteria said "no bars". But we're breaking the rule for this one, because Peter Gordon's Bellota is the finest tapas bar in Auckland. Not the obvious place for dinner, perhaps, but the food is all so good (and the drinks list so tempting and the place itself so elegantly seductive) that it's very easy to enjoy a good meal here.
For two people, you could start with a glass of fino (dry) sherry and some cheese and anchovies, or perhaps a couple of pintxos (the Spanish version of bruschetta). We're rather partial to the avocado and anchovy. Among the larger tapas dishes, don't overlook the crumbed deep-fried goats' cheese with runny honey and toasted almonds, although we don't think you should ignore the lamb ribs with apple and honey, either, or the beef cheek or the garlic and chilli prawns…
The desserts are also great — churros dusted with chilli-orange sugar! — and they provide the perfect excuse for a glass of Pedro Ximénez, which is sherry that tastes like liquid Christmas cake.
91 Federal St, Central City. Ph 363-6301, skycityauckland.co.nz
Dante's Pizzeria Napoletana
Regina Margherita pizza
Pizzaolo Kevin Morris makes pizzas strictly in accordance to the guidelines of the Associazione Verace Pizza Napoletana (VPN) — the body charged with keeping Neapolitan pizza-making traditions alive and kicking — and he's so good at it, he's representing New Zealand in the World Pizza Champs in Parma this year.
Of all Dante's "VPN-certified" pizzas, the one we love best is the Regina Margherita DOC, proudly displaying the colours of the Italian flag and offering the perfect balance of crushed tomatoes, creamy buffalo mozzarella and sweet basil. Pizza is a "slow food", on account of the dough being made and proved the day before, but it's fast service here because of the woodfired oven, which can get to 900°C, cooking your pizza in 90 seconds and leaving you plenty of time to savour it. Along with a Peroni, per favore.
Ponsonby Central, 136 Ponsonby Rd, Ponsonby. Ph 378-4443, dantespizzeria.co.nz
O'Connell St Bistro
Express menu
Among O'Connell St's long and formidable list of achievements is this: year in, year out, they offer an "express menu" specifically designed for pre-show and post-show customers. You can eat really well, and then be out of there. Why hasn't this caught on all over town?
And what an express menu it is: two courses for $39.50 will get you cauliflower and blue cheese soufflé, or hapuku gravlax with a piece of tempura crayfish; followed by fish with scampi and risotto, or lamb with chickpeas. Add a glass of something from one of the best wine lists in the city and you'll be perfectly set for the show. Swap out the entrée for a chocolate dessert or cheese arrangement if you like, or have all three courses, at a set price of just $45.
3 O'Connell St, Central City. Ph 377-1884, oconnellstbistro.com
The Crab Shack
Nelson paddle crab
The signature dish at Simon Gault's new waterfront eatery is Nelson paddle crab, sautéed in chilli-garlic butter until it bursts into flame, served in an enamel pot with crackers and picks for winnowing out the sweet morsels of meat. The tools come in useful, sure, but the only way to properly attack a pile of crab legs is with fingers and teeth, a pile of paper napkins beside you to take care of the mess. Forget your manners: this is elbows-on-the-table, butter-on-your-chin food, for sharing with someone you know very well or don't care if you never see again.
To mop up all those juices, you'll need fries, of course, and some tear-apart rewena bread topped with a salty dusting of pork crackling powder. What else? House-made corn chips with kumara and creamed corn and crab dips, perhaps, and — because you can never have too much crab — a serving of tempura soft-shell crab with a punchy wasabi mayonnaise. Finger lickin'.
Princes Wharf, viaduct. Ph 972-1599, crabshack.co.nz