Feb 20, 2015 Restaurants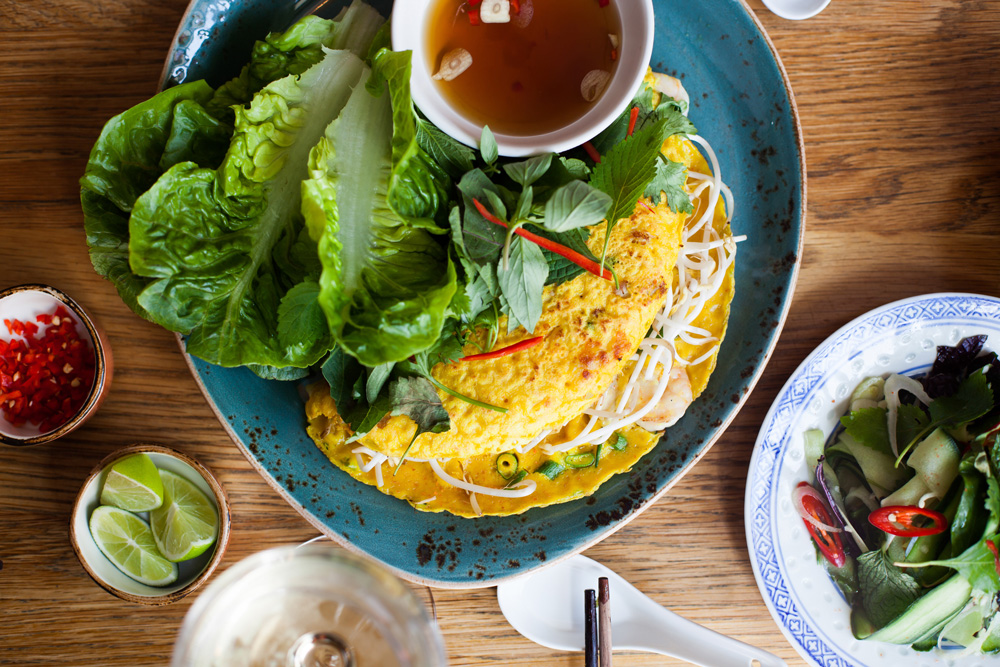 Cafe Hanoi Auckland" width="1000" height="667" data-mce-src="https://www.metromag.co.nz/images/uploads/1ce4768d-43f8-42ac-a12d-b39c546b70d3-METRO_50Under50_CafeHanoi_006.jpg">Pork and shrimp pancake at Cafe Hanoi. Photo by Sarah Grace.
The Auckland Arts Festival is coming up and the Cricket World Cup is on now. Another day in Auckland, another night full of things to see and do. Where's good to eat? And what's good to eat?
We asked our food writers to nominate some of their favourite affordable dinners in the city. We told them:
It's a good night out, not a posh night out. No more than $50 per dinner, including a glass of wine (or $100 for two in places where you share the food).
Stick to the central city, the waterfront and the hospitality dress circle of Ponsonby and Karangahape Rd: places where you can eat and still have time to get to a show.
Sit-down restaurants, not bars with a bit of food or places that are really all about the takeaway.
And we said to our writers, don't just tell us about the place. Choose a meal — a special dinner you love.
The long list had close to 200 meals on it. It was tough, as always, but we cut it down to 50. This list sits between our Restaurant of the Year top 50, where money can be no option, and our 100 Cheap Eats lineup, where the top price for dinner is around $20. Some places, note, appear on one or other of those lists as well: we're especially delighted that several Restaurant of the Year places offer some enticingly economical options.
Mostly, though, they're somewhere in between. Fifty bucks each — and often less —including a drink? It's the price of dinner on a good old good night out.
To whet your appetite, here's three of our picks. For 47 more affordable Auckland dining ideas, see the new Metro, on sale now.
Cafe Hanoi
Pork and shrimp pancake
Cafe Hanoi boasts what must be one of the most spectacular bathrooms in Auckland, floor to ceiling in intricate and beautiful turquoise tiles. The whole restaurant fit-out is great, although we accept that's not enough to make a place worth eating in.
Cafe Hanoi is where you go for good Vietnamese when you also want a good glass of wine. As for the food itself, it's the street food dishes — Old Quarter Favourites — that we love the most.
Banh xeo: a pancake with pork and shrimp, adorned with Vietnamese mint, fresh lime and fresh chilli. You cut the pancake into pieces then wrap in a lettuce leaf, before dunking straight into the nuoc cham dipping sauce. Eat with your fingers; it's a tactile delight. Add some meat: the excellent shaking beef with its slow-release heat, or the beef salad with papaya, sesame and peanuts.
Cnr Galway & Commerce Sts, Britomart. Ph 302-3478, cafehanoi.co.nz
Faro
Barbecue with deung-sim
Korean barbecue still hasn't taken off properly in Auckland: something about cooking your own meat doesn't appeal to Anglo sensibilities. Which is a shame. Korean barbecue is fabulous and it doesn't get much better than at Faro, which has a sort of high-baroque fitout, all gilt walls and crushed velvet and dark grey brick. The very helpful staff talk you through the menu and what to do: it's all good, but go especially for the deung-sim, which is Black Angus scotch fillet, marinated in sesame oil, garlic and pear juice. You'll never look the same way at steak again.
5 Lorne St, central city. Ph 379-4040, faro.co.nz
Late Night Diner
Cheese & bacon burger with fries
Ah, the food you want late at night. If it's not a burger you're after, LND is still great: delicious soups, hot tasty pies, a buttery bone marrow with slow-cooked brisket, sliced and cooked perfectly.
But the burger is the thing. The signature version comes slightly deconstructed: you add your pickle and your cheese to your basic beef base, and choose lid or no lid. They use a hand-ground pattie, cooked medium rare, as it should be. There's beer and wine, and excellent cocktails made by barstaff who put on an excellent show, but it's hard to go past a hard shake. We're inordinately fond of the bourbon and vanilla.
152b Ponsonby Rd, Ponsonby. Ph 361-2320, latenightdiner.co.nz