Jul 30, 2015 Restaurants
There's some good eating indeed to be had out west, but the catch is they're spread out like a pancake: wheels advised.
1. At the pleasantly laidback Kings Plant Barn Cafe, there's a huge covered courtyard complete with a well-appointed kids' corner. Try the baked eggplant with Israeli couscous salad, yoghurt and tahini (there may be a different riff of the filling on the day you visit — in any case, get the eggplant, it's delicious).
2. It's pretty hard not to order the doughnuts at Little Sister. They're cleverly placed at eye level to successfully tempt even the most iron-willed, and are made fresh each morning, filled with whipped cream and strawberry-balsamic compote. Mind you, everything in that cabinet is pretty darned tempting, and the fact they serve Kokako coffee is a big bonus.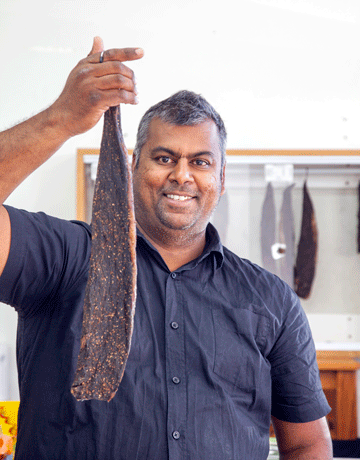 3. Tucked off the end of Lincoln Rd is Inside Africa, home of all things edible and South African. Owner Anil Ramsahayi (right) makes and sells biltong and particularly excellent droëwors. He also sells Sunbeam Biltong Makers — basically a dehydrating box. (They're $150; paleo types can thank me later.)
4. There are 450-plus craft beers to choose from at Blanc, so fans had better allow a bit of time to peruse the shelves. NZ brewers such as Liberty, Garage Project, Epic and 8 Wired are well represented, but also check out the range from Europe — even the Peroni-happy Italians are getting crafty. Look out for events at Blanc, and check out the selection of brews on tap — you can buy a bottle here to fill, or bring your own.
5. Anyone avoiding gluten would do well to check out the large range of alternative flours at Saffron Foods. The Indian grocery has upwards of eight different varieties to experiment with and is also the place to go for all your spices, dry goods (yes, they stock chia seeds), fresh yoghurt, roti and naan.
6. Chef Roberto Manuel and his wife Chiko hail from the Philippines and Japan respectively, and the cuisines of both countries, as well as Roberto's many years as SkyCity executive chef, have a big influence on the fusion- style menu at Chikos. The charming couple have staffed the kitchen and front of house with real talent; the flavours are bright and engaging and so is the service. Don't leave without trying the Halo Halo. Chikos' version of this favourite Filipino dessert (below, right) is a show-stopping symphony of 12 parts, including barley, red bean, palm sugar, shaved ice, freeze-dried jackfruit, custard flan and the surprisingly delicate mauve-coloured ice cream made with the purple yam Filipinos call 'ube'.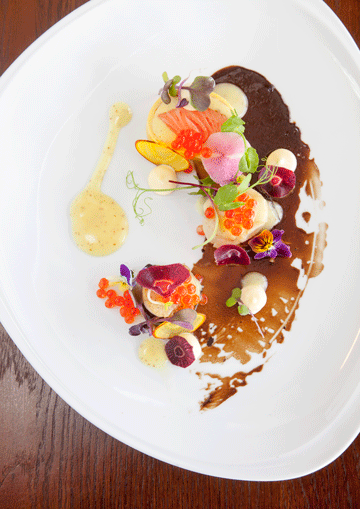 7. A bit of quiet time perusing the gallery at Corban Estate Arts Centre is best followed by a visit to the neighbouring Coffee Studio, where the Cleansing Energy and Immune Booster Green Smoothie deliciously trumps the notion that simple is best. Try saying this after a few tequilas: chia seeds, manuka honey, probiotic yoghurt, kefir water, avocado, banana, organic alfalfa, organic spirulina, organic barley leaf, organic wheat leaf, chlorella, rice bran and kelp.
8. Euro-Dell's Taste of Europe delicatessen is one of those places you almost wish you hadn't discovered, owing to the fact it's mighty hard to walk out unencumbered by bags of things you don't strictly need. They do a nice little line-up of European cheeses, including manchego, which is just one of the best cheeses invented (thanks, Spain), and they're happy to let you sample before you buy. Just keep in mind that you can enter the driveway for Euro-Dell only from the left side of Lincoln Rd — it's just a short distance from the Lincoln Rd offramp. Many a trip west has been clouded by forgetting this no-right-turn business and the visitors then finding themselves whisked back onto the motorway to the city, sans deli goodness.
9. In the midst of an industrial area in Henderson Valley you'll find Swiss-born pastry chef Stephan Kohler whipping up cakes, pastries and more. Primarily a wholesaler, Alpine Patisserie is open to the public, and the busiest day, Saturday, is also when you'll find the widest variety on offer, including baguettes and croissants. Kohler bakes with butter and doesn't touch pre-mixes, yet everything is such good value — you can pick up a whole Swiss cheesecake for $30. And just $3 will get you a little taste of heaven, a plum tart made with Black Doris plums (or other seasonal fruit) set in a spiced custard that's pleasantly but not overly sweet.
10. Many Korean restaurants around town seem to have tightened the purse strings when it comes to the range and ampleness of their banchan (side dishes), but not so Henderson's Mojung. Their banchan, complimentary when you order most mains, are interesting and generous, and refilled if necessary — rather befitting the name of the place, which translates as 'mother's love'.