Mar 3, 2015 Restaurants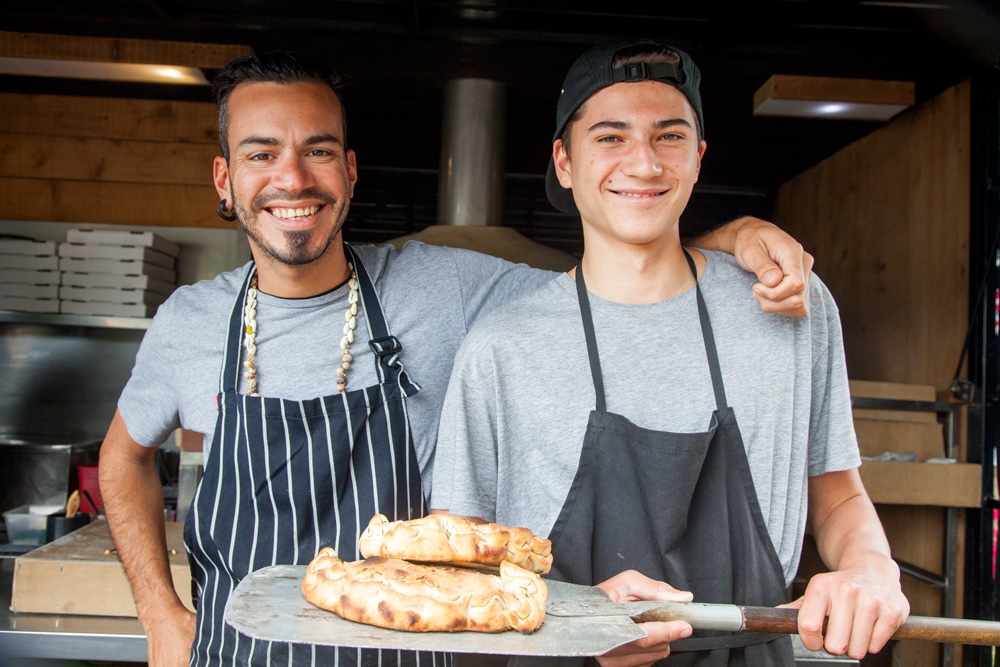 Waiheke is less than 20km from the CBD, and the food treats there are among the best you'll ever find.
Words: Metro food writers, photos: Ken Downie.
Above: Uriel Jeremias (left) and Angelo Chiquet-Kaan at Dragonfired.
Contorni at Poderi Crisci
It may seem like taking the easy option to choose summer as the best eating season. But when you've enjoyed Poderi Crisci's contorni of simply prepared summer vegetables (peppers, tomatoes and zucchini, all taken straight from the garden beside the restaurant) with a glass of their fantastic rosé, in the Waiheke sun overlooking said garden, with olive trees and Awaawaroa Bay in the distance… when you've done that, well, the other seasons somehow lose their allure. All the dishes are good, but our absolute favourite is the zucchini, sliced ever so thinly and fried with mint.
205 Awaawaroa Rd, Awaawaroa Bay. podericrisci.co.nz
Steak frites at Frenchôt
This adorable little French bistro is très authentique and a great neighbourhood spot. Begin, if you like, as the French do with a pastis to freshen your palette, and follow with a house-made terrine served with baguette — the pâté de campagne (country pâté of venison and pork) is our favourite. And then, because it's just as good in summer as any other time: steak frites. It was scotch fillet when we visited, as it should be, and the chips were crisp, hot, perfectly seasoned shoestring fries.
8 Miami Ave, Surfdale. frenchot.com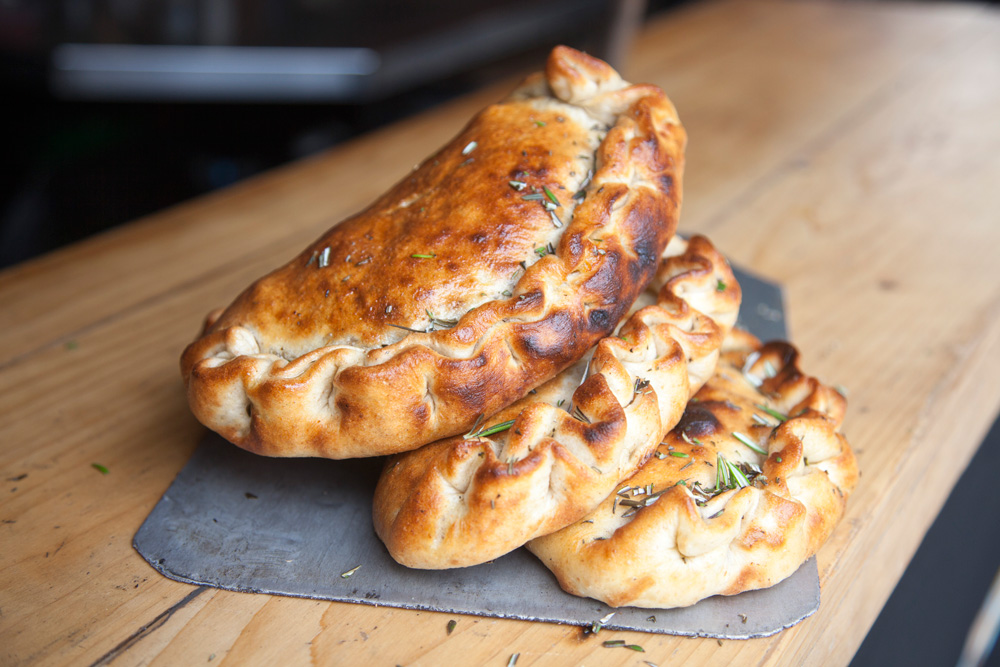 Calzone at Dragonfired
If you're off the bus and it's a swim you're after, Oneroa is good, but Little Oneroa, just down the hill to the east, is really, really fine. A beautiful inlet, a big sandy beach stretching inland, safe swimming for kids, lots of grass and big trees for shade… and Dragonfired, offering their mouthwatering pizza delights. It's hard to go past a simple pizza base with salt and herbs, but it's always tempting, too, because you get to choose your own ingredients. Perhaps best of all, the calzone: folded pizza pockets filled with mozzarella, pepperoni or olives and caramelised onion.
Little Oneroa Beach. dragonfired.co.nz
With Casita Miro, it can be hard to avoid talking up the feature dishes — because they so totally deserve it — but that would be to overlook one of the finest little dishes of food you can buy anywhere in Auckland: the astonishing olives, which they prepare themselves with concoctions of honey, red wine and orange zest. Wash them down with a glass of one of Cat Vosper and Barnett Bond's sublimely well-chosen sherries, or the fabulous Miro house wines.
3 Brown Rd, Onetangi. casitamiro.co.nz
It would be rude not to start with their namesake here, particularly if you nab a spot on the balcony looking out to lovely Oneroa Bay. But it would also be rude not to explore the finer reaches of master chef Anthony McNamara's menu. What he doesn't know about fish isn't worth knowing (he even writes an angling column for a British publication) and the best thing is to place yourself in his hands. Market fish of the day is invariably a highlight, but the line-caught fish with triple-cooked chips is pretty fine too.
124 Ocean View Rd, Oneroa. theoysterinn.co.nz
Pork ribs at Cove
Those excellent good sorts at Deep Creek Brewing in Browns Bay have opened a craft beer bar in Oneroa, bless 'em. Cove Bites and Brews offers tasting paddles, plenty of seafood and — you may now start to salivate — the famous Deep Creek pork ribs: cooked in a Jack Daniels barbecue sauce, rich, sticky and falling off the bone. To accompany, we suggest a Dusty Gringo brown ale.
149c Ocean View Rd, Oneroa. dcbrewing.co.nz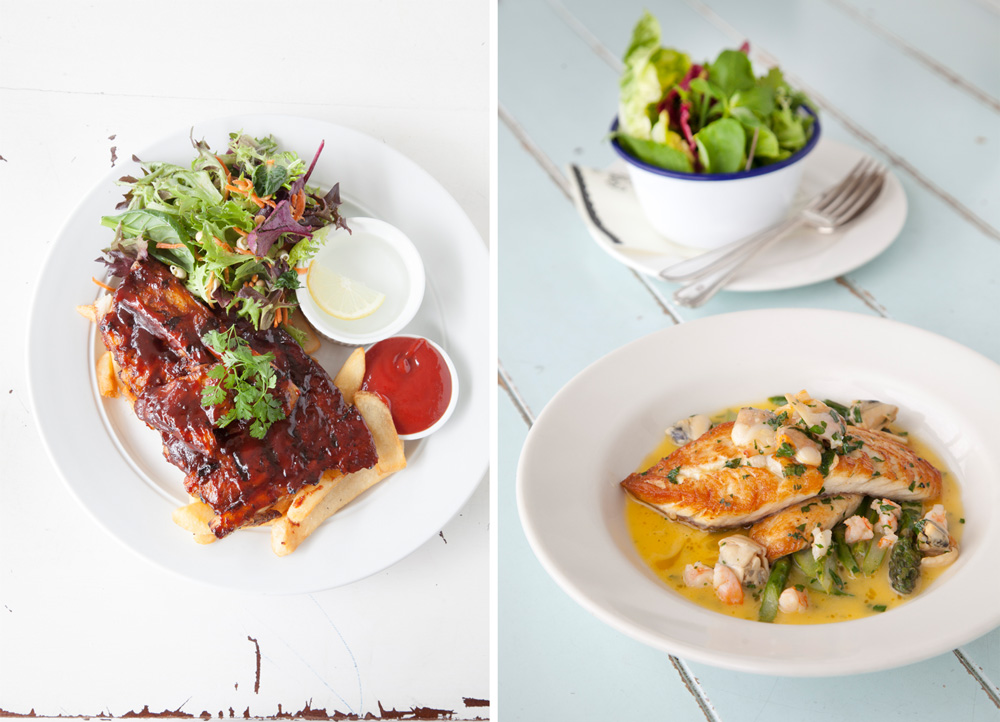 Ravioli at Fenice
Oneroa Village's best-kept secret (though not to locals, who keep it full) is just a door or two along from The Oyster Inn. Fenice is a pizza and pasta joint, elevated by the quality of the cooking and some (it wasn't always like this) excellent service. We're particularly fond of the mushroom ricotta ravioli, which is served decadently with truffle oil dressing and shaved parmigiano.
122a Ocean View Rd, Oneroa. fenice.co.nz
Braised lamb shoulder at The Shed at Te Motu
The lamb's been cooked for about 18 hours, as you'd expect, and falls apart at the touch of your fork. The spices it's been rubbed with, North African in style, are evident but not overpowering. There are tender fresh vegetables in there, seasonal, as they should be. And the whole dish comes with faro, almonds and tzatziki, providing alluring texture and wonderful nutty flavour.
76 Onetangi Rd, Onetangi. temotu.co.nz
Chocolate parfait at Te Whau
Chef Marco Edwardes is a master of desserts, and a sweet treat is the perfect end to a top-class meal, especially if you're dining with this unbeatable Waiheke view. Get chatting to owner Tony Forsyth or his wife, Moira, about the wine, and then move to the balcony, if you aren't there already. Their white-chocolate parfait with fresh berries, like all their desserts, is elegant, seasonal and always changing.
218 Te Whau Drive. tewhau.co.nz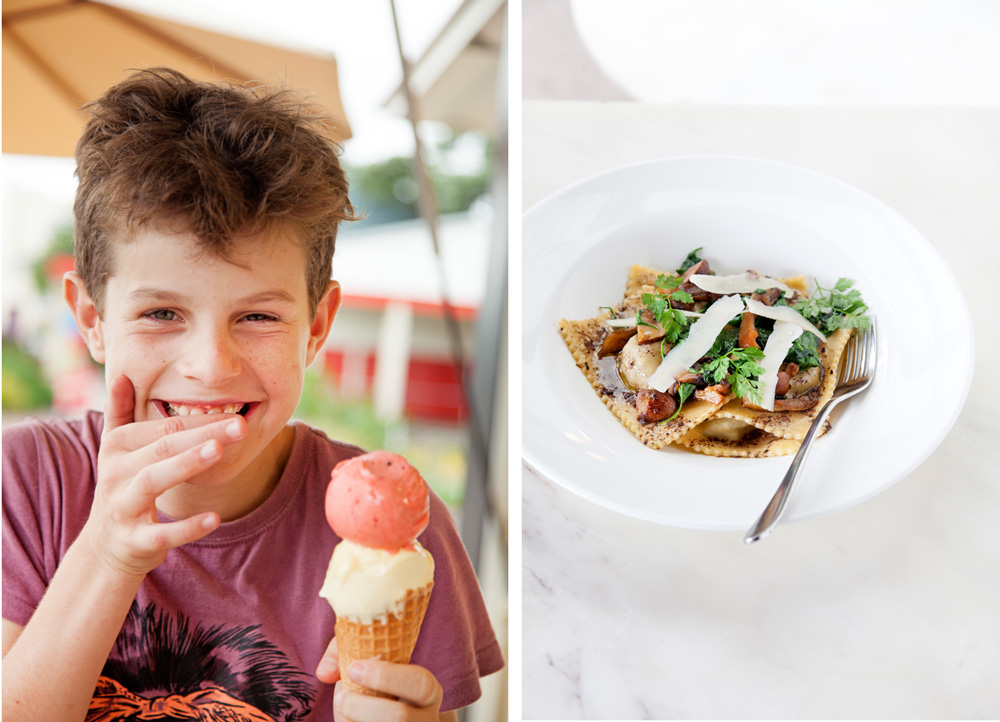 Ice cream at Island Gelato
In a container just to the left of The Oyster Inn they serve Al Brown's Best Ugly Bagels and Allpress coffee, but the real treat is the reason this gorgeous little place is in business: Geoff Tippett's ice cream. Strawberry's the thing, we reckon, but you can get three flavours scooped into a pile and really, why would we try to tell you what your favourites should be?
124 OceanView Rd, Oneroa. islandgelato.co.nz
Island delights
One of the reasons Waiheke's restaurants are so impressive is the quality of locally produced goods, including, of course, the wine. And there are lots of places, apart from the restaurants, to sample that quality.
The Ostend Market, held in and around the community hall on Saturday mornings, is an island institution, featuring a good deal of island-grown seasonal, spray-free and organic produce. Jenny's Kitchen has an award-winning range of tamarind chutneys or try Waiheke Herb's herb spreads. Both of them are very good with cheese from the Waiheke Cheese Company, which also makes the delectably thick Hipi Sheep Milk Yoghurt (natural or honey).
Local baker Matthias Kroeger sells his Helios range of sourdoughs, and at a nearby French stall you can buy some of the prettiest fruit-laden tartlets ever. There are local olives marinated in herbs, while a Turkish stallholder sells an array of brightly coloured dips and freshly baked pide to scoop them up with. Tucked down a driveway near the market is Island Coffee: they're a roastery, and their neat, tiny coffee shop attracts quite the Saturday morning queue.
Another spot filled with island-made supplies is Oneroa's Waiheke Fruit and Veg, known locally as "The Top Shop". They have the delicate microgreens and salad leaves grown on the island, and Ringawera's beautiful lavash as well as their fresh bread — the baguettes are amazing.
Bivalve fans need to make time for a visit to the Te Matuku Bay Shop, where you can buy their lauded oysters by the dozen — shucked, or two dozen live in the shell. If you haven't packed your shucking knife, they sell them too. They also sell fresh, smoked or frozen fish and shellfish. For oysters, go early as they sell out.
The number of olive-oil producers on the island continues to grow. You'll find their wares in the local shops and at the market, and some offer onsite tastings: try Rangihoua Estate, Azzuro Groves, Number 29 and Matiatia Grove.
Don't forget the winery cellar doors, dotted all over the island. Gorgeous wines and breathtaking views are the stock-in-trade here, accompanied by food platters and sometimes more extensive fare. If you have a day and want to explore a variety of wine, topography and food offerings, try any of Man O' War, Te Whau, Casita Miro, Mudbrick, Te Motu, Poderi Crisci, Passage Rock, Kennedy Bay — and maybe end the day with the magical sunset vista at Cable Bay.