Mar 31, 2020 Food
Crispy, juicy roast pork hock is one of the glories of Filipino cuisine.
Skip to: Carlo Buenaventura's crispy pata recipe
At my grandfather's funeral, we feasted on 10 whole pigs, roasted on the spit before being expertly chopped up by men whipping knives through the air so fast, you felt sure the tip of a finger must end up on your plate. The generous servings of glistening pork are a must at family gatherings, an affirmation that we're all together and flourishing and healthy enough to gorge ourselves on a hunk of salty, fatty meat.
There's a lot I love about Filipino crispy pata: the fact that it uses anunderappreciated cut, the hock; the crispy skin; the way it's always shared. I first ate it in winter at Kalye Manila in Panmure. I gnawed on the bone in a porky haze, slowly coming to the realisation of just how much I had eaten and proceeding to half-heartedly chew on a couple of cold lettuce leaves in an attempt to make amends. (It didn't work and it was back to the bone.)
Crispy pata, which is similar to the German Schweinshaxe, has a short history in the Philippines. It was "invented" in the 1950s by Rodolfo Ongpauco, whose mother owned the restaurant Barrio Fiesta in Caloocan, north of Manila, after he decided to deep fry discarded pork legs. It's now one of the most popular dishes in the Philippines and is, for better or worse, what Filipino food is most associated with, though there's a lot more to the cuisine than deep-fried pork (see next page).
"It should be served on the bone," Raymund Macaalay tells me. Raymund, who runs the food blog Ang Sarap (meaning "it's delicious" in Tagalog, the Philippines' national language), has eaten crispy pata many times and agreed to be my expert companion on some pata-tasting outings.At Manna Kitchen in Onehunga, the crispy pata comes with the bone, but neatly carved up into bite-sized pieces you can pick up with chopsticks. Here, the meat is a little dry (it should be juicy and tender), probably because it was cut up before it was deep-fried. It's also too fatty, so the collagen stubbornly sticks to the crispy skin in thick blocks. It's intensely salty but without much else by way of flavour, though I can't help joking that bad deep-fried pork still tastes better than a salad. Crispy pata comes with a spicy sweet-vinegar sauce — sawsawan — that does a lot of the heavy lifting here to cut through the fat. Raymund decisively pronounces it a five out of 10.
At Boracay Garden near the Viaduct, the crispy pata is an eight. I like it here; the room has a distinct Southeast-Asian-hotel vibe, as if I'm popping in for a quick meal on vacation. When you order crispy pata, though, the meal probably won't be quick: it's the signature dish and a big boy, maybe the biggest in Auckland, coming in atover 2kg. Anthony Bourdain said that eating pork skin was like eating candy, and the first thing I do is pop some beautiful candy in my mouth to give it the crunch test. Mamma mia! The skin is crispy without being tough (a difficult feat), and I want to just eat that alone, Peking-duck style, wrapped in flour pancakes. But there's also meat, with a bone so clean a Flintstone could wear it. This one looks as if it's been cut after being cooked, a vast difference which has resulted in juicier, more tender meat. (A shout-out to their sisig, a sizzling dish of pig's face and liver and vegetables, chopped and mixed up with an egg; it is truly delicious.)
Raymund recommended I go to Chikos in Lincoln Rd, Henderson for a pata that is slightly more fusion. It is excellent, in that lovely way that something is when it looks simple but reveals itself to be anything but. It's smaller than the other hocks, but the meat near the bone is so tender that the clouds part as I eat it. Fusion? Well, it's drizzled with tom yum sauce and a boring salad on the side. It doesn't need it — the garlic and pepper and bay leaves translate. It also comes with peanut sauce, lightly spiced with cumin. I like it, but think it should have been served with sawsawan instead, because vinegar works so well in counterbalancing the deep-friedness of it all.
Lastly, I'm at Nanam, joined for dinner by Laura and Aldrin, the couple behind Filipino food truck Hapunan. "Every restaurant in the Philippines has crispy pata. You'd just close down without it," Aldrin laughs. (Nanam's co-owner, Jess Granada, tells me it's been on the menu since the beginning.) Growing up, Aldrin ate crispy pata mostly during celebrations. In making it, spices are key, he says (onion, garlic, ginger and star anise among them), but the true trick is to boil the hock and let it rest overnight. Nanam's pata uses Sichuan peppercorns to make the flavours really pop. There's a satisfying marriage between the pata and the pandan rice that has fried garlic generously folded in. Their sawasawan has the zing of calamansi, the super-tart Philippine lime. In open-air hawker markets in Malaysia, we would drink tangy and refreshing preserved calamansi juice with sugar and sour plums. Here, the calamansi and chilli have a similar effect, working to give it an extra sour punch. "It's just so good," Aldrin says.
Some takeaways from my journey: you have to eat this dish with rice. And you have to bring friends to share it with. If you're by yourself, try ordering lechon kawali, which is deep-fried pork belly and also very good. And dipping sauces make all the difference, as you'll find out if you scroll down — chef Carlo includes four, plus a savoury side salad (ensaladang talong) of eggplant and tomatoes.
---
Carlo's Crispy Pata
Carlo Buenaventura is the chef behind The Cult Project, a pop-up cooking New Zealand cuisine filtered through a Filipino immigrant's lens, notably using the Southern Filipino cooking style sutukil — a portmanteau word from sugba (grilled), tuwa (stewed) and kilaw (marinated). It's not as well known as northern cuisine specialties such as crispy pata and sisig, but Carlo wants to showcase what else the Philippines has to offer.
When I asked Carlo to cook pata, his mind jumped to the salads and accompanying dips. He loves crispy pata, he reassured me, but said the ensaladang talong and dips are what makes his pata special; the smoky, vinegary eggplant with shaved slivers of salty duck egg is a flavour-punch, beautifully enlivening the deep-fried pork. My favourite dipping sauce is delightfully simple and effective shallots and red onions. I imagine this dish would be a dream addition to an outdoor meal under the darkening sky, or cooked for a special gathering as the night's centrepiece.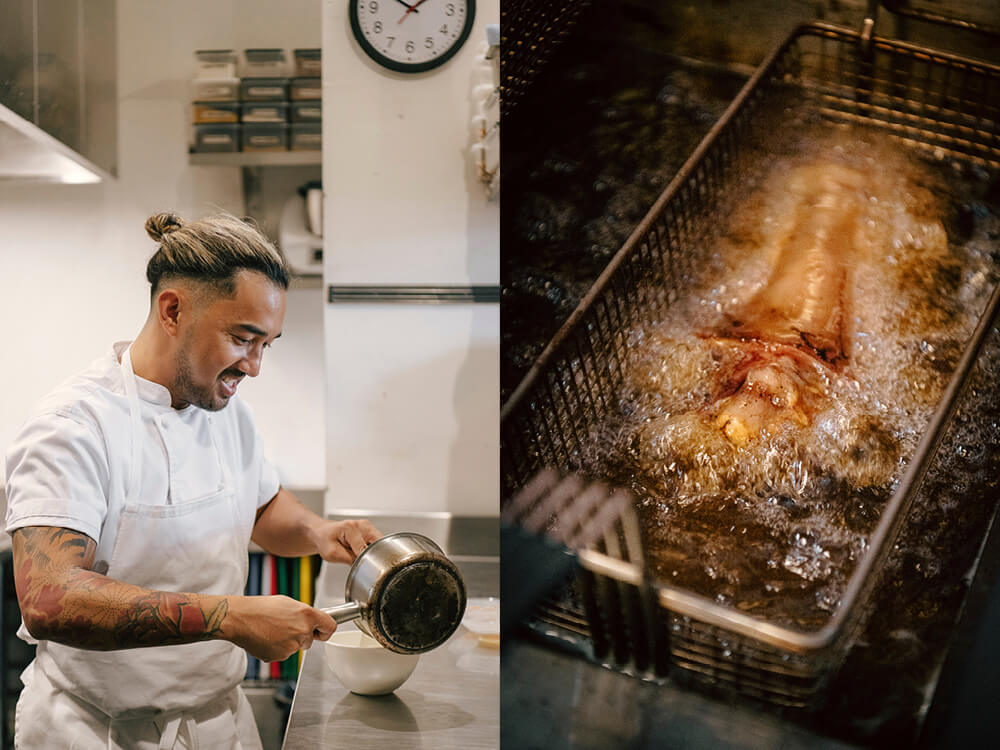 You'll need 1 pork hock, hind leg if possible
BRINE
2.5l water
240g sugar
100g kosher salt
5g whole black peppercorn
3 cloves garlic, crushed
2 bay leaves
Combine all ingredients in a pot; bring to a boil and take off the heat.
Allow the brine to cool then transfer into a container with the pork hock.
Leave in the fridge to brine for 12 hours or overnight.
STOCK/BRAISING LIQUID
3 stalks of lemongrass
4l water
2 white onions, peeled and quartered
3 cloves garlic, crushed
5g whole black peppercorns
2 bay leaves
100ml fish sauce
50g kosher salt
50g sugar
Remove the pork hock from the brine and discard the brine.
Puncture inside the pork meat with a knife. Repeat in different locations to create about three small holes, and stuff the punctured holes with the lemongrass.
Combine all ingredients into a pot and bring to a simmer but do not let it boil. Add more water as needed and season with salt to taste (but remember the pork has already been brined, so be careful to not over-season).
Simmer for 4-6 hours or until tender.
Remove pork from the braising liquid, let it air dry and allow it to fully cool down. Tip: Keep the stock — this can be a good base for soups, sauces or other braised recipes.
DEEP-FRY
2-3l rice bran oil
5l stock pot
Bring the oil to 180 degrees, or just until it starts to smoke. Rub the pork with a tiny bit of salt.
Carefully lower it into the pot and fry for 15 minutes, or until crispy, turning it using a pair of kitchen tongs if necessary. (We used a commercial deep fryer, so results might vary. For the best results, make sure the skin is dry.)
ENSALADANG TALONG
1 eggplant
2 steak tomatoes
2 salted duck eggs
30ml pinakurat vinegar
15ml patis/fish sauce
Grill (sugba) or boil (tuwa) the eggplant (the sugba method gives a nice smoky flavour), then peel it before letting it cool in the fridge. The tomatoes can be kept as is, or you can cut them in half and grill them as well.
Peel the shell of the salted duck eggs and cut into quarters. Kilaw/marinade the eggplant, tomato and salted egg with the pinakurat and patis dressing. Serve on the side.
DIPPING SAUCES
Lechon sauce
Soy sauce and shallot or red onion
Patis at suka (fish sauce, vinegar, and coconut or cane sugar)
Atchara
Tip: Check the Chinese/Filipino aisle at your local Asian supermarket for unfamiliar ingredients
This piece originally appeared in the March-April 2020 issue of Metro magazine with the headline 'More than skin deep'.