May 23, 2019 Food
Seemingly an innocuous and simple pastry, croissants have a past as layered as their butter-soaked innards. Croissant is the French name for the butter layered, yeast-leavened treat, but the true home of the croissant is a little further east.
According to a detailed account in the Smithsonian, they began as the Austrian 'kipferl' (meaning twist or crescent); a celebration of a defeat over the Turkish army at the siege of Istanbul in 1683. The thinking was something in the line of "We've won, so we're going to eat the partial-moon shaped symbol on your flag to insult you." Austrian-born Marie Antoinette then introduced croissants to France when she went there to become queen. The pastry's popularity fell flat like a soufflé in a breeze when they cut off her head… The pastry's popularity recovered again in 1838 with the arrival of, 92 rue de Richelieu, the first commercial Viennese bakery in Paris. In 2016, English supermarket Tesco's stopped selling the curved croissant, not because it was an ancient insult to Turkey, but because apparently, straight croissants are easier to spread jam on. Thus, through an origin much more political and violent than you would expect, the croissant (which also means crescent, by the way) was born.
I like to think of the almond croissant as the cool, well-dressed cousin of the classic yet plain croissant. And because I eat enough almond croissants to count my morning snack habits as research, I have put together an article chronicling my favourites. So for a brief, wonderful time, when anyone begged me to stop hoarding all the croissants, when they wailed "Please, Alex, why do you need so God damn many croissants, you're about 86% pastry at this point, for the love of all that is holy, Alex, STOP" I could say smugly and truthfully "It's for an article."
Despite the difficulty of my task (lol) and best efforts of those who would rather I ate an apple, I have persevered. All croissants are beautiful, but these ones are really something special.
Paris Mt Eden's Almond Croissant
This small, yet perfectly formed little piece of pastry is filled with a smooth and very liquid centre. Take care not to be so distracted by the ecstasy of eating a great croissant in the sun on a fine day that you spill the runny almond cream all over yourself like I did.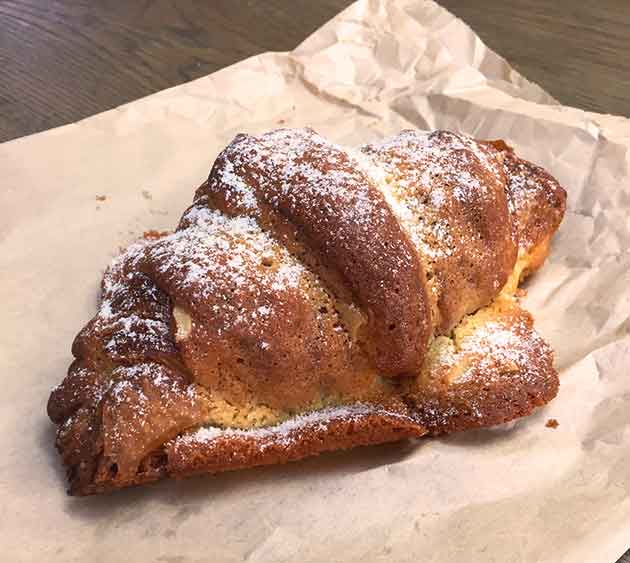 La Voie Française's Almond Croissant
The exterior is crusted with almondy goodness (as all good almond croissants are), crispy golden pastry and love. Inside, buttery layers envelop sweet, fragrant and slightly heady custard. Some kind of liquor has been used and it adds a piquant edge to the heavenly softness that is the almond croissant.
Baked at Devonport's Almond Croissant at Forage
The worst thing about most almond croissants is that they end before you're ready for them to. This croissant has found a way around this by being almost unreasonably large as well as being particularly buttery, heavy on the almond butter and right in the sweet spot of crunchy and pillowy. These croissants are actually baked in Devonport by a company called Baked in Devonport. Bless Forage for bringing them within stumbling distance of the city.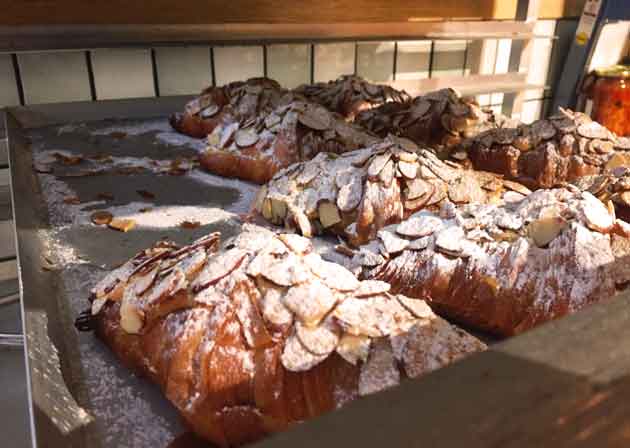 Fort Greene's Almond Croissant
I need to give a particular shout out to the visual beauty of these croissants (pictured above). Someone at Forte Green has taken particular care to make these croissants a post-card perfect replica of the image that comes to mind when you think "almond croissant". Even the icing sugar is evenly distributed, light and fluffy looking like new-fallen snow. I almost felt bad asking to have one of them removed from its beautiful fresh-from-the-oven family so that I could eat it. That sorrow fell away when I bit into the pastry and there was that multi-layered echoing crunch that reminds you why you became obsessed with pastry in the first place. Am I in love with this work of art rendered in pastry? Yes. Yes I am.
Il Forno's Almond Croissant at 1929 Espresso Bar (the Museum cafe)
I happened upon this croissant by chance, after getting (quite literally) lost in history at the museum and having to exit due to hangry-ness. This almost croissant was so enveloped in almond crust that it was nearly unrecognisable as a croissant. My guess is that the aim of this is to create a fun, archaeological style activation in line with the spirit of curiosity at the museum. Dig through the crust and find a classically moist and a custard tasting very strongly of almonds – as well it should. This one is made at Ponsonby's Il Forno.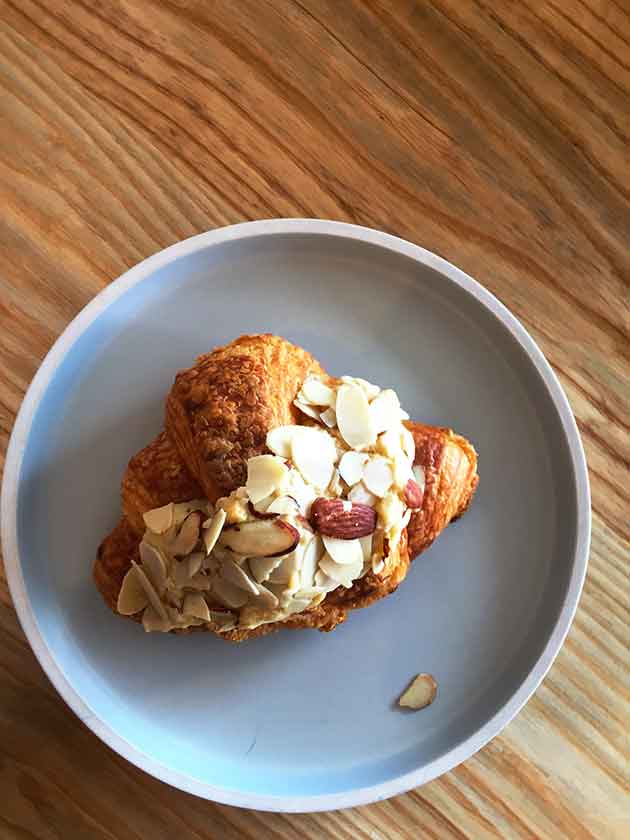 Mr T's Almond Croissant
This is a less crispy, firmer, doughier almond croissant with lots and lots of almond cream. There's a whisper of fruitiness in this one that keeps the pastry from being overwhelming (even if you've had several in one day) and goes nicely when washed down with tea or the orange-scented water Mr T's serve.
Special mentions:
Olaf's Almond Pan Au Chocolate
The almond pan au chocolate is not an almond croissant, but it does satisfyingly meet all your almond croissant needs. It is pan au chocolate shaped, and like a pan au chocolate, has two large veins of chocolate running through its centre. But it is topped with almonds and has a more-fragrant-than-sweet almond custard nestled in its centre. Who knew, that the delicate fragrances of chocolate and almond could make each other sing so harmoniously? (Apparently Olaf knew.)
Daily Bread 's Hazelnut Croissant
The Daily Bread, to my surprise( but not disappointment) do not make an almond croissant. They have gone off-piste with a delightful hazelnut alternative. Think Ferrero Rocher with less chocolate (none, for that matter), and more pastry. Crunchy to the point of crumbly (a textural win), you best eat this bad-boy over a plate.
Scratch Bakers' pistachio croissant
A noble innovation. All of the nutty, pastry goodness without the almond. Perfect for if you're not in the mood for almond, want something a bit different or if you actually just aren't a fan of almond. Though, if that's the case, you've come to the wrong article.