May 15, 2013 etc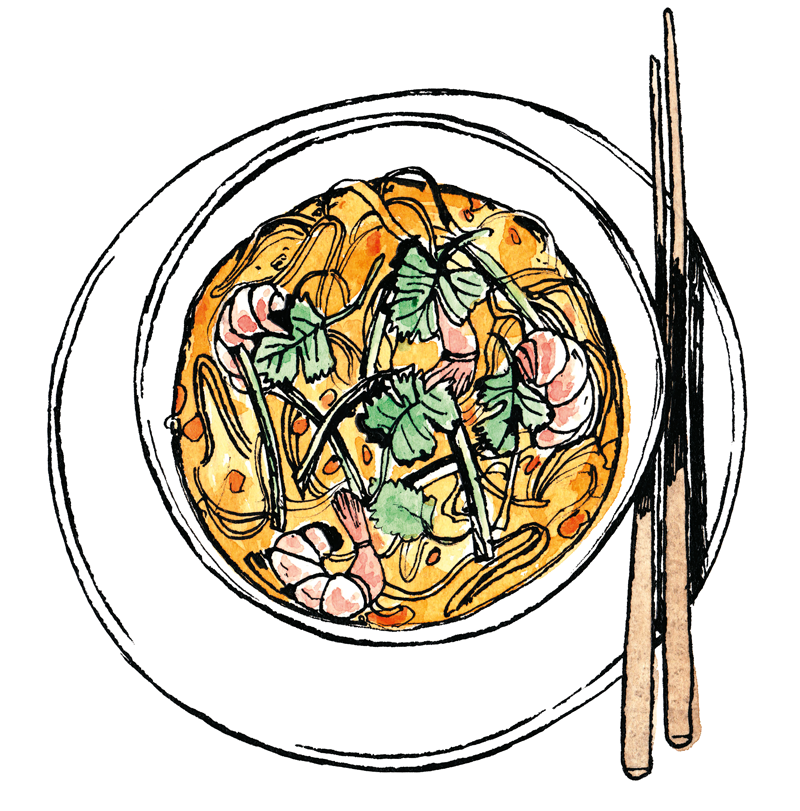 By Delaney Mes
What with a house move, a bout of summer flu and my usual inability to manage my time, I conducted a search for Auckland's best laksa over one single humid weekend. Luckily, it's a good dish to eat in the heat, and it's readily available on Malaysian menus all over town. Not so luckily, it's a spicy and creamy noodle soup invariably served in the one portion size: enormous.
My workmates told me that every time they indulge, they suffer laksa regret: too much liquid, too much heat. I prepared myself for the worst, but ended up overwhelmingly happy. With those sticky nights, I was headily transported to Asia, my face in a bowl of steaming fragrant goodness, over and over again.
I began with a solo lunch break at Albert St's Food Alley, where they still display a poster declaring it "Winner: best food court — Metro magazine", from 2002. Despite that, it is always busy and appears reasonably clean. I settled in for Malaysia Noodles' $9 vegetarian option, and was impressed with the amount of greenery atop this usually very yellow offering. A good amount of crunch in the vegetables was offset by a tasty enough soup, and I was pleased with the combination of thin vermicelli noodles and thick egg ones. It's traditional.
By 9pm, I was ordering takeaway laksa from KK Malaysian in Epsom. When I ordered the vegie option with tofu, the man at the end of the phone helpfully checked whether I minded chicken stock in the soup. The noodles came in a bowl covered in a mountain of freshly grated cucumber, and the soup in a different container. There was so much food I needed a mixing bowl at home to serve it in. The vegetables included chunks of cabbage seeping red, a colour and flavour that could only have come from some long, slow brewing.
I thought I would be lucky to make it halfway through, and yet I couldn't stop: I'd loved Food Alley's laksa but it paled in comparison. KK's featured a depth of flavour and a perfect balance between the decent spice kick and a coconut cut- through that wasn't too creamy. In its harmonious balance of sweet, salty and sour, this bowl of noodles was close to perfection. Two helpings in, I showed no sign of faltering. I persevered.
When I ventured out to Ponsonby Rd the next day, I got much more than a bowl of soup at Navas. I'd read rave reviews of their beef rendang, but stayed dedicated to the cause with a takeaway laksa of mixed seafood and chicken. Chef and owner Kris was dubious about a solo woman eating laksa, so I explained myself and he proceeded to lecture me on the intricacies of the dish, according to him. He explained there are many types of laksa in Malaysia, and they vary according to whether the local inhabitants are Malay, Chinese or Indian.
He also said the stock was the crucial element, and that one must be wary of vendors who use stock cubes and hot water. He firmly believes that to be a Malaysian chef you have to be Malaysian, and he had plenty to say about the number of Thais running food-court laksa joints around town. Kris makes laksa the Indian-Malay way: it had Indian flavours, and to me seemed more like a curry with noodles than a soup. He was generous with his ingredients though; the full-headed, black-eyed prawns glaring and flavoursome.
Then I found greatness in Newmarket. The $14 offering at Selera was the epitome of what I love about laksa: a large, hot, spicy but creamy bowl of noodle soup, with lots of vegetables, garnished with half a boiled egg. I can usually give or take the chicken or the seafood, but Selera's prawns were perfect, and there were calamari and fish balls, nowhere near overcooked, making the soup perfectly flavoursome without being fishy. My chopstick-to-spoon coordination was in fine form, and even an ambitious clothing choice of a white top survived unblemished.
Very satisfied, I knew my search could stop. This was a great cheap meal I would be going back for over and over again. Even after a hard day of laksa for lunch and laksa for dinner, laksa regret was nowhere in sight.
My Laksa
A big thanks to Nadia Lim, who has Malaysian heritage, for help with this recipe.
For the Laksa paste:
3 stalks lemongrass, peeled and chopped
2 red chillies, chopped and some seeds removed
1 tsp turmeric
1 tsp belachan (fermented shrimp paste — optional)
3 shallots, peeled and chopped
3 garlic cloves, peeled
3cm piece fresh ginger, peeled
1 tsp ground coriander
1 kaffir lime leaf, chopped (optional)
4 tbsp peanut oil
Place all ingredients except oil in a food processor and blend well. Slowly add oil, blending to a smooth paste. Fry the paste over a high heat until fragrant. This is crucial for the depth of flavour.
Add 1 cup each of stock (fish or chicken) and coconut milk to cooked laksa paste. Add a little palm sugar, fish sauce and lime juice. Taste and adjust to get the balance you want of sweet, salty and sour flavours.
Place noodles in a sieve and dunk into a separate pot of boiling water, drain and place in bowls, before ladling over some soup. This avoids the noodles becoming gluggy in the stock.
Add prawns and slices of chicken, or tofu and some vegetables (cabbage, broccoli, carrot) to the soup base. Leave meat in boiling stock for only 2-3 minutes.
Assemble, garnish with mung bean sprouts, cucumber, coriander and Vietnamese mint leaves if you like. A sprinkling of crispy fried shallots (available in Asian stores) is also a winner.
Delaney Mes blogs at heartbreakpie.com.