Jan 29, 2014 etc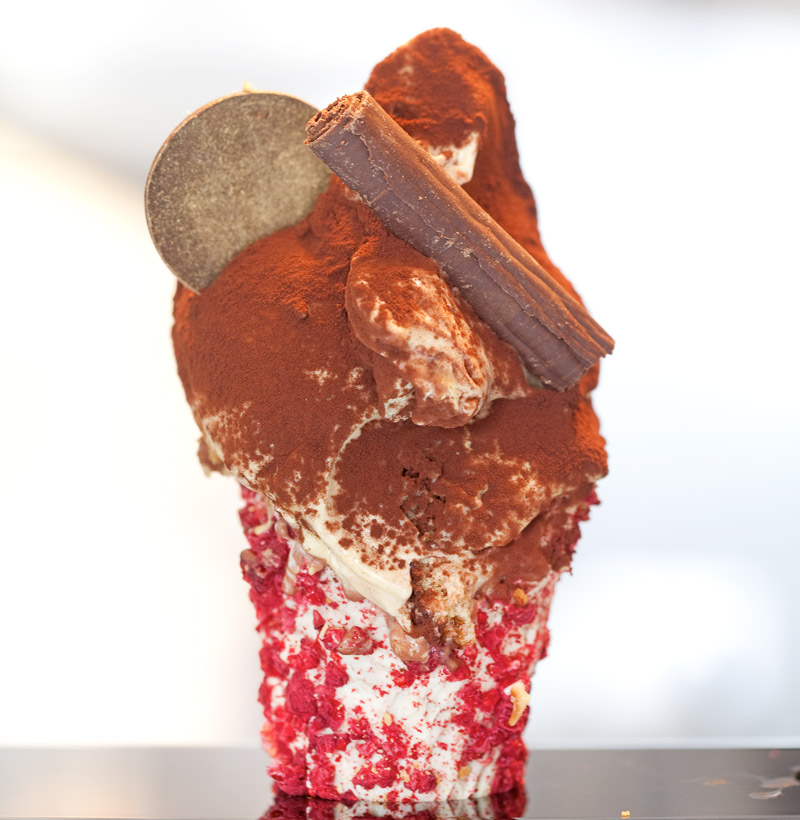 Giapo
By Delaney Mes. Photo by Ken Downie.
There's ice cream and there's ice cream. There's great stuff at the supermarket, but there are also many places dedicated to this summer dream dessert. And then there's Giapo, out there in a league of his own. But more on him shortly.
The ice-cream search begins in Mangere. Known less for its food than for its airport, those in the know appreciate that it's all about fresh strawberry ice cream at the strawberry farm when summer rolls around. It boasts enormous queues in the lead-up to Christmas for those fruit-filled soft serves twirled into the cone before your very eyes. Glorious.
Slightly further north, at one of the busiest roundabouts in the country, sits an old-school ice-cream parlour that has been there forever (well, since the 70s). Ollie's in Royal Oak is an institution, one that fuels those American teenage after-school ice-cream-date dreams, and is complete with arcade games and every flavour of Tip Top you can think of. Forget your organic blueberry: think goldrush, rainbow, pineapple lump, and one that's worth a re-taste every summer — goody goody gum drops, the gift that keeps on giving. Double scoops are not recommended after going home for dinner and eating your mum's lasagne. My sister and I learned the hard way.
If it's the packaged variety you crave, Nice Cream is the way to go. From Tommy and James, the lads who brought us Nice Blocks, their fair-trade, dairy-free concoctions are creamy, dreamy tubs of greatness. Mango is my favourite, made with coconut — an immediate escape to the tropics.
Also ethically inclined, new kid on the blocks Joy Ice Cream are dedicated to turning promising unemployed folk into entrepreneurs, through the medium of ice cream. Their product – including salted caramel, white chocolate and macadamia, and a quite brilliant rum and coconut – is made in micro factories that fit on the back of a truck, and sold at "pods" around central Auckland. Find them at the ANZ Centre by St Patrick's Square, at Waitemata Plaza and outside the Downtown Shopping Centre on Queen St.
Travelling further north and our search leads us to the good stuff. Gelato. It's Italian for ice cream, although the difference between them is constantly under debate. Takapuna Beach Cafe is notable for many things but, if you're really out to impress, get a double scoop of salted caramel and stroll along the beach. If that's not a dreamy summer date I just don't know what is.
The salted caramel from Milse in Britomart is also gorgeous, and so is their jelly tip.
Flavour choices are a very personal thing. Sometimes I'm all about fruit, other times I just can't go past chocolate. At Mövenpick stores, dotted around the city, a luscious Bounty Bar-inspired taste can be had with a scoop of coconut and a scoop of chocolate. At Kapiti, in the CBD, I struggle to get past gingernut. And if it's just a general ice-cream place, you could throw all good sense out the window like my friend Brendon and go for a scoop of mint chocolate chip topped with a scoop of lemon sorbet. Who am I to judge?
If we're talking about ice cream in Auckland, though, we have to talk about Giapo. Gianpaolo Grazioli is a gelato genius who has been serving the best of the best on Queen St for about six years.
He has 14 full-time staff (more than many restaurants) and creates some of the most interesting pâtissière delights you'll see in the country, simply to adorn his handmade ice-cream creations. Gianpaolo's pastry kitchen produces macarons, ganache-filled profiteroles, delicate meringue and other intricate masterpieces as decoration.
His ingredients are all natural, locally sourced, and he sells out every night.
A scientist as well as a creative, he cares about ice cream more than anyone you'll meet, and the queues out the door of this shoebox-sized shop are daily testament to his commitment.
And for the cone — which can be chocolate dipped and rolled in freeze-dried raspberries, should you desire it — you could opt for straciatella with cardamom and chocolate-dipped eggplant, lemon meringue pie or chocolate Laphroig. There are also the usual suspects, all reinvented with creative energy and unprecedented passion.
Gianpaolo told me that working under a Michelin-starred chef in Italy taught him the importance of doing one thing very well. He's nailed it. Incredible desserts. The best.
Summer's here. Get eating.
My ice cream
With such experts out there, my ice cream is a simple and light recipe, especially good with fresh berries. Thanks to my Aunt Robyn for sharing it.
Limoncello Ice Cream
4 large egg yolks
250g caster sugar
600ml cream
1/3 cup limoncello
Beat egg yolks with half the sugar until thick and pale. Beat the cream with the remaining sugar until thick, but do not over- beat. Fold one into the other and stir in the limoncello. Freeze. Makes between 1.5 and 2 litres.
Delaney Mes blogs at heartbreakpie.com.