Mar 13, 2014 etc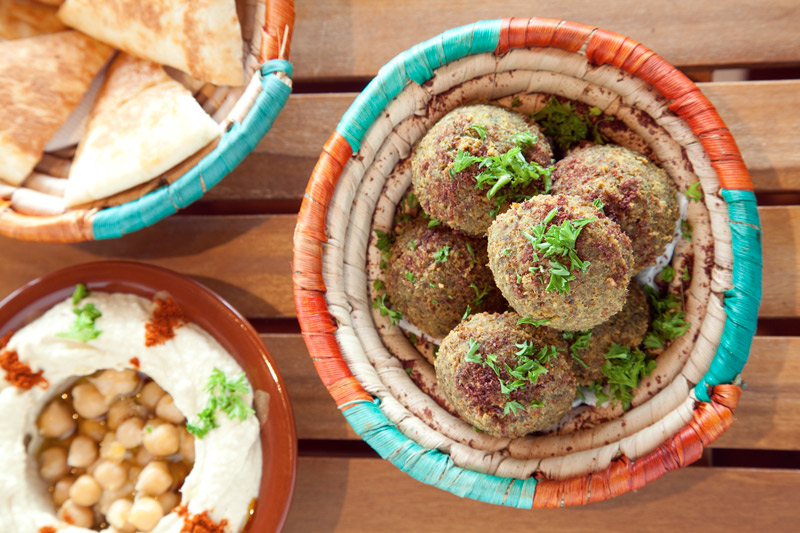 Falafels at Petra Shawarma
By Delaney Mes.
I used to eat them only around 2am, drenched in the triple-sauce super-mix of satay, hot chilli and the absolutely necessary garlic yoghurt. There was a point where I'd go home with a kebab more often than I'd go home with, err, anyone else. I'd almost always wake up with parsley in my teeth. I had many enlightened conversations around the kitchen bench with my then-flatmate, both of us eating a falafel as though our lives, or at least our nights, depended on it.
I love the things, you see. At their best, falafels are crisp, slightly nutty, spiced balls of Middle Eastern goodness. Done badly, they're a soggy, sauce-drenched mess.
We're lucky in Auckland that falafels, whether in kebab form or not, are no longer confined to the realms of the intoxicated early hours. They star on menus, and there are some truly excellent options around town. This search was fun.
Lunch at Ima " href="/top-50-restaurants/top-50-restaurants-2013/ima-2/">Ima was first, for a vegan meal served in a house-made pita pocket. The hummus, the fresh, tomato-filled salad, and the small, bright-green, beautifully cooked falafels set a high bar from the beginning. A small salsa verde of sorts sits on the side and, as usual at Ima, it's worth a visit for Yael Shochat's ever-welcoming friendly face, not to mention the complimentary sparkling water.
From an Israeli restaurant on Fort St to a Jordanian takeaway in Kingsland: Petra Shawarma was next. Here we were met with something equally exquisite, and also very green, but, instead of sitting in a pita, these falafels were encased in a wrap which was then toasted, allowing its flaky crisp exterior to take on a textural change worth celebrating.
A full smack of sesame in the homemade hummus came through nice and strong. With all the traditional salad accompaniments, I was at the point of groaning. The falafel shawarma was a delight.
An inner-city lunch stop took us to the Middle East Cafe, still holding pride of place on Wellesley St, with those delightfully kitschy camels in every form adorning the walls, and still serving great food. These falafels are also served in a pita, and also with a fresh tomato salad and plenty of parsley.
We drizzled condiments over the food, and contemplated whether a falafel pita was an appropriate first-date option or not. Through very drippy fingers, and with slightly garlic breath, we decided perhaps not.
Notable falafels of the tinfoil-wrapped kebab variety were sampled at Fatima's and Betsia. The former, with outlets in both Takapuna and Ponsonby, is also a great option at many summer festivals. The addition of crisp purple cabbage and the slight toasting of the wrap were highlights. The latter, on Symonds St, was better than expected: the slightly nutty falafels were more brown than green, and had a very crisp exterior. I'm a big fan of that. Plus, there's fresh mint in the salad.
Also worth a visit — especially if you've spent a late-summer afternoon at one of the beaches in the eastern bays and are looking for a quick dinner to take home — is Tulay's Kitchen, in an unassuming block of shops in Orakei. It's a full family affair, and authentically Turkish. The falafel meal had delicious accompanying salads, including plenty of crisp iceberg lettuce, and great hummus — a crucial element.
The trick to making great falafels, apparently, is to soak your chickpeas overnight, rather than using tinned ones or (a rumour I heard about some lesser kebab joints) just chickpea flour. The best ingredients, a delicate mix of spices, and a small-ish ball to ensure that perfect crisp-soft ratio should ensure a success at home.
But really, with so many great options around, why would you bother?
My felafel
2 cups dry chickpeas
1 small onion, roughly chopped
5 cloves garlic
½ cup chopped fresh parsley
1-2 tbsp flour
2 tsp salt
2 tsp cumin
1 tsp ground coriander
¼ tsp cardamom
½ tsp harissa paste
Freshly cracked pepper
Vegetable oil for frying
Pour the chickpeas into a large bowl and cover in cold water, just under double the   level of the chickpeas. Soak overnight.
In a food processor, add onion, garlic and parsley, and pulse slightly. Add the flour, salt, spices, harissa paste and a generous crack of pepper. Drain and rinse the chickpeas, and add to the food processor. Pulse to form a rough mixture.
Put mixture in a bowl, stir to even it up, cover with plastic wrap and refrigerate for an hour. Remove from fridge and roll into balls.
Fill a deep-sided frying pan with vegetable oil, about 5cm deep. Heat slowly on medium-high. Use a slotted spoon to lower the balls into the hot oil. Cook for 2-3 minutes each side until they're golden brown. Cook in batches and drain on paper towels.
Eat hot with hummus, tahini, a pita pocket and your favourite Middle Eastern salads. Makes about 30.
Delaney Mes blogs at heartbreakpie.com.
Photo by Ken Downie.