Jul 16, 2013 etc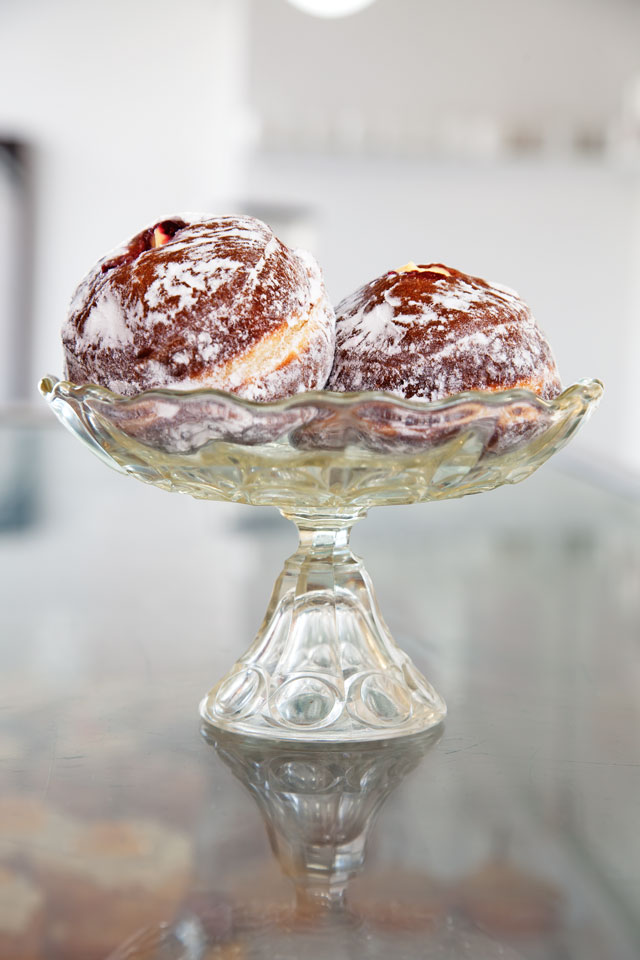 Heaven with sugar and cream. By Delaney Mes.
Not so long ago you would have been hard pressed to find a doughnut in any cafe in Auckland. They belonged in bakeries and were usually long and filled with cream and jam, costing about a dollar. Now, doughnuts are the new cupcakes, which were the new scones, which were the new muffins, and they take pride of place on cafe counters everywhere. Whether this is any help in tackling the obesity epidemic is a topic for a different kind of column so, putting fat content aside, I took this search very seriously and ate as many doughnuts as I could.
My search began on a sunny morning in Pt Chevalier. They hold a bake sale at the Serbian Church on the first Saturday of each month, where immaculately presented Serbian ladies of all ages serve traditional baked goods. The doughnuts are legendary: big, bready, almost savoury buns, cheerily glistening with a chocolate glaze (my friend suspected chocolate mixed with oil), fresh from the fryer and an absolute steal at $2.
Chocolate at 9am might have set me up for quite the afternoon sugar crash, but we persevered. Next, Avondale, and Salvation Kitchen, which is clearly inspired by the dough­nuts of my childhood. My friend said these cream-filled numbers reminded him of being nine years old and coming home from soccer practice, although these were round rather than long, and cake-like rather than yeasty. They were very good.
Then to Foxtrot Parlour for an injection session. A bit of a gag, and something I hear was made famous in Napier: a round, cinnamon-covered doughnut is served with a giant antique syringe, containing your choice of filling. I went with berry and felt it needed cream; my friend's salted caramel remind­ed me of butterscotch sauce, which was fine. With or without the sauce-filled contraption, these cinnamon sugar-coated doughnuts were simply great.
A lunchtime in need of moderation: salad followed by a sweet treat for balance meant a visit to Ripe Deli on Richmond Rd. Lo and behold, a sweet cream-and-berry-filled bun took pride of place on the loaded counter. I oohed and aahed over the sweet vanilla cream and the fresh boysenberry jammy-sauce, all encased in freshly baked yeasty goodness. The day before, Ripe's daily doughnut had been adorned with chocolate and caramel and, a few days later, I discovered them serving banoffee doughnuts. The fresh banana and cream with a caramel topping was totally worth the sticky mess.
Suddenly doughnuts were everywhere. Baby ones, served with apples for dessert at Tyler St Garage. Spanish ones — churros — served with chocolate dipping sauce and a thick caramel, at the Glenfield night market. Beignets at Elske, which were simply large and sugar coated.
Finally we turned to the pinnacle of modern, classy baked goods, in New­market. Little and Friday didn't even seem to be serving cupcakes anymore, now that doughnuts have become their signature sweet treat. Cutting through the doughy exterior let loose an eruption of crème diplomat: a mixture of crème pâtissière (a kind of custard) and softly whipped cream. This, combined with a raspberry concoction of not-quite-a-jam, not-quite-a-coulis, made for a perfect marriage. Encrusted with icing sugar, they were the doughnuts that dreams are made of.
The coffee was excellent, the plates delightfully vintage, the experience at a heavenly height matched only by the church bake sale. After this sugar high came the inevitable sugar crash — so what else could I do but take an afternoon nap and give myself over to sweet doughnut-filled dreams?
My Doughnuts
Actually, I can't really compete with Little and Friday, so I've gone with a simplified cream-and-jam version.
1 tbsp dried yeast
1 cup lukewarm milk
2 cups flour
1 tsp salt
60g unsalted butter
1 egg
1 tbsp sugar
vegetable oil for frying
250ml cream
1 tsp good-quality vanilla extract, or
vanilla paste
¾ cup icing sugar
Good-quality jam
Dissolve the yeast in the milk and leave for about 5 minutes to ferment. Add the egg and mix well in a large bowl. Add flour, salt and sugar and mix well again. Once dough has formed, mix well and then add softened butter. Turn onto a floured surface and knead well until combined.
Place in an oiled bowl and leave to prove until doubled in size (approx 1 hour). Turn dough onto floured surface and knead gently before forming into balls.
Heat oil (approximately 5cm deep) in a medium saucepan to 180ºC. Carefully drop dough balls into the oil using a slotted spoon, turning them to ensure both sides cook through (approx 1 minute each side).
Place on a plate covered in a paper towel. Whip the cream with the vanilla and the sugar until firm. Once cooled, fill with cream and a dollop of jam. Sprinkle with icing sugar.
Delaney Mes blogs at heartbreakpie.com.