Aug 5, 2013 etc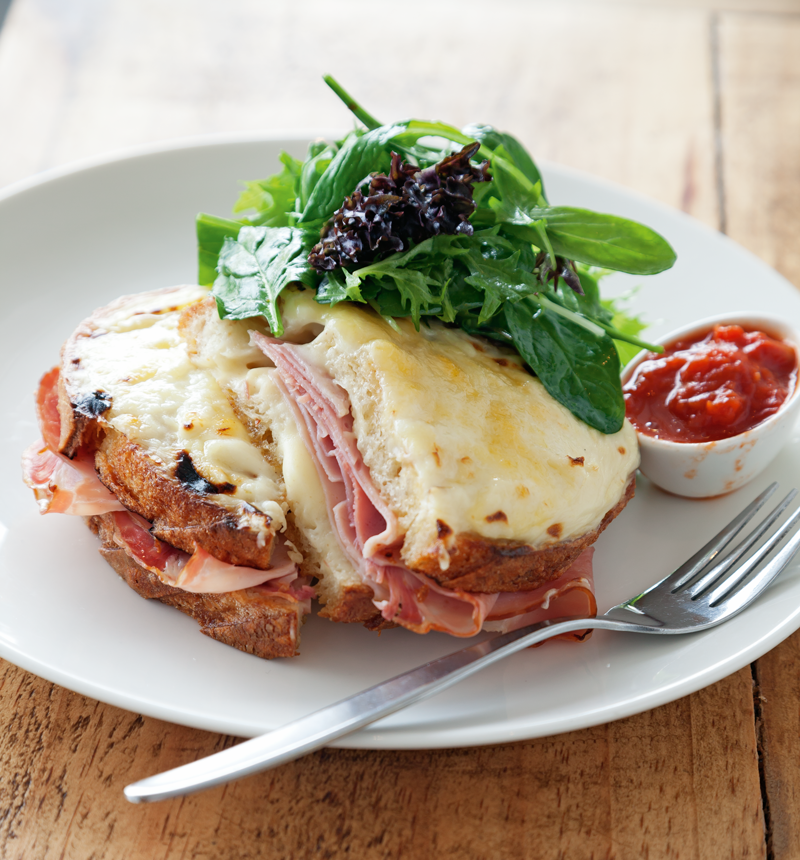 Croque-monsieur at Petit Bocal.
Bread. Cheese. Ham. How do the French make their toasties taste so damn good?
By Delaney Mes.
As soon as the first mouthful of Petit Bocal's croque-monsieur went into my mouth, I was ready to stop my search. It surprised me how good it was; enough to elicit a groan, which led to an alarming look from my friend. He understood once he tucked in. The béchamel sauce, the salty gruyère and the top-quality ham, all encased in fresh sourdough, meant this glorified toasted sandwich was the perfect French-inspired lunch.
I love a good ham-and-cheese toastie, and the croque-monsieur is simply a fancypants French version, with the luscious and calorific addition of béchamel sauce. The croque-madame adds an egg, and lucky for Auckland it appears no one has bothered with the many versions lurking on the internet: croque-Hawaiian with the addition of pineapple, for example. This sandwich takes toasted sandwiches to great new heights. Most of the time.
Despite being perfectly content with lunch at the aforementioned new cafe and wine bar on Sandringham Rd, I didn't stop there. I regretted that decision, though, after a solo brunch at Zus and Zo. This highly regarded — and often very good — cafe serves its croque as a madame. It is not, as is traditional, served with ham, but prosciutto, and is set among two slabs of brioche.
I usually adore brioche, but as the chunky bread in this sandwich, it was overwhelmingly sweet, without enough texture. It didn't help that it was served with some pretty mediocre mesclun and shavings of carrot. But the coffee was good and the service, as always, was friendly.
Lunch with a friend who heartily approved of the sandwich search led us to Britomart. The Store serves its croque also as a madame with brioche and prosciutto, and it was here I decided the monsieur was more for me. The fried egg was scarily gelatinous and even on a non-hungover stomach it left me pretty queasy. The mustard on the side was an excellent addition, though, and my friend loved it: the barely set egg, the prosciutto and the soft sweet bread. For exactly the same reasons as Zus and Zo, my heart was not won.
I had a béchamel and cheese overload at Voila, a cafe that gave me the feeling perhaps it had once been great but had somehow lost some of its charm. Although it's a French ("and Mediterranean") cafe, grainy brown bread rather than the traditional white held this very cheesy sandwich together. Grains offered a welcome reprieve from the inescapable cheesiness, and at 2am, after a night out, this would have been the dream. In the harsh light of day, though, the ham, which seemed cheap and processed, really let it down.
I longed to go back to Petit Bocal, and wondered again whether it was worth persevering elsewhere. Turned out it was. An opportunity arose for lunch in Mt Albert. I nervously trekked out to the suburbs, and yet was very pleasantly surprised in more ways than one over lunch at Pyrénées.
My eager eye couldn't initially spot a croque-monsieur among the custardy desserts and pâtés and cheeses gracing the cabinet. I was informed by the very French waiter that they didn't do croque-monsieur. My heart sank before he pointed out they instead do a croque croissant. It was like all my dreams had come true. If there is one thing I love more than most things in the world, it's croissants. And here I was, all in the interests of research, getting charmed off my feet by a ham and cheese and béchamel-filled one, with plenty of buttery French flakes (probably all over my face) over Friday lunch in Mt Albert.
The coffees (although it could have been the conversation) were good enough to entice us into round two, and I happily sat there in a pastry-filled bubble, again satisfied that greatness had been found.
Trust the French to take a simple sandwich and make it better, in more ways than one. They are really onto something.
My Croque-Monsieur
4 slices of good-quality sourdough
Large knob of butter
1 tbsp flour
¾ cup milk
1 cup gruyère cheese, grated
4 slices good-quality ham off the bone, not too thick
A small grating of parmesan
Dijon mustard, to serve
Preheat oven to 200ºC.
Make béchamel by heating the knob of butter with the flour on a medium heat, mixing together with a wooden spoon. Add the milk, and whisk well until a thick sauce has formed. Season with salt and pepper and set aside.
Grill the bread on one side until lightly toasted. Remove from oven.
On the untoasted side of the bread, place cheese and ham. Add the other slice of bread, toasted side up, and slather with béchamel.
Grate over a little parmesan and a crack of pepper. Return to oven until sauce has bubbled and cheese has melted.
Serve with mustard.
Delaney Mes blogs at heartbreakpie.com.