Aug 16, 2016 etc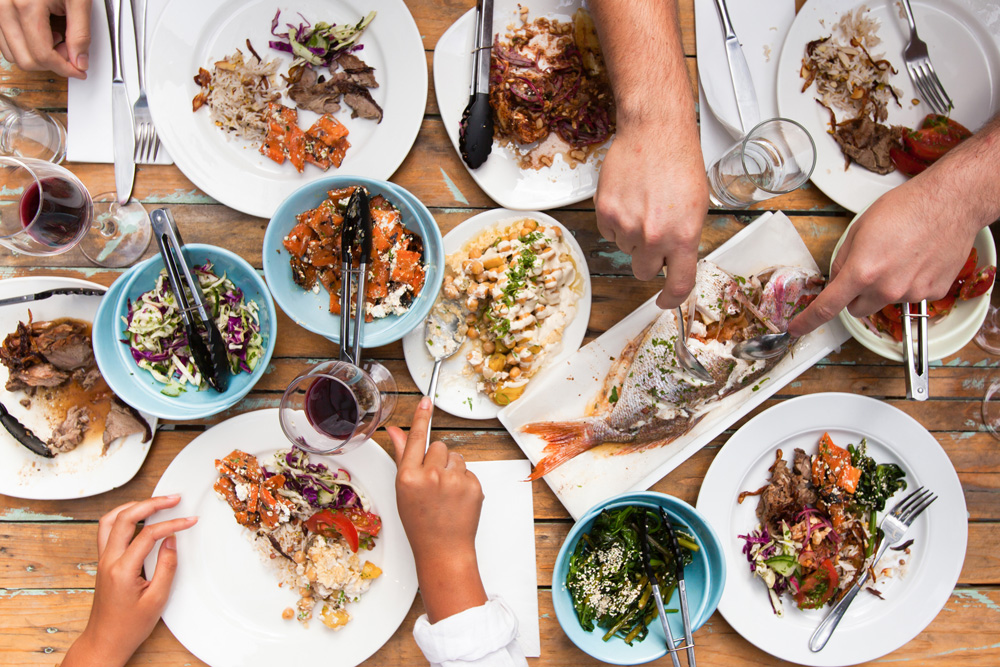 Words by Kate Richards, photo by Ken Downie.
If you're friends with the right people, potlucks can be one of the greatest dining experiences.
I love potlucks for two reasons. Firstly they're a chance to overindulge, which is great for people like me who are a little bit greedy and a little bit jiggly around the edges. Secondly they're very telling; through the humble potluck you'll discover what kind of people your friends really are. You will find out who you can count on in a crisis, say, some sort of natural disaster where everyone needs to pitch in and look after each other, and who would leave you for dead. I'm possibly being dramatic, but you get the idea.
Chances are you'll have two types of friends. There are the Dions* of this world, who dedicate two days to the potluck. Love and sweat and tears run into their food, and they arrive proudly brandishing a sous vide leg of lamb (NBD), gloriously cooked – a shining beacon of potluck dedication. Then there are the others, we won't name them here because it would be too mean, but they typically sleep until 5pm and turn up with a nonchalant shrug, a bag of Bluebird salt and vinegar chips and a pot of non name brand, premade onion dip. This really happened at a potluck I attended. Seriously, you can't make that kind of thing up.
Anyway.
I recently read an article on Jezebel, eloquently titled 'potlucks suck', where the author presented paragraph after dismal paragraph on why potluck dinners are a bit shit, and arguably they can be, but let us for a minute take a positive look at the potluck dinner and highlight some of its merits.
A potluck is for everyone. That is to say, it's an inclusive way to share a meal. No one feels awkward about having to throw on their glad rags and head out to an overpriced restaurant. No one 'can't afford' to come to a potluck. There are no fights about who spent $4 more than you, or who ate the most kumara chips (though there may be passive aggressive comments), and in this modern world there will likely be vegetarian or vegan options. Whatever you bring should be enough though, because that's the point – to simply share a meal. Bring booze if you're too cheap for anything else, then at least everyone will be drunk and they won't remember that's all you brought.
You're likely to leave with a full stomach. I'm the master of never leaving a party hungry. In fact, when I was about six, I ate so many prawns dredged in Marie Rose sauce at my parent's friend's house that I was sick on their brand new white carpet. I can tell you from experience that the key is to stick by the spread, engaging in casual chit chat while you stuff food into your mouth. Let the people come to you, eat until you're full to burst, take some leftovers for the ride home and when you get in, settle into a satisfying food coma.
There'll be wine, lots of wine! Granted, there's usually lots of wine when you go out to eat too, but in this setting it'll also be cheap wine, and when you hit the point of no return you'll be able to sleep on your friend's floor for the night, instead of forking out for an expensive taxi. The other upside of a boozy dinner is that if your contribution was rubbish, everyone will probably forget. People don't lose friends at a potluck.
All your friends will be there. Probably the best part of all is that a potluck is a social event. Eating communally is oh so fashionable, and you too can be part of the action. Sit around, get drunk, and eat until you're sick on your friend's white carpet – everyone wins! Sort of.
Long live the potluck, I say. The tastiest social event the world knows.
5 ideas for things to bring to a potluck:
A fancy cheese board. It'll only need two cheeses, three at most, and a couple of bunches of grapes to look semi impressive. If grapes are out of season, honey and walnuts are a fine substitute.

Host a pizza party. Just whip up a batch of dough and have everyone bring toppings. Very lazy, very easy, very delicious. I do not, however, condone buying pre-made sauce. It's simple to make your own, and far more delicious.

Oysters, so fancy. Just make sure you invite someone who knows how to shuck them.

A pitcher of Aperol Spritz. Have a liquid lunch!

Metro food writer Delaney Mes – she'll do the cooking for you. Problem solved.
*names have not been changed. Invite this dude to your next potluck. Seriously.