Sep 18, 2012 etc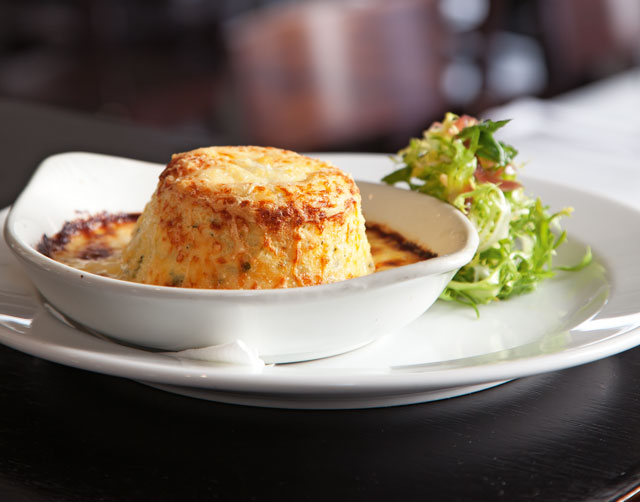 For our September 2011 issue, food writers Simon Wilson, Jesse Mulligan, Connie Clarkson, Rebecca Jones and Simon Farrell-Green picked some of their favourite Auckland eats. Here's Metro editor Simon Wilson's list.
Why is the Rugby World Cup being held in the rain and wind of spring? Because it's the whitebait season. Avoid the plate-sized fritters served in some outlets: they're usually a gimmick, with not enough fish. Much better are the "whitebait burgers", served with white bread at Murder Burger. My favourite in all of Auckland are the sautéed tangles, not fritters at all, at Soul. Murder Burger, 128a Ponsonby Rd, Ponsonby. Ph 550-5500. murderburger.co.nz; Soul Bar & Bistro, Viaduct Harbour, City. Ph 356-7249. soulbar.co.nz
The twice-baked goats' cheese soufflé at The Engine Room thrums with the tangy richness of the cheese and sits in a sauce of more of the same, and it should be just a bit too much. But no — it's light, complex and incredibly moreish. The perfect entrée. 115 Queen St, Northcote. Ph 480-9502.
Need a bite before a show? The Middle East Cafe's chawarma, still under $10, a bun filled with tender fragrant lamb and tabbouleh that you spice up with as much chilli sauce as you like, has been brilliant for over three decades. It still is. 23 Wellesley St, City. Ph 379-4843.

Roasts are back in fashion and the best place to enjoy one is Ella on a Sunday night. It's a prix fixe meal, served in a smartly cosy environment with an excellent wine list and such friendly service. Just great for the end/start of the week. 128 Ponsonby Rd. Ph 378-7979.
The city's premier offal feast is chopped liver at Dizengoff. You get a sharply tasty mountain, served on crunchy toast, and spend the next hour frightening the vegetarians. Bliss. 256 Ponsonby Rd, Ponsonby. Ph 360-0108.
Not that I hate vegetables, especially in the asparagus season. I used to snap, but it's criminal to waste so much. Now I peel the woody ends, blanch and for preference serve with a soft-poached egg and some slivers of good hard cheese. The extra mature gouda from Albert Alferink's shop, Mercer Cheese, is probably impossible to beat this side of kingdom come. Roose Rd, Mercer. Ph (09) 232-6778.
The best curry I've had for ages is the fish curry at Sri Pinang. A large bowl, stuffed with fish and vegetables, with that wonderful quality of a really good hot curry:  it makes you want to just keep eating. Don't  forget the gorgeously light and flaky roti, either. 356 Karangahape Rd. Ph 358-3886.
Pyrénées bake many lovely chocolatey things, but their most gluttonous treat is a croque croissant: soft cheese oozing every which way from perfectly crisp and buttery pastry. 371 Remuera Rd, Remuera. Ph 520-2900; 756 New North Rd, Mt Albert. Ph 846-8561. pyreneesdeli.co.nz
If Auckland has a maestro — a chef acknowledged by the others and critics alike — it is Simon Wright at The French Cafe. His hero dish is roast duckling, served with Asian vegetables, a kumara whip (mash is a profoundly inadequate word) and mandarin sauce. It's a classic dish, and this is the real deal. 210 Symonds St, Newton. Ph 377-1911.