Oct 30, 2015 etc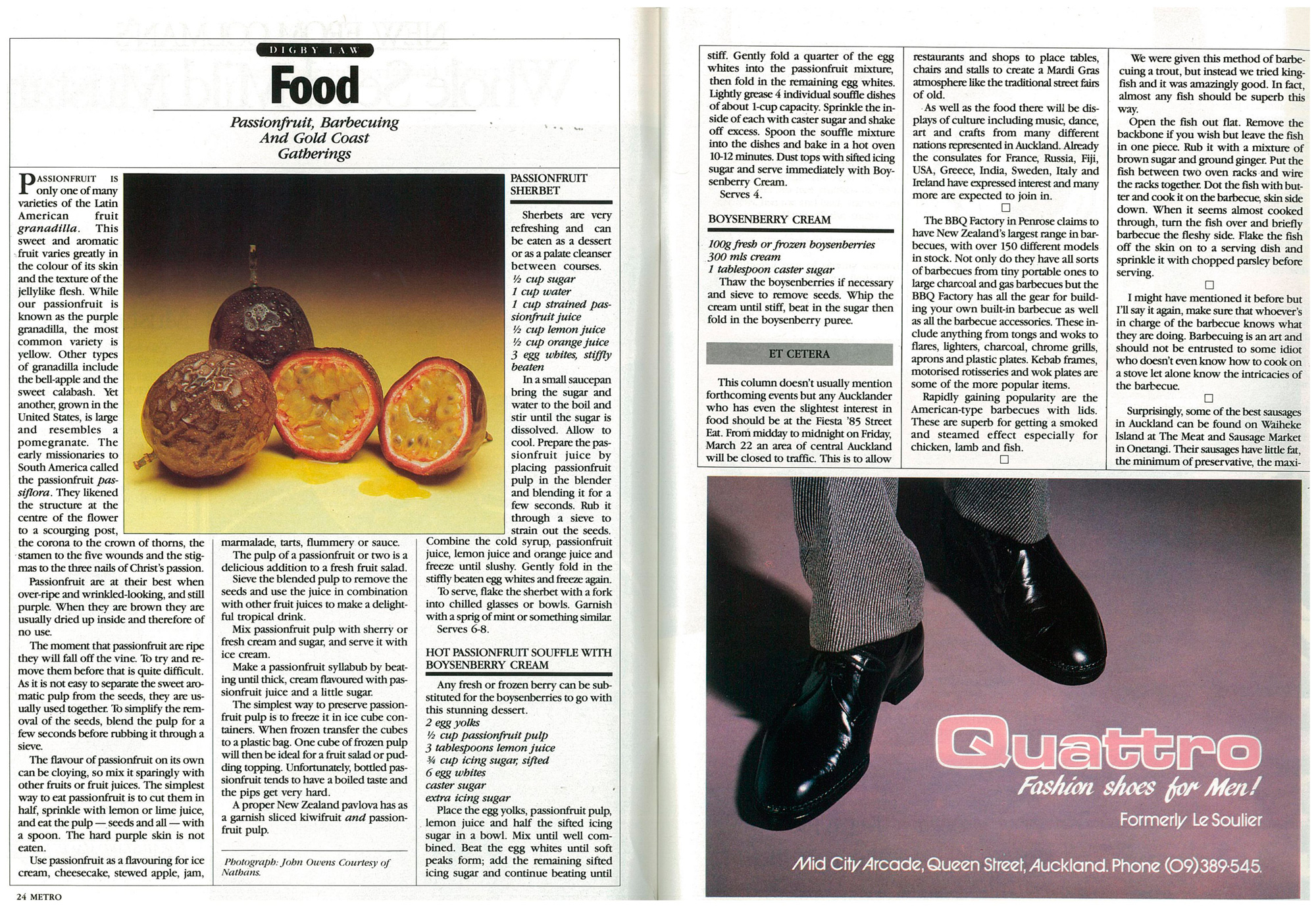 Click to enlarge
Digby Law's February 1985 Metro food column discusses ways with passionfruit. Some of the more retro serving suggestions include:
Mix passionfruit pulp with sherry or fresh cream and sugar, and serve it with ice cream.
Make a passionfruit syllabub by beating until thick, cream flavoured with passionfruit juice and a little sugar.
A proper New Zealand pavlova has as a garnish sliced kiwifruit and passion-fruit pulp.


Bake a recipe from this page and upload a photo to Instagram or Twitter with the hash tag #HudsonHallsBakeOff and be in to win the ultimate Silo Theatre prize package. 
Recipe: Hot passionfruit souffle with boysenberry cream
Any fresh or frozen berry can be substituted for the boysenberries to go with this stunning dessert.
2 egg yolks
1/2 cup passionfruit pulp
3 tablespoons lemon juice
3/4 cup icing sugar, sifted
6 egg whites
caster sugar
extra icing sugar
Place the egg yolks, passionfruit pulp, lemon juice and half the sifted icing sugar in a bowl. Mix until well combined. Beat the egg whites until soft peaks form; add the remaining sifted icing sugar and continue beating until stuff. Gently fold a quarter of the egg whites into the passionfruit mixture, then fold in the remaining egg whites.
Lightly grease 4 individual souffle dishes of about 1-cup capacity. Sprinkle the inside of each with caster sugar and shake off excess. Spoon the souffle mixture into the dishes and bake in a hot oven 10-12 minutes. Dust tops with sifted icing sugar and serve immediately with Boysenberry Cream. Serves 4.
Boysenberry Cream
100g fresh or frozen boysenberries
300mls cream
1 tablespoon caster sugar
Thaw the boysenberries if neccessary and sieve to remove seeds. Whip the cream until stiff, beat in the sugar then fold in the boysenberry puree.
***
Passionfruit aside, this is a wonderful excerpt from the column:
I might have mentioned it before but I'll say it again, make sure that whoever's in charge of the barbecue knows what they are doing. Barbecuing in an art and should not be entrusted to some idiot who doesn't even know how to cook on a stove let alone know the intricacies of the barbecue.
Ain't that the truth?